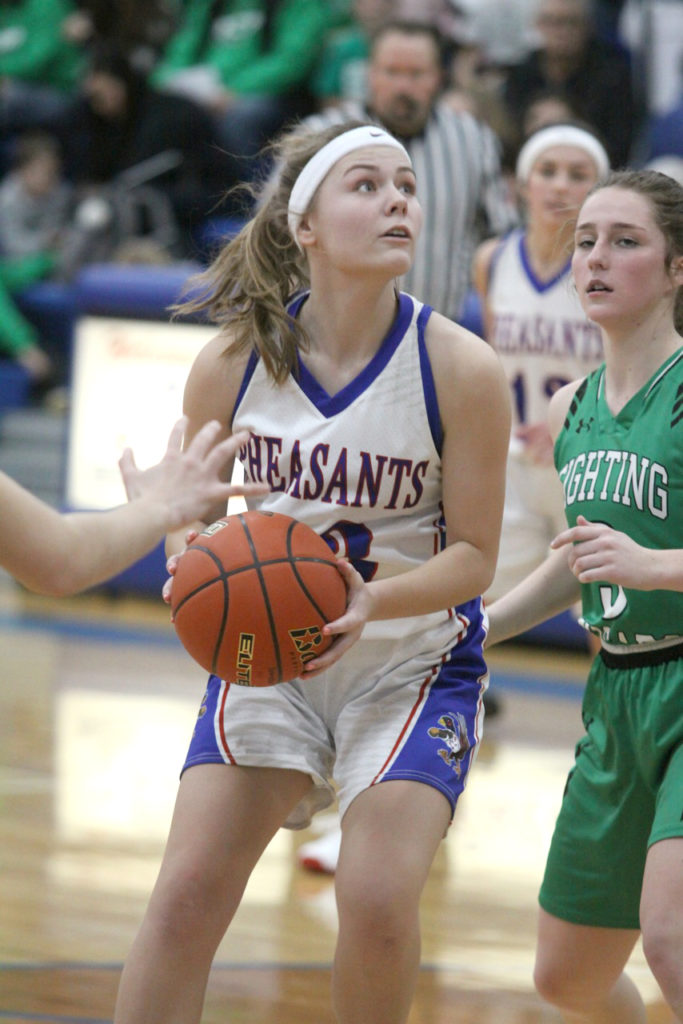 Shane Merrill | Writer
Parker 13-11-11-2 37
Bon Homme 13-14-5-13 45
TYNDALL — In a battle that featured two squads looking for their first win, the Bon Homme Cavaliers were able to nab a 45-37 victory over the visiting Parker Pheasants last Tuesday.
It was nip and tuck for most of the game, but especially early in the contest. Parker raced ahead with early off shots from Lexi Even and Cierra Mohr. Back came the Cavaliers, with both teams knotted at 13 after one.
Rayna Mohr opened the second quarter knocking down a quick jumper for the Pheasants, pushing the visitors back in front. However Bon Homme responded racing ahead before another tie and eventual lead change off a Cierra Mohr two pointer with less than two minutes to go. Even gave Parker one last gasp at a lead, keeping Parker out front with 20 seconds to go, but two late turnovers had Bon Homme out 27-24 at the half.
The Cavaliers stretched that lead to five midway through the third, but Parker clawed back off a Mohr three and Syndey Berens two, knotting things at 29. Parker took their first lead of the half off another Berens shot underneath, and held on through three quarters, leading 35-32 after Anna Reiffenberger sealed the lead with a two-pointer just beating the buzzer with Parker up 35-32 after three.
Bon Homme retook the lead with just under six minutes left to go, and the Pheasants couldn't never fully recover for a come from behind effort. Parker had their chances late, but several missed opportunities plagued the visitors, with the Cavs going on to win 45-37.
Leading Parker was Berens with 10 and Cierra Mohr with eight. Parker won the rebounding battle 50-39, but were plagued with 23 turnovers. Shooting was also similar with Parker hitting on 26 percent of their shots, while Bon Homme shot just 29 percent.
"Bon Homme did a good job offensively they hit some big shots in the first quarter that were huge moment changers," remarked coach Kennedy Wagner. "Defensively we need to work on staying low. We are young, but we are learning and growing so much every day. We are seeing progress with each game. A team sport like basketball, teaches my kids that adversity sits everywhere, we learned a lot from this game and are looking forward to the opportunities to come."