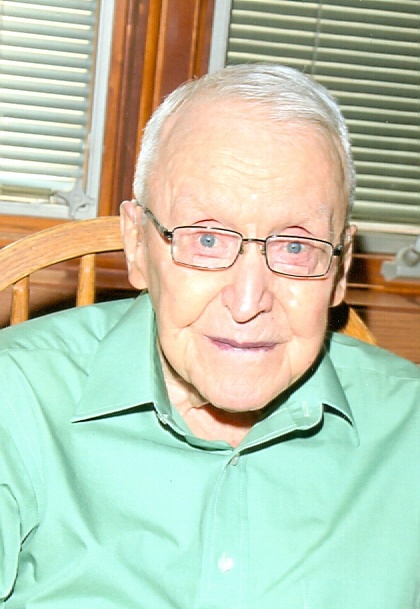 Elmer Wieman
100
Saturday, May 11
Monroe
Elmer was born in Monroe on Aug. 2, 1918, to Hilbert & Minnie (Ackerman) Wieman. He received his grade school education at Spring Valley # 5 School District #5 and graduated from Monroe High School in 1936. He then enrolled in the Freeman Junior College, Freeman where he received his teacher's certificate. He taught school for three years at Spring Valley District # 5.
In 1942 he was drafted into the U.S. Army Air Corps. In August of 1943, he became a member of the U.S. Army Air Force 84th Depot Repair Squadron. He was honorably discharged in 1945.
On Feb. 22, 1946, he was united in marriage to Evelyn L. Wieman and to this union two children were born. Trudy in 1947 and Curtis in 1949. They farmed together for the next 15 years. Elmer farmed and worked at Sioux Steel in Sioux Falls until 1960 when the decision to have a farm auction and move to Monroe where they lived for 49 years. He managed the Terminal Grain Elevator for 21 years. Upon retirement, he worked part-time for TM Rural Water for three years and then he began his career of helping farmers doing fieldwork.
In December 2011, Elmer and Evelyn moved to an apartment in Marion. In 2013 they then decided to move into the Assisted Living at the Tieszen Memorial Home and upon Evelyn's passing, he moved into the Tieszen Memorial Home in 2016, where he lived out his life.
Elmer was an active member of the First Reformed Church of Monroe, where he served on the Consistory for several years, was the Sunday School Superintendent taught Sunday School, sang in the quartet and choir and he was a member of the Monroe Coyotes softball team.
Elmer was a kind and loving man, especially when it came to his children and grandchildren. He even got to attend a few activities of his great-grandchildren.
Elmer is survived by his daughter, Trudy Konda, Marion, his son, Curtis Wieman, Yankton grandchildren, Nikki (Tracy) Hardin, Harrisburg, Chris (Marlee) Wieman, Box Elder, Shelly (Mike) Wieman, Marion, Angela (Erik) Bjordahl, Gillette, Wyo., Troy Konda, Black Hawk, Brooke (Chris) Wipf, Harrisburg and 12 great-grandchildren.
Elmer is preceded in death by his wife, Evelyn, his parents, his brothers, Francis, Hilbertus and wife Goldie, son-in-law Bill (William) Konda and nephew Norman Wieman.
Funeral services were held Wednesday, May 15 at the First Church of Monroe.
Arrangement provided by Hofemeister-Jones Funeral Home.