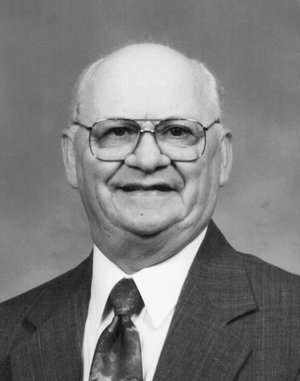 Marvin Roesler
95
Tuesday, March 19
Freeman
Marvin Roesler and his twin brother Leonhard were born Jan. 10, 1924 to Albert and Lydia Krueger Roesler in rural Menno. Ten months later their mother Lydia died and Albert was not able to care for the young boys. A family in Menno cared for Leonhard and Lydia's cousin Reinholt and Elizabeth "Lizzie" Waltner Weicht near Turkey Ridge raised Marvin. Marvin attended country school and then Hurley High School.
He was baptized and became a lifelong member of Salem Mennonite Church. After graduating from high school on May 14, 1942, Marvin worked on the family farm for three years.
From September 1945 to October 1946 he served his country in the US Army where he worked as a radio operator. After this, he returned to South Dakota to resume working on the family farm.
He married Ruth Rempfer on Nov. 1, 1950, at the Saron Reformed Church of rural Menno. Marvin and Ruth had three daughters and one son: Sharon Ann, Mary Lou (died at birth), James Marvin and Janet Kay.
Marvin spent much of his farming career working together with Larry and Barb Olesen and grew to be close friends and considered them part of the family. In addition to farming, Marvin enjoyed working in service to others. He served many years on the board of directors for the South Dakota Association for Retarded Children, the Freeman Community Hospital and Swan Lake Christian Camp. At the South Church, he served as a trustee and many years operating the sound equipment for Sunday services. He also served regularly at Schmeckfest, MCC Meat Canning and many others too numerous to count.
After farming together for 50 years, Marvin and Ruth moved to Freeman in the summer of 2000. He enjoyed meeting for coffee and conversation with the other retired farmers at Ampride. Although he was retired from farming he still enjoyed helping out by driving the grain truck at harvest time. He also joined and became an active member of the Freeman Lions. Marvin moved to Oakview Terrace in December 2014 and passed away on Tuesday, March 19.
Marvin was preceded in death by brothers Richard, Helmuth, his twin brother Leonhard, Oren, Elmo, Milo and Bennie (died in infancy) and his sister Geraldine. He is survived by his wife Ruth; his sister Adeline; his children Sharon and Mickey Nelson, James and Sheri Roesler and Janet and Paul Balzer; his five grandchildren Kaitlynn, Jesse, Joshua, Phillip and Seth; and many nieces and nephews.
Funeral services were held Monday, March 25 at Salem Mennonite Church in Freeman.
Arrangements provided by Walter Funeral Home Freeman.