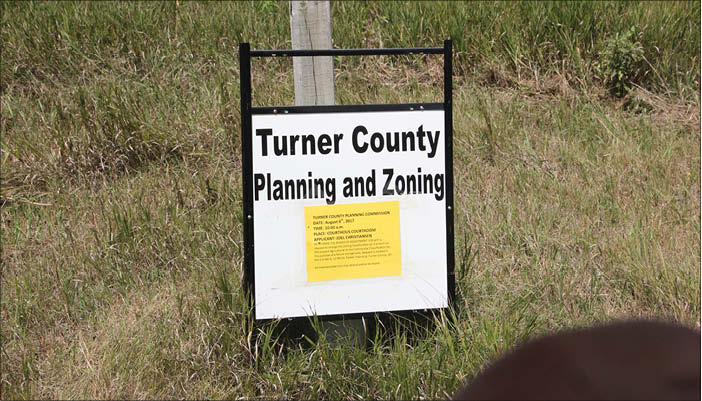 A motion was made to table the discussion during last week's zoning meeting due to special election regarding ordinances.
Joel Christiansen petitioned the Turner County Board of Adjustment requesting to rezone three acres from agricultural to commercial. The secure area would provide storage for campers and storage units.
Chairman Eric Meyer asked with the purchase of five acres was Christiansen going to place a home there too?
Christiansen noted down the road he would. The three acres will be used for the storage area; two and a half acres to the east would be for the home.
Meyer stated his biggest concern would be the access to the highway, given on the hill and that there would have to be an access road on the south.
He explained the Department of Transportation and counties are limiting the number of access roads connected to paved roads. The second reasonis traffic and the hill for safety concerns.
Concerned neighbors Aaron and Jen Skinner addressed Christiansen about traffic access and security.
Skinner explained the only place on their property-zoned commercial is a 90×60 foot piece in front of the barn. The proposed site is 96 feet from where their proposed new house would be placed.
Skinner said the other major concerns they have are lights shining in on the house and set hours with security.
Christiansen explained it would be 24-hour computer card program allowing access to the gate entrance. With the card system along with a camera security system will allow him to keep track customers coming and going.
Skinner asked how high the shipping containers would be stacked?
Christiansen noted it would be one level of all containers being a light gray and they will not be secured down.
"Are you in opposition to what he's doing there?" asked board member Steve Schmeichel.
"No," said Skinner.
The board felt with the election three short weeks away it leaves a lot of gray areas on which rules to follow. After the Aug. 29 special election, the board will resume the discussion.