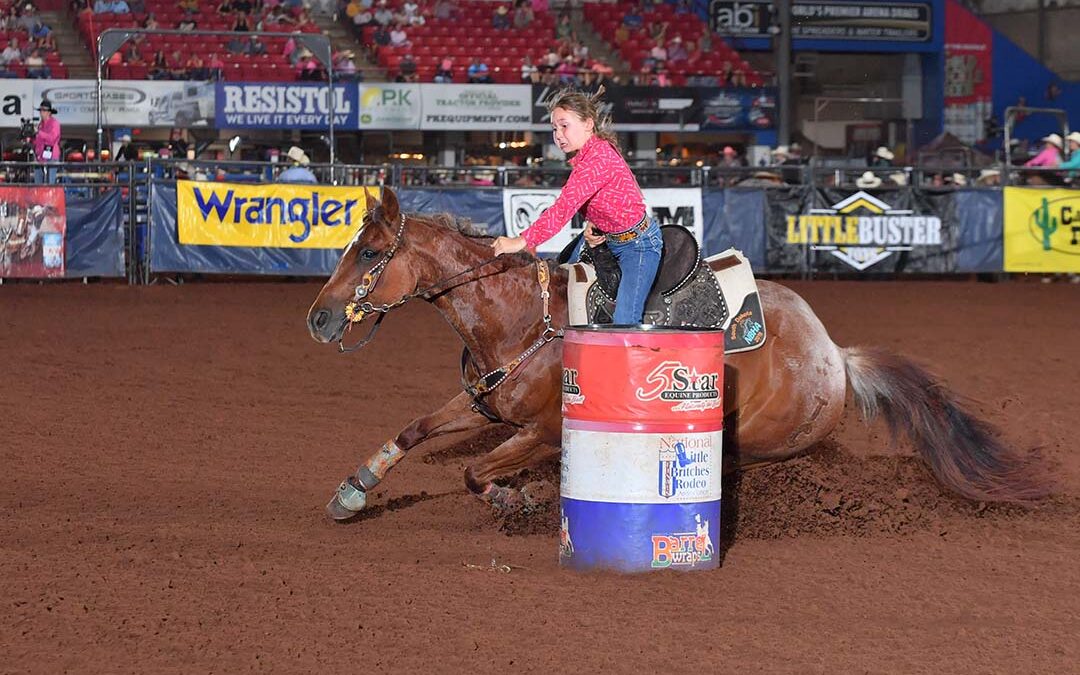 Donna Rumbaugh | Managing Editor Top Rosie carries Kaylee to the win in the barrel racing competition. Kaylee Novak is a little girl from Parker, who is really making a name for herself on the rodeo circuit. After years of practice and work with her two horses, Rosie and Blueberry, Novak won the fifth-place title in the world for barrel racing in her...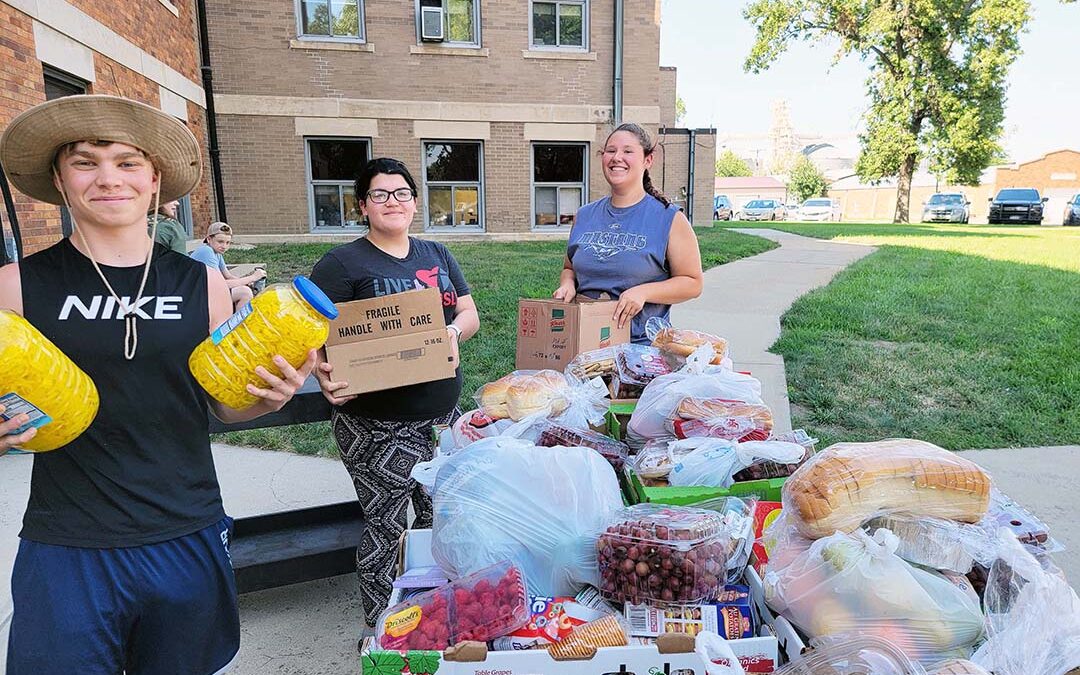 Renae Hansen | Writer Volunteers prepare for the Turner County food giveaway held at the courthouse each month. If you've visited a grocery store at all recently, it's no...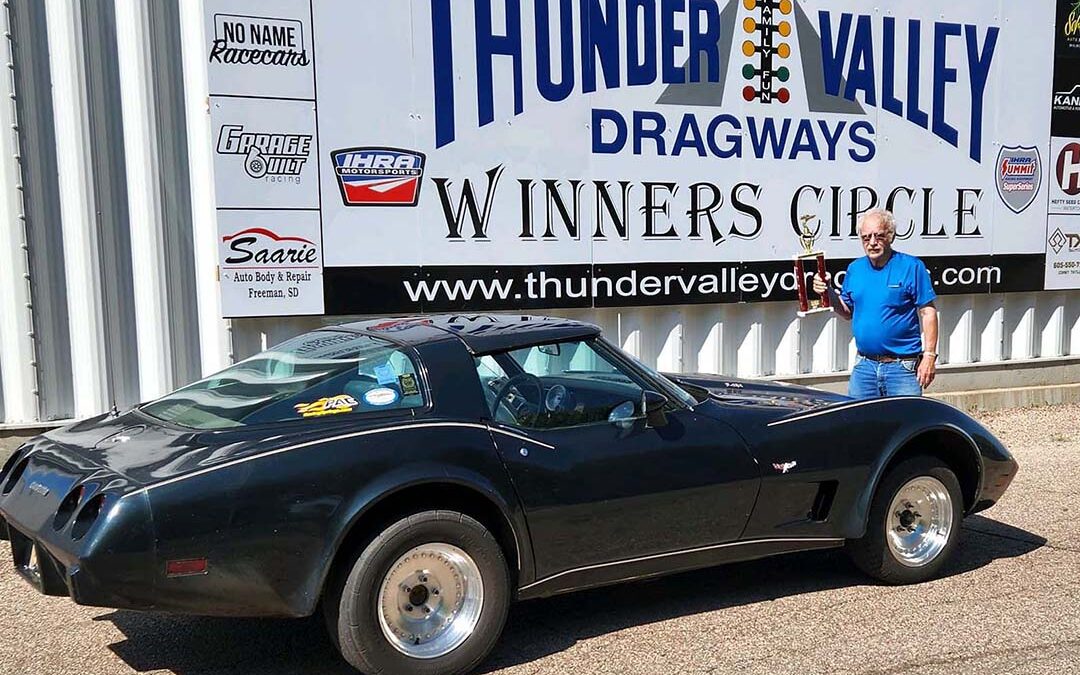 Renae Hansen | Writer John Overby, pictured with his 1979 Corvette, recently took home the trophy for his class at Thunder Valley Dragway. (photo submitted) People often realize...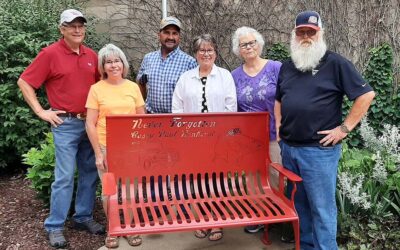 Renae Hansen | Writer Lynn and Gloria Peterson, Keith and Shelley Miller, and Theresa and Duane...
95 Lennox, SD July 26, 2022 Cleo Mae Poppens, 95, of Lennox, SD, died July 26, 2022, at Sanford USD Medical Center, Sioux Falls. Services will begin at 10:30 a.m. Thursday, August 4 at West Prairie Lutheran Church, rural Lennox with burial to follow in the West...
March 31, 2022 Teresa, daughter of Jerry Rice and LeAnn Hummel, wife of Jay, died March 31, 2022. Cremains inurnment at 1:30 p.m. on Saturday, August 6th, West Nidaros church and cemetery north of Crooks, with service and social gathering in church basement.
82 Hurley, SD July 23, 2022 I was born near Hurley, SD on June 7, 1940 to Ejner & Ethelyn (Betty) Andersen. A few years later, brothers Darwin (Chuck) and Richard (Dick) would join our humble family. I attended Hurley school, taking part in many sports, and...
86 Freeman, SD July 27, 2022 Eileen Aryabelle Graber, fondly known as Belle to many who knew her, passed away peacefully on Wednesday, July 27, 2022, at Oakview Terrace in Freeman, S.D., with her children by her side. She was 86 years old. Aryabelle was born to Dave...
97 July 25, 2022 Phyllis Hildebrand, 97, of Sioux Falls, SD, died Monday, July 25, 2022 at Dow Rummel Village, Sioux Falls, SD. Phyllis Irene Determan was born on November 8, 1924, at Bridgewater, SD, the daughter of Edward and Dorothy (Huisman) Determan. She...
91 Centerville, SD July 26, 2022 Virgil Lee Null, 91, of Centerville, SD, entered heaven on Tuesday, July 26th, 2022 at the Pioneer Memorial Nursing home in in Viborg, S.D. Virgil was born on October 20th, 1930, in Sloan, Iowa, the son of Thomas Andrew and Elizabeth...
93 Parker, SD July 19 L. Darlene Hagen was born on a farm southeast of Hurley, SD on September 21,1928 to Floyd and Alice (Pelmulder) Friman. She passed away on July 19,2022 at the age of 93. Darlene was the youngest child of five girls. She was raised on a farm in...
77 Sioux Falls, South Dakota July 20, 2022 Wayne Gary Helgager age 77 of Sioux Falls, S.D., passed away Wednesday July 20, 2022 at Sanford Foundation Hospice Cottage. Family greeted friends from 5:00-7:00 p.m. with a prayer service at 6:15 p.m. on Friday, July 22,...
By Shane Merrill | Sports The Parker 16U season ended last week in the regional tournament as the Pheasants opened with a loss to Alexandria, but won over Scotland/Menno, only to fall again to Alexandria in the double elimination tournament. In their second must-win...
Alan Astleford | Writer 6, 7, and 8 BasketballBack row L-R:  Austin Waldner, Jax Kaufman, Jakob Wieresma, Simon Wieresma, Elizabeth Piehl, Harli Ross, Lanae Waldner, Aleah Tschetter, Autumn Langrehr.  Middle row L-R: Rylen Tommeraus, Kolter Schmidt, Isiah Voltze, Eli...
By Shane Merrill | Sports The Parker 14U baseball team met its match last week as they were able to host the region 4A tournament winning their first game but losing their next two, ending their season and hopes at a state tournament. In their first game Parker played...
By coach Shane Merrill The Parker 12U baseball team wrapped up their season last week at the state tournament that was held in Parker. In their opening game Parker faced off against eventual champion Canistota-Freeman, a team they had lost to by four earlier in the...
Shane Merrill | Sports Writer VFW Baseball Director Danny Frisby-Griffin gives the opening creed in the winner vs. Groton game.  (photo by Shane Merrill) Parker and Hurley were able to put on a show last weekend, as they played host the class 'B' 12U state tournament....
By coach Shane Merrill The Parker Blue 12U baseball team wrapped up their regular season last week, taking big wins over Lennox Dressen and Tea Rieland, both teams that had been ranked ahead of them all season, finishing with a 7-2 league record and an 8-3 overall...
By Shane Merrill | Sports The South Dakota VFW 12U state tournament will be held in Parker and Hurley on July 8-9-10 a variety of teams are slated to participate from all over the state, as 18 teams have registered for the tournament. Parker will run all three little...
Renae Hansen | Writer Viborg-Hurley Girls Basketball Head Coach Molly Mason is pictured holding the State B Championship trophy, along with Assistant Coaches Tyler Novak and Riley Johnson. (Photo by Faydra Christensen) Congratulations to Viborg-Hurley Coach Molly...