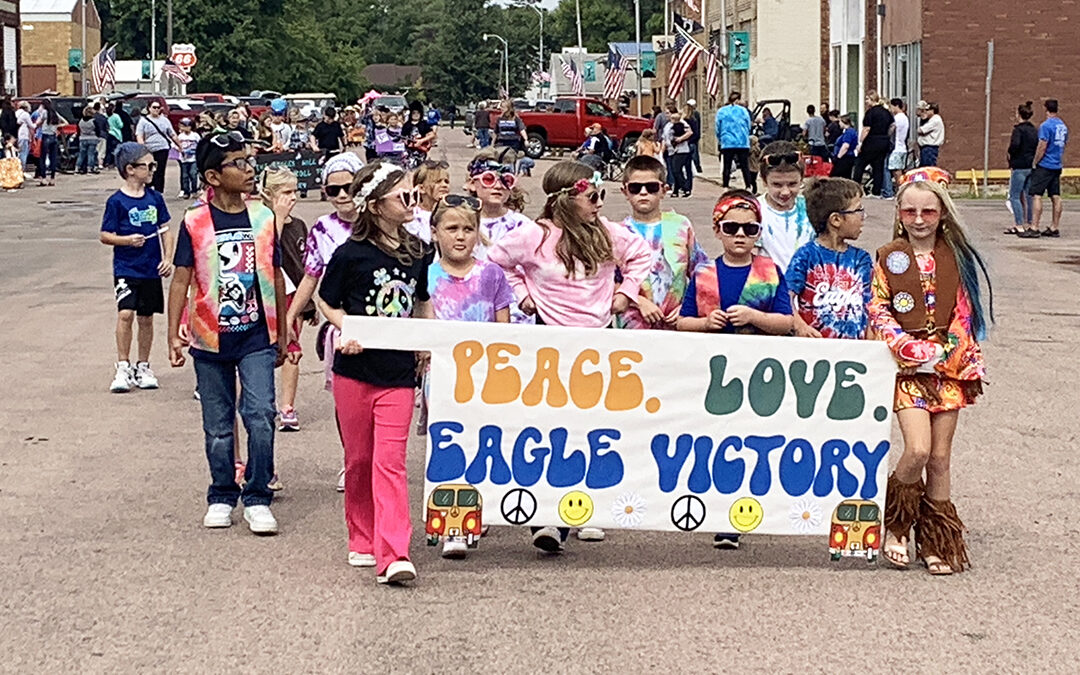 The I-W Second Graders represented the 1970s with their walking parade float of "Peace, Love, and an Eagles Victory" (photo/Riva Sharples). Donna Rumbaugh | Managing Editor When the weather turns crisp, school bells ring, and homecoming celebrations are the kick off to the new school year. This past week, three of our five Turner County schools celebrated...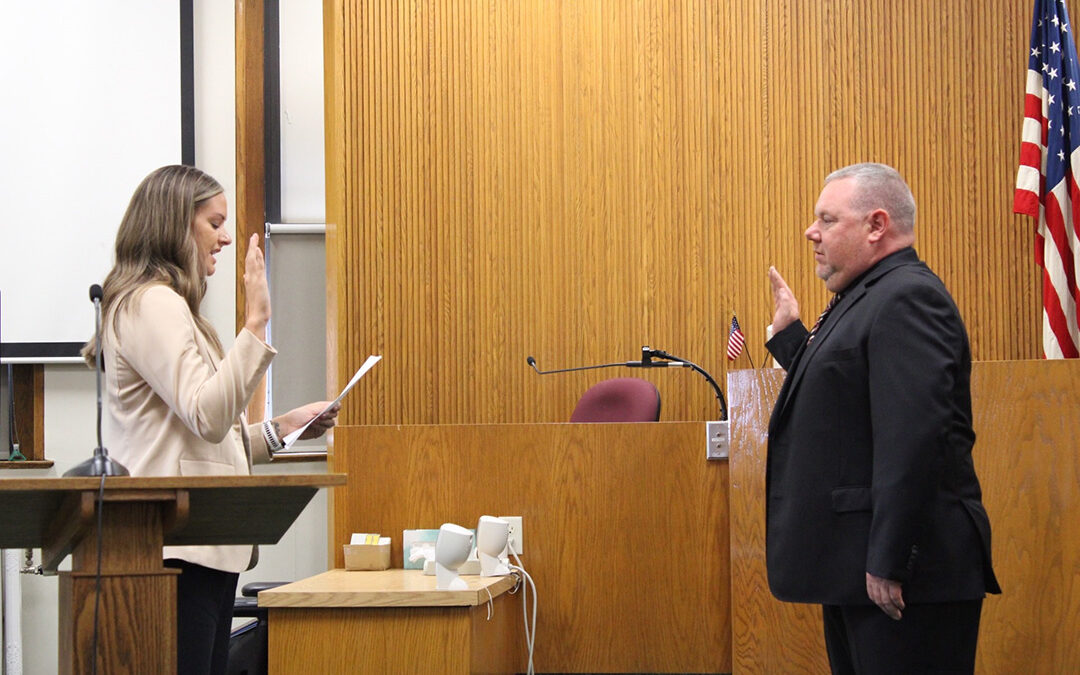 Jamie Buteyn is sworn in as the new Acting Turner County Sheriff (photo/Monique Hurtado) Monique R. Hurtado | Staff Writer One important topic on the agenda for this weeks'...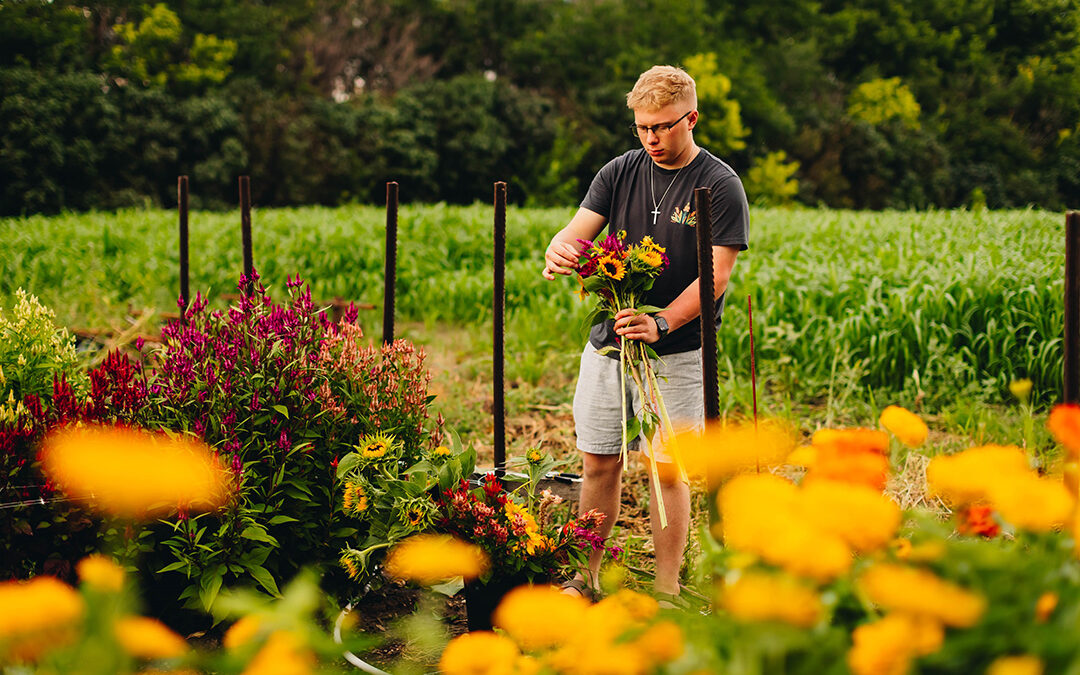 Area resident Madison Hansen, 22, started a small cut flower business this spring.  Hansen dreams of someday having a flower shop on Highway 46 outside of Irene...
Donna Rumbaugh | Managing Editor The Parker City Council held their regular September meeting last...
79 Hurley, S.D. September 15, 2023 James "Jim" Christiansen, 79 of Hurley, passed away on September 15, 2023 at the Dougherty Hospice House, Sioux Falls. Mass of Christian. Jim Christiansen was born April 8, 1944 to John and Mary (Johnson) Christiansen in Miller, S.D....
69 Sioux Falls, South Dakota September 10, 2023 James "Jim" Murray Hockett, age 69, passed away on Sunday, September 10, 2023 at Dougherty Hospice House in Sioux Falls, South Dakota. A Celebration of Life was held at 11:00 a.m. on Sunday, September 17, 2023 at Miller...
91 Freeman, South Dakota September 1, 2023 Willis Ratzlaff, 91 of Freeman, died Friday, September 1, 2023 at the VA Medical Center in Sioux Falls, SD. Funeral services were held at 10:30 a.m. Friday, September 8, 2023 at the Bethany Mennonite Church in Freeman. Burial...
95 Parker, South Dakota September 2, 2023 Raymond Sneller, 95 of Parker, passed away on September 2, 2023 at the Dougherty Hospice House, Sioux Falls. The funeral Service was held at 1:00 p.m. Saturday, September 9, 2023 at Calvary Reformed Church, Monroe. ...
96 Galesburg, IL August 20, 2023 Horace Aubrey Petersen, also known as Dr. Pete Petersen, passed away on August 20, 2023. Born October 18th, 1926, he was 96 years old. He is survived by his five children, Brent, Julie, David, Scott, and Barry and his 15...
93 Beverly J. Paulson was born Feb. 25, 1930 to Olaf & Adelaide (Norgren) Paulson at home ½ mile north of Komstad Covenant Church. She was baptized, confirmed and married at Komstad. On March 10th, 1951 she and Vernon B. Andersen were married. They have four sons...
80 Freeman S.D. August 30, 2023 Sharon Waltner, 80, of Freeman passed away on August 30 at the Freeman Hospital under hospice care. Memorial Services will be held at 11 a.m. on Wednesday, Sept. 6th at Hutterthal Mennonite Church of rural Freeman. Visitation and...
76 Fargo, N.D. August 25, 2023 Feb. 25, 1947 - Aug. 25, 2023 FARGO, N.D. - Diane Hoeg, 76, Fargo, N.D., died Friday, Aug. 25, in her home. A visitation will be held at 10:00am with a memorial mass at 11:00am on Saturday, October 14, 2023 at St. Patrick Catholic...
Officials Tom Eggers, Chad DeJong, and Kevin Matthiesen meet during a team timeout. Currently, the SDHSAA has seen a decline in officials due to the concerns of fan's sportsmanship. (Photo/Sara Stadem) SDHSAA looks to improve sportsmanship Sara Stadem | New...
The Cross Country meet was held in Freeman September 13. Bearcat Tavin Schroeder, left, won men's division and Bearcat Finley McConniel, right, was second. Photo/Alan Astleford freeman academy/marion cross-country Alan Astleford | Writer The Freeman Academy/Marion...
Paige Haase bumps the ball during a match last week (photo/Dave Fuller) parker volleyball By Shane Merrill | Sports The Parker volleyball team found their rhythm last week, winning back to back matches in exciting fashion. In their first match of the week,...
Parker players battle CWL players last week in the homecoming game. Parker won 18-14. parker football By Shane Merrill | Sports Going into last Friday's game, the Parker coaching staff, players and fans thought the Pheasants had a solid chance to knock off...
Colton Preheim finished 24th last week at Freeman parker cross-country By Shane Merrill | Sports The Parker cross- country team took to the course at Freeman last week and came away with some impressive finishes. The Parker varsity boys placed third overall. Leading...
Middle fielder, Alexis  Gonzolas moves the ball in the middle of the field freeman academy/marion/parker soccer Alan Astleford | Writer The Freeman Academy Bobcats with players from Marion, Marion, Freeman and Parker were too much for the Hot Springs Bison when they...
parker cross-country By Shane Merrill | Sports The Parker cross-country team participated in the annual Nike Heartland cross country meet in Sioux Falls last weekend. The Pheasants gained valuable experience with runners from eight surrounding states and over 70 teams...
parker volleyball By Shane Merrill | Sports The Parker volleyball squad had a tough week last week, going 0-4 and dropping to eighth place in the conference tournament. In their first game of the week, Parker faced Canton (6-1), losing in straight sets 3-0 with...