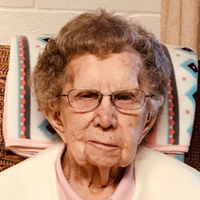 92
Sunday, Feb. 16
Hartford
Helen Kay Kraemer, daughter of Paul and Henrietta (Rehmstedt) Kraemer, was born March 2, 1927, at Sioux Valley Hospital in Sioux Falls. The family lived on the Kraemer homestead seven miles north of Parker. She grew up there and was confirmed in the Lutheran faith and graduated from Parker High School. She began working as a secretary at the Turner County Courthouse for a few years.
Helen was united in marriage with Walter Wenzlaff on Aug. 26, 1950, in Pipestone, Minn. The couple settled on a farm east of Pumpkin Center. They were blessed with four children, Walter, Terri, Teresa and Patricia. Helen farmed side-by-side with Walter milking cows, helping in the fields, tending to her flower and vegetable gardens.
Neighbors would stop by for conversation and a cup of coffee, and grandchildren would stop by for soda pop and conversation with "Grams". She treasured reading from her Bible. She enjoyed playing cards, word-finds and puzzles.
They were longtime members of Trinity Lutheran Church, rural Hartford.
Grateful for having shared her life are her children, Wally Wenzlaff, Hartford, Terri Wenzlaff, Grand Junction, Colo., Patsi Wenzlaff, Sioux Falls; five grandchildren; six great-grandchildren; a brother, Daryl Kraemer; and a host of other relatives and friends.
She was preceded in death by her parents, Paul and Henrietta Kraemer; her husband, Walter Wenzlaff; a daughter, Teresa Shaver; a daughter-in-law, Bonnie Wenzlaff; a son-in-law, Walt Shaver; a brother, LeeRoy Kraemer; a sister, Madelyn Cotton; brother-in-law, Arnold Cotton; mother-in-law, Wilhelmina Wenzlaff; sister-in-law, Catherine Kraemer; and a niece, Connie Kubiszewski.
Funeral service was held Saturday, Feb. 22, at Trinity Lutheran Church Hartford with burial in Trinity Lutheran Cemetery.
Arrangements provided by Miller Funeral Home, Sioux Falls.