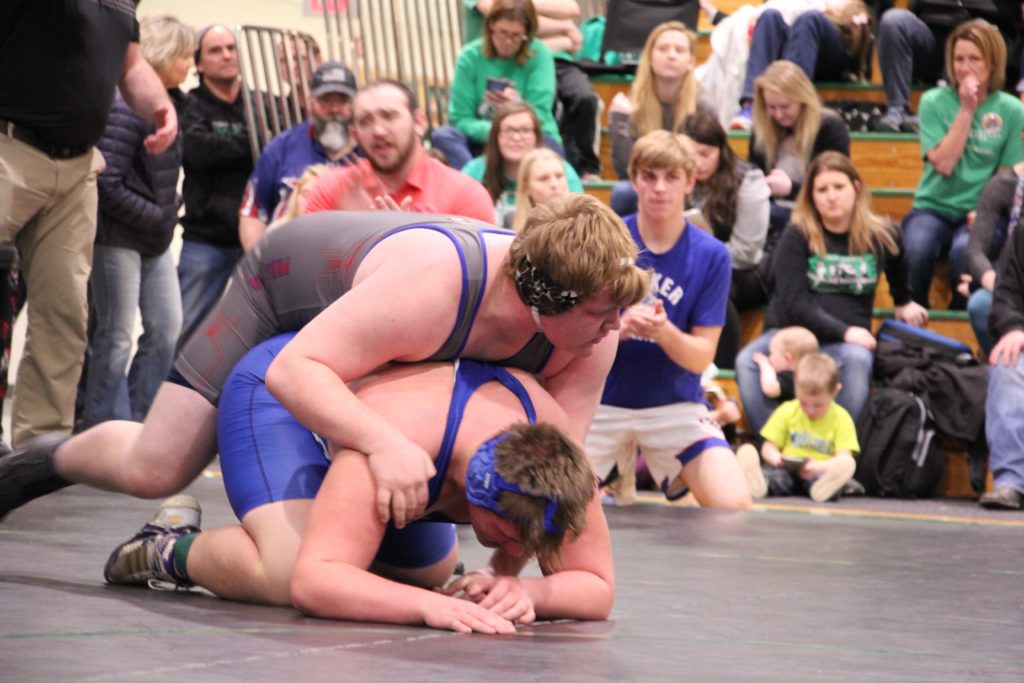 Shane Merrill | Writer
The Parker wrestling team took to the mat last Saturday in Salem for the region 2B wrestling tournament, and their shot at the state tournament. The Pheasants, who had already qualified the team for the state dual tournament, put eight qualifiers into the state meet to compete for individual championships which was highlighted with Andrew Even and Mace Plucker taking second and Tanner Even being crowned region champion.
Individual Qualifiers included Andrew Even, Logan Buseman, Kaleb Buseman, Mace Plucker, Blake Eldeen, Zavier Centeno, Charlie Patten and Tanner Even.
The team also qualified for the newly resurrected state dual tournament, where they are the eighth seed and will face number one seeded Winner, a team they saw nearly a month ago in Winner.
The first rounds are scheduled to get underway on Thursday at 10 a.m. with the team duals scheduled to begin around 5 p.m. at the Denny Sanford Premier Center.
Region Results:
106: Andrew Even (Parker) – 2nd
Champ. Round 1 – Andrew Even (Parker) over Cole Sehr (Canton) (Fall 1:29) Quarterfinals – Andrew Even (Parker) over Keaton Gale (Elk Point-Jefferson) (Fall 0:46) Semifinals – Andrew Even (Parker) over Preston Bohl (Garretson) (Dec 8-6) 1st Place Match – Hunter Witte (Flandreau) over Andrew Even (Parker) (MD 17-4)
113: Logan Buseman (Parker) – 4th
Champ. Round 1 – Logan Buseman (Parker) received a bye Quarterfinals – Logan Buseman (Parker) over Aerin Geary (Tri-Valley) (Fall 3:48) Semifinals – Andy Meyer (Canton) over Logan Buseman (Parker) (Fall 1:45) Cons. Semis – Logan Buseman (Parker) over Brayden Wiese (Flandreau) (Dec 7-0) 3rd Place Match – Jayse Miller (Garretson) over Logan Buseman (Parker) (Fall 4:01)
120: Hudson Eldeen (Parker) – 6th
Quarterfinals – Karsten Hamilton (Howard) over Hudson Eldeen (Parker) (Fall 5:17) Cons. Round 1 – Hudson Eldeen (Parker) received a bye Cons. Semis – Lane Huls (McCook Central/Montrose) over Hudson Eldeen (Parker) (Dec 4-3) 5th Place Match – Karsten Hamilton (Howard) over Hudson Eldeen (Parker) (Fall 3:16)
126: Connor Even (Parker) – DNP
Champ. Round 1 – Connor Even (Parker) received a bye Quarterfinals – Jackson Remmers (McCook Central/Montrose) over Connor Even (Parker) (Fall 0:36) Cons. Round 2 – Connor Even (Parker) received a bye Cons. Round 3 – Jacob Gale (Elk Point-Jefferson) over Connor Even (Parker) (MD 11-2)
132: Issac McDugle (Parker) – 5th
Champ. Round 1 – Issac McDugle (Parker) received a bye Quarterfinals – Ben Swatek (Elk Point-Jefferson) over Issac McDugle (Parker) (MD 9-0) Cons. Round 2 – Issac McDugle (Parker) over Jacob Shaw (Chester) (Fall 0:42) Cons. Round 3 – Issac McDugle (Parker) over Zach Powell (Tri-Valley) (Fall 0:45) Cons. Semis – Carter Randall (McCook Central/Montrose) over Issac McDugle (Parker) (Fall 2:35) 5th Place Match – Issac McDugle (Parker) over Hunter Abraham (Garretson) (Fall 0:36)
138: Kaleb Buseman (Parker) – 4th
Champ. Round 1 – Kaleb Buseman (Parker) over Tayson Swatek (Garretson) (Dec 8-1) Quarterfinals – Kaleb Buseman (Parker) over Porter Jensen (Tri-Valley) (SV-1 9-4) Semifinals – Kellyn March (Canton) over Kaleb Buseman (Parker) (Fall 0:40) Cons. Semis – Kaleb Buseman (Parker) over Jayden Wolf (McCook Central/Montrose) (Dec 7-3) 3rd Place Match – Skyler Swatek (Elk Point-Jefferson) over Kaleb Buseman (Parker) (Fall 2:39)
145: Mace Plucker (Parker) – 2nd
Champ. Round 1 – Mace Plucker (Parker) received a bye Quarterfinals – Mace Plucker (Parker) over Grayson Jacobs (Elk Point-Jefferson) (Fall 1:38) Semifinals – Mace Plucker (Parker) over Carson Norgaard (Tri-Valley) (Fall 1:17) 1st Place Match – Seth Peterson (Canton) over Mace Plucker (Parker) (Dec 6-2)
152: Jack Even (Parker) – DNP
Quarterfinals – Daniel Cremer (Marion/Freeman) over Jack Even (Parker) (Fall 5:08) Cons. Round 1 – Nathan Rombough (Tri-Valley) over Jack Even (Parker) (Dec 4-3)
160: Blake Eldeen (Parker) – 4th
Quarterfinals – Blake Eldeen (Parker) over Owen Peters (Flandreau) (Fall 1:31) Semifinals – Jacob Cheeseman (McCook Central/Montrose) over Blake Eldeen (Parker) (MD 12-2) Cons. Semis – Blake Eldeen (Parker) over Chris Kessler (Marion/Freeman) (Fall 4:34) 3rd Place Match – Ty Beyer (Howard) over Blake Eldeen (Parker) (MD 10-2)
170: Zavier Centeno (Parker) – 4th
Champ. Round 1 – Zavier Centeno (Parker) received a bye Quarterfinals – Gavin Jacobs (Elk Point-Jefferson) over Zavier Centeno (Parker) (MD 18-5) Cons. Round 2 – Zavier Centeno (Parker) received a bye Cons. Round 3 – Zavier Centeno (Parker) over Parker Schlenker (Garretson) (Fall 2:08) Cons. Semis – Zavier Centeno (Parker) over Kolby Peters (Flandreau) (Dec 8-3) 3rd Place Match – Gavin Jacobs (Elk Point-Jefferson) over Zavier Centeno (Parker) (Fall 2:13)
182: Charlie Patten (Parker) – 4th
Quarterfinals – Charlie Patten (Parker) over Hunter Sharkey (Elk Point-Jefferson) (Fall 1:01) Semifinals – Tanner Meyers (Canton) over Charlie Patten (Parker) (MD 13-3) Cons. Semis – Charlie Patten (Parker) over Isaac Nehlich (Tri-Valley) (Fall 3:45) 3rd Place Match – Isaac Feldhaus (Howard) over Charlie Patten (Parker) (Fall 4:12)
195: Tanner Even (Parker) – 1st
Quarterfinals – Tanner Even (Parker) over Jackson Heidelberger (Chester) (Fall 0:40) Semifinals – Tanner Even (Parker) over Alex Andresen (Tri-Valley) (Fall 0:58) 1st Place Match – Tanner Even (Parker) over Cullen Rutten (Canton) (Dec 6-4)
220: Jesse Walton (Parker) – 5th
Quarterfinals – Chase Reed (Flandreau) over Jesse Walton (Parker) (SV-1 3-1) Cons. Round 1 – Jesse Walton (Parker) over Matthew Hollingshead (Elk Point-Jefferson) (Fall 4:13) Cons. Semis – Clayton Smith (Marion/Freeman) over Jesse Walton (Parker) (Fall 0:47) 5th Place Match – Jesse Walton (Parker) over Isaak Pulse (McCook Central/Montrose) (Fall 2:51)
285: Geoff Dunkelberger (Parker) – 5th
Champ. Round 1 – Geoff Dunkelberger (Parker) received a bye Quarterfinals – Drake Peed (Elk Point-Jefferson) over Geoff Dunkelberger (Parker) (Fall 0:41) Cons. Round 2 – Geoff Dunkelberger (Parker) over William Rentz (Howard) (Dec 2-1) Cons. Round 3 – Geoff Dunkelberger (Parker) over Gabe Johnson (Garretson) (SV-1 2-0) Cons. Semis – Ethan Nehlich (Tri-Valley) over Geoff Dunkelberger (Parker) (Fall 1:21) 5th Place Match – Geoff Dunkelberger (Parker) over Collin Graves (Viborg-Hurley) (Fall 2:16)