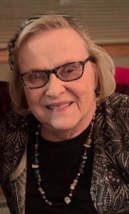 81
Wednesday, Sept. 29
Lennox
Crystal DiAnn Erickson was born on Dec. 2, 1939, in Hendricks, Minn. the daughter of Hjalmer (who always referred to her as DiAnn) and Cora Jennie (Hugos) Erickson. She graduated from Harrisburg High School in 1957 as homecoming queen. After high school she moved to California with sister Betty to experience more of the world. She worked in an office as a stenographer before returning to her roots in South Dakota about a year later.
On Aug. 20, 1958, she was united in marriage with Franklin R Klinghagen and lived in Sioux Falls until moving to their Rural Lennox Farm in 1966. DiAnn was a devoted farm "Partner" doing cooking, gardening, bookkeeping and farm chores in the family business until Frank's death in 1997. She then joined a partnership with son David to keep the farm a success.
On Nov. 16, 2002, DiAnn was united in marriage with Robert W Milbauer, the 2nd love of her life and they resided in Sioux Falls. She mentioned many times "how could one person be so lucky to have married two such very special men". After son David's death in 2015 and Bob's death in 2017, she returned to the family farm that she called "home".
DiAnn was a devoted wife, mother, grandmother, farmer and Christian. She loved the Lord our Savior and wanted all to know this special love. She took much pride in her 36-year membership at Central Church. She was an accomplished artist, specializing in oil painting and dabbling with watercolors.
DiAnn is survived by daughter, Nancy DeNeui (Bruce); grandsons, Drew DeNeui (Katie), Zachary DeNeui, Austin Klinghagen (Courtlen); great-granddaughter, Kaylynn Mackey; sister, Betty Lambert, Orange, Calif.; step-children, Barry Milbauer (Barb) and Linda Johnson, along with a host of loved Nieces, Nephews, Step Grand Children, and other family and friends.
DiAnn was proceeded in death by her parents; husband Frank Klinghagen; 2nd husband Bob Milbauer; son, David Franklin Klinghagen; brothers: Hiram, Norris, and Amos Erickson; sisters: Doris Rolfson, Bernice Thompson, Amy Hannum, Mavis Wildeboer and Janice Madden.