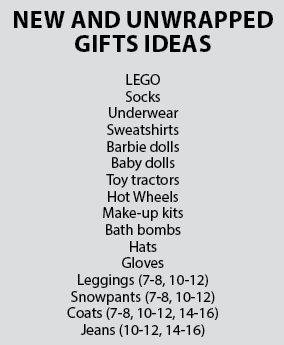 Sarah Ebeling | Editor
Every year the Northern Turner County Christmas Store accepts Christmas gifts and although this year is no exception, they are doing something new this year.
On Saturday, Dec. 7, the community is invited to take part in Parker's Hometown Christmas. The annual event will run throughout the day with a book and vendor fair, festival of trees, free meal, parade and much more.
This year, instead of the usual fundraiser to raise money to send a local group to Haiti, Julie Anderson, who heads up the Northern Turner County Food Pantry and the Christmas Store, will be turning the group's focus locally. The Christmas Store helps local families who are needing a little extra support, provide gifts to their children during the Christmas season. Christmas trees are set up at various stores throughout Turner County, allowing the community to grab an ornament off the tree and purchase a gift.
At this year's supper, volunteers for the Christmas Store will be on hand and will be accepting gifts and monetary donations for community members in need. There will also be a Christmas tree full of ornaments that will have ideas for gifts for anyone who would like to pick an ornament or ornaments at Saturday's event and then go shopping.