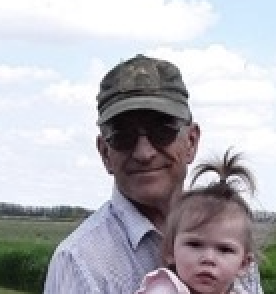 62
Hurley
Wednesday, Jan. 6
Lyle Willard Moege was born on July 20, 1958 at Parkston to Willard and Florence (Reichert) Moege. He grew up at Parkston where he graduated from Parkston High School in 1976. After attending Mitchell Vo Tech, he worked as an electrician.
On May 3, 1991 he was united in marriage to Carolyn Wilhelm Bisbee at Dimock. He was employed as an electrician, at John Morrell and Co and as a truck driver hauling construction equipment. For the past two and half years he has driven gravel truck for Runge Construction. For the past 26 years they have lived on an acreage near Hurley.
Having a strong faith in God, he was an active member of Zion Lutheran Church in Hurley where he served as an elder. He was an avid listener to Rush Limbaugh and a strong Republican. Being a John Deere man he had plenty of green on his acreage, but his biggest pride and joy was his grandchildren and great-grandchildren.
Grateful for having shared his life are his wife Carolyn; three children, Ramona (Michael) Conness, Colton; DJ (Joyce) Bisbee, Parker and Christina (Trevor) Ketchum, Marion; eight grandchildren, Jessen (Chealsea), Samantha (Johnathan), Aundraya (Charles), Kaitlyn (William), Darian, Tristan, Marquice, and Aniyah; two great- grandchildren, Avery and Luna; his mother Florence Moege, Parkston; a brother Dale (Judy) Moege, Parkston; a sister Nancy (Duane) Keiper, Milltown; and many nieces and nephews. He was preceded in death by his grandparents, his father Willard, and two great-grandchildren.
Memorial services were held on Saturday, Jan. 9 at Zion Lutheran Church in Hurley.
Funeral arrangements provided by Hofmeister Jones Funeral Home.