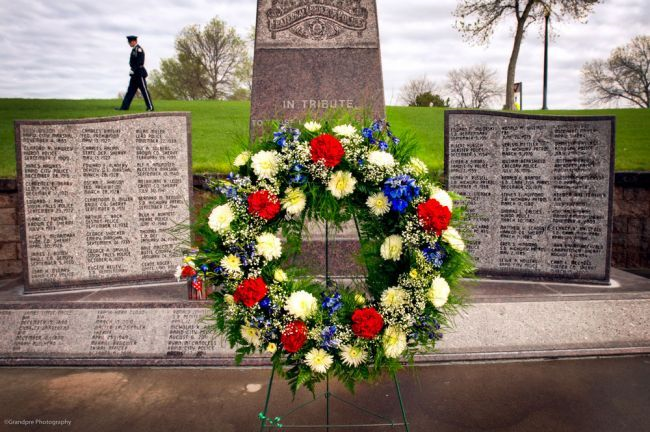 Dawn Rye | Writer
Every day, local law enforcement officers put on a uniform, not knowing how their day will end. However, before they walk out the door they kiss their loved ones goodbye and unfortunately, not all of them return home at the end of their shift.
On Wednesday, May 15 the South Dakota Law Enforcement Memorial Service was held in Pierre to honor the men and women who lost their lives in the line of duty. This year, 41 officers and five K-9 dogs were honored during the service.
One local name that has been honored is Chad Mechels who was killed in the line of duty 10 years ago while answering a well-check call in Turner County.
Turner County Sheriff Steven Luke said he has been attending the event for the past several years along with Darwin and Sandy Mechels, Chad's parents. The couple goes yearly to the event to remember not only their son but also other officers killed in the line of duty.
Luke said Chad was a very detailed and focused individual and obviously had experience coming into Turner County. Luke also noted at that time, he was relatively new in his career. Chad taught him a few things and he definitely was a good role model.
"You remember that day 10 years ago that was a big change in a lot of peoples lives. It was a big event in my early career that shaped me who I am today," noted Luke.
"The South Dakota Law Enforcement Memorial Service is held every May in Pierre. Attending it has become a tradition for our family. It is so important to our family that the service, the sacrifice and the memory of our fallen heroes is never forgotten," said Sandy Mechels.
Luke noted this memorial service is open to the public. He explained the most interesting thing he looks forward to every year is getting to reconnect with family and co-workers that have lost a loved one.
Luke said the day begins with law enforcement departments from across the nation. Everyone gathers at the Capitol Grounds with a 21-gun salute by the National Guard. He said after that, everyone travels to the law enforcement-training center where squad cars line up for miles to drive the streets in Pierre. Luke noted all the squad car lights are flashing throughout Pierre as a symbol to honor the fallen officers.
"Remembering those who deserve to be remembered," said Luke.
He explained this day is important for people to remember the men and women in law enforcement who gave the ultimate sacrifice to make their community a safer place.