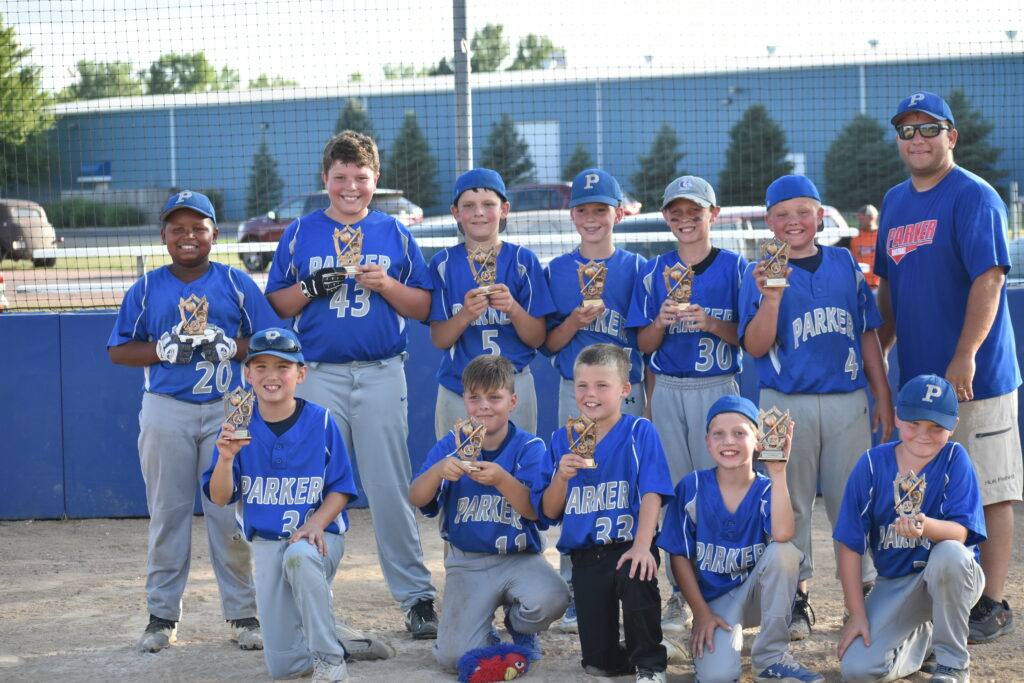 Shane Merrill | Writer
It was truly of a tale of saving the best for last, the Parker Blue 10U team, ranked number one and undefeated faced off against Tea Schramm, a team that had been under the radar, but was rated second with a 5-1-1 record on the year. The Pheasants came ready to play and had their chances, but the pesky Titans were able to rally in extra innings to tie the Pheasants 11-11 and hand Parker their first tie of the season.
Parker was up to bat first in the contest as lead off Owen Travnicek took a shot just over second base and was able to steal his way to third. Rush Bleyeberg smoked a shot up the middle driving in the run, giving Parker a 1-0 lead to open the inning. Luke Travnicek took the mound for Parker, doing what he does best, after a fielding error resulted in a home run, the Pheasants settled in getting the next three outs with things tied at 1-1.
Things remained tight until the third, when the Pheasants struck again, this time Bleyenebrg doubled, with Carter Berens driving him in just a batter later, with Berens also scoring on a Korbyn Leveille hit making it 3-1 in favor of the guests. Tea picked up two runs of their own in the inning, tying things again at 3-3
Mason Hohn scored in the fifth inning for Parker off an Owen Travnicek hit, pushing Parker back up one, and after a 1-2-3 bottom of the inning, Parker added two more insurance runs as Marquice Bortnem and Bleyenberg both scored, pushing the Pheasants up 6-3 in the final inning.
Unfortunately for the Pheasants, Tea was able to rally again, scoring three of their own, setting the stage for extra innings for the first time this season.
The Parker bats caught fire in the seventh, with nearly everyone recording hits, as the Pheasants put up a five run inning thanks to Hohn, Teegun Wentzel, Luke Travnicek, Bortnem, and Bleyenberg.
Parker looked to be in control from there as Travnicek took the first batter with a strike out, but after a pitching switch the Pheasants couldn't regain control, as several walks resulted in a five run inning for Tea, ending the game at 11-11.
"What a fun game," remarked head coach Shane Merrill. "The pitching on both sides was top notch up until the end, an error and few walks let the things slip away a little bit, but I am still happy with the way we battled the whole night and hit the ball."
"It was a whirlwind of a season, they always go so fast. This is such a special group you hate to see it come to an end," he continued. "It was a great summer, finishing with no losses and as league champs is quite an accomplishment, these guys should be proud, hopefully they continue to work and progress as we look forward to next year. Parents and fans should be proud, just a phenomenal group to get to help out with."
Parker did manage to out hit the Titans 16-9, with Travnicek finishing the game with 11 strike outs.
Parker Blue finished their season 11-0-1.