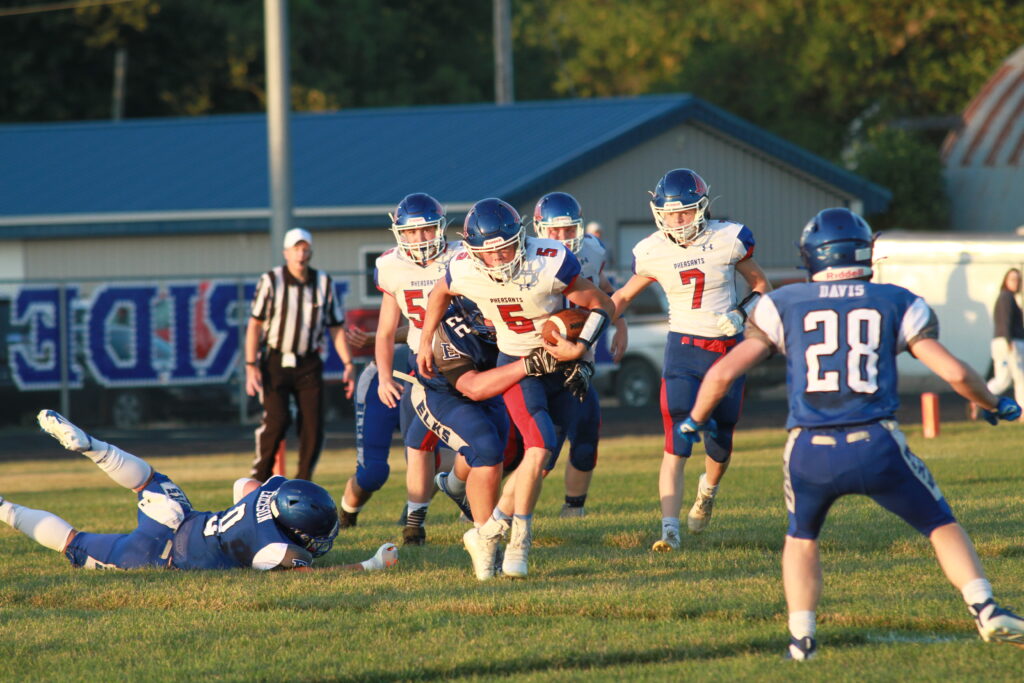 Shane Merrill | Sports Writer
The Parker football team survived a fierce comeback last Friday night, picking up their first win of the season and evening their record at 1-1. The Pheasants faced off against Elkton-Lake Benton on the night, and ruled the first three quarters staving off a four quarter ELB surge.
Defense was the name of the game in the first quarter, as both teams struggled to find any offense. Parker was first to strike on the night, as Colby Olson scored from three yards out, putting the Pheasants up 8-0 as time expired on the half.
Parker continued to build momentum in the third quarter as once again Olson found the end zone, pushing the lead to 14-0. Ray Travnicek added another touchdown late in the quarter scampering in from 16 yards out making it 20-0. Lane Wieman added the all important extra points making it 22-0 and setting up a drama filled fourth quarter.
ELB scored early in the quarter pulling to 22-6, and just minutes later scored again making it 22-12. The Pheasants started a drive of their own, but a botched fourth down attempt gave the ball back to the Elks, who got in for another score pulling dangerously close, 22-20 with over a minute to play. Parker recovered an onside kick attempt, sealing the two point victory and evening their record at 1-1.
Leading Parker was Wieman with 74 yards on the ground while Travnicek had 58. Olson also had 87 yards through the air, with Davin Fuller leading in receptions with 79 yards. Charlie Patten led the defensive effort with seven tackles while Lane Wieman had 5.
"Our coaches talked about how this was going to be a four quarter game and they were 100 percent right," commented coach Scott Hybertson. "We had adversity and overcame it. The win may not look great on paper, but we learned a lot. We have a young team that loves to learn and be coached. We will continue to get better every week."
Next up the Pheasants face Hanson in Alexandria.