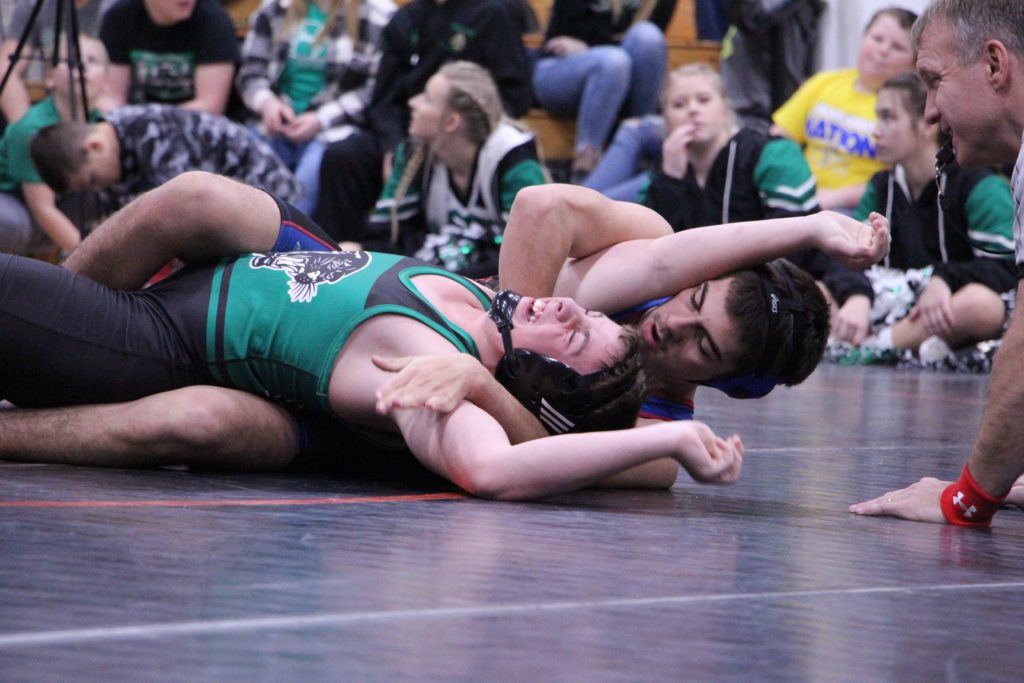 Shane Merrill | Writer
The Parker wrestling team traveled to Salem last Saturday after a nearly two week hiatus to face off in one of the toughest tournaments of the season. Parker had four in the top five on their way to sixth place as a team.
"(It was a) really good tournament with a ton of great teams from all over South Dakota, said head coach John Silvernail.
"We had some really great performances from our wrestlers. Looking forward to continued improvement as we move forward."
Parker will next travel to Miller for the Bandit Invitational on Saturday, Jan. 11 with a chance for many Pheasants to get back wins against opponents they lost to on Saturday at MCM.
Results from Saturday's event were:
106: Andrew Even (Parker) – 5th Champ. Round 1 – Andrew Even (Parker) over Dakota Buck (McCook Central/Montrose) (Dec 9-5) Quarterfinals – Korbyn Ockenga (Canton) over Andrew Even (Parker) (Fall 2:45) Cons. Round 2 – Andrew Even (Parker) over Tate Miller (Howard) (Fall 2:24) Cons. Round 3 – Andrew Even (Parker) over Jace Blasius (Philip Area) (Fall 0:36) Cons. Semis – Hunter Witte (Flandreau) over Andrew Even (Parker) (Dec 8-2) 5th Place Match – Andrew Even (Parker) over Kipp Cordes (Philip Area) (Fall 2:07)
113: Logan Buseman (Parker) – DNP Champ. Round 1 – Ryker Peterson (Philip Area) over Logan Buseman (Parker) (Fall 2:40) Cons. Round 1 – Logan Buseman (Parker) over Isaac Boden (Beresford/Alcester-Hudson) (Fall 0:27) Cons. Round 2 – Brandon Bosworth (Mt. Vernon/Plankinton/Corsica-Stickney) over Logan Buseman (Parker) (Dec 6-0)
120: Hudson Eldeen (Parker) – DNP Champ. Round 1 – Kale Ask (Canton) over Hudson Eldeen (Parker) (Fall 0:43) Cons. Round 1 – Jude Sargent (Winner) over Hudson Eldeen (Parker) (Fall 2:43)
126: Connor Even (Parker) – DNP Gage Ravellette (Philip Area) over Connor Even (Parker) (Dec 6-4) Jovey Christensen (Beresford/Alcester-Hudson) over Connor Even (Parker) (Fall 3:18)
132: Issac McDugle (Parker) – 7th Champ. Round 1 – Issac McDugle (Parker) over Weston Freier (Marion/Freeman/Freeman Academy/Canistota/Menno) (Fall 1:33) Quarterfinals – Ben Swatek (Elk Point-Jefferson) over Issac McDugle (Parker) (Fall 1:59) Cons. Round 2 – Issac McDugle (Parker) over Jhett Eklund (Burke/Gregory) (Fall 1:45) Cons. Round 3 – Aaron Gilchrist (Winner) over Issac McDugle (Parker) (MD 18-7) 7th Place Match – Issac McDugle (Parker) over Brayden Schlachter (Potter County) (For.)
138: Kaleb Buseman (Parker) – DNP Champ. Round 1 – Burk Blasius (Philip Area) over Kaleb Buseman (Parker) (SV-1 6-4) Cons. Round 1 – Kaleb Buseman (Parker) over Landon Smith (Bon Homme/Scotland/Avon) (Dec 4-0) Cons. Round 2 – Lane Miller (Howard) over Kaleb Buseman (Parker) (MD 13-2)
145: Jack Even (Parker) – DNP Champ. Round 1 – Jack Kruger (Winner) over Jack Even (Parker) (Fall 1:34) Cons. Round 1 – Jack Even (Parker) over Jaymison Bjorum (Bon Homme/Scotland/Avon) (Fall 4:22) Cons. Round 2 – Seth Peterson (Canton) over Jack Even (Parker) (MD 15-3)
145: Mace Plucker (Parker) – 3rd Champ. Round 1 – Mace Plucker (Parker) over Cailob Week (Winner) (Dec 7-2) Quarterfinals – Mace Plucker (Parker) over Seth Peterson (Canton) (Dec 5-1) Semifinals – Jackson Eklund (Burke/Gregory) over Mace Plucker (Parker) (Dec 7-0) Cons. Semis – Mace Plucker (Parker) over Jack Kruger (Winner) (Dec 6-0) 3rd Place Match – Mace Plucker (Parker) over Seth Peterson (Canton) (Dec 3-1)
152: Zanto Centeno (Parker) – 8th Champ. Round 1 – Zanto Centeno (Parker) over Blake Brodrecht (Lyman) (Fall 5:10) Quarterfinals – Trevor Peters (Winner) over Zanto Centeno (Parker) (Fall 2:10) Cons. Round 2 – Zanto Centeno (Parker) over Forfeit Forfeit () (For.) Cons. Round 3 – Jordan Vosika (Burke/Gregory) over Zanto Centeno (Parker) (Fall 2:15) 7th Place Match – Mason Pulse (McCook Central/Montrose) over Zanto Centeno (Parker) (Fall 0:50)
160: Zaul Centeno (Parker) – DNP Champ. Round 1 – Kaden Laubach (Canton) over Zaul Centeno (Parker) (Fall 1:54) Cons. Round 1 – Zaul Centeno (Parker) over Jay Wright (Burke/Gregory) (Fall 4:49) Cons. Round 2 – Blake Eldeen (Parker) over Zaul Centeno (Parker) (Fall 2:09)
160: Blake Eldeen (Parker) – 7th Champ. Round 1 – Blake Eldeen (Parker) over Roger Duba (Kimball/White Lake/Platte-Geddes) (Fall 1:00) Quarterfinals – Ty Beyer (Howard) over Blake Eldeen (Parker) (Dec 5-0) Cons. Round 2 – Blake Eldeen (Parker) over Zaul Centeno (Parker) (Fall 2:09) Cons. Round 3 – Rylan Peck (Burke/Gregory) over Blake Eldeen (Parker) (Dec 7-3) 7th Place Match – Blake Eldeen (Parker) over Landon Wolter (Wessington Springs/Woonsocket/Wolsey-Wessington) (TB-1 2-1)
170: Zavier Centeno (Parker) – 8th Champ. Round 1 – Zavier Centeno (Parker) over Gabriel Turpin (Howard) (Fall 4:51) Quarterfinals – Hunter Pranger (Mt. Vernon/Plankinton/Corsica-Stickney) over Zavier Centeno (Parker) (Fall 3:13) Cons. Round 2 – Zavier Centeno (Parker) over Jason Hammer (Canton) (Dec 8-2) Cons. Round 3 – Seth Tebay (Wessington Springs/Woonsocket/Wolsey-Wessington) over Zavier Centeno (Parker) (Dec 4-2) 7th Place Match – Gavin Jacobs (Elk Point-Jefferson) over Zavier Centeno (Parker) (Dec 6-4)
182: Charlie Patten (Parker) – 7th Champ. Round 1 – Charlie Patten (Parker) over Owen Duffy (Winner) (Fall 0:54) Quarterfinals – Joey Wheeler (Potter County) over Charlie Patten (Parker) (Dec 4-2) Cons. Round 2 – Charlie Patten (Parker) over Dylan Geary (Kingsbury County) (Fall 2:13) Cons. Round 3 – Levi Nightingale (Kimball/White Lake/Platte-Geddes) over Charlie Patten (Parker) (Dec 5-2) 7th Place Match – Charlie Patten (Parker) over Kade Grocott (McCook Central/Montrose) (Dec 6-4)
195: Tanner Even (Parker) – 2nd Champ. Round 1 – Tanner Even (Parker) received a bye Quarterfinals – Tanner Even (Parker) over Austin Hoiten (McCook Central/Montrose) (Fall 3:10) Semifinals – Tanner Even (Parker) over Jordan Gall (Bon Homme/Scotland/Avon) (Dec 7-2) 1st Place Match – Cody Donnelly (Philip Area) over Tanner Even (Parker) (MD 9-0)
220: Jesse Walton (Parker) – 4th Champ. Round 1 – Jesse Walton (Parker) over Elliott Chase (McCook Central/Montrose) (Fall 2:24) Quarterfinals – Jesse Walton (Parker) over Alex Jensen (Beresford/Alcester-Hudson) (Fall 2:19) Semifinals – Clayton Smith (Marion/Freeman/Freeman Academy/Canistota/Menno) over Jesse Walton (Parker) (Fall 1:53) Cons. Semis – Jesse Walton (Parker) over Austin Severson (Kimball/White Lake/Platte-Geddes) (Fall 2:53) 3rd Place Match – Quinten Christensen (Wessington Springs/Woonsocket/Wolsey-Wessington) over Jesse Walton (Parker) (Dec 4-0)
220: Levi Wieman (Parker) – DNP Champ. Round 1 – Quinten Christensen (Wessington Springs/Woonsocket/Wolsey-Wessington) over Levi Wieman (Parker) (Dec 9-5) Cons. Round 1 – Isaac Pulse (McCook Central/Montrose) over Levi Wieman (Parker) (Fall 1:44)
285: Geoff Dunkelberger (Parker) – DNP Champ. Round 1 – Geoff Dunkelberger (Parker) received a bye Quarterfinals – Zach Richardson (Canton) over Geoff Dunkelberger (Parker) (Fall 1:50) Cons. Round 2 – Ben Lasley (Canton) over Geoff Dunkelberger (Parker) (Fall 1:54)