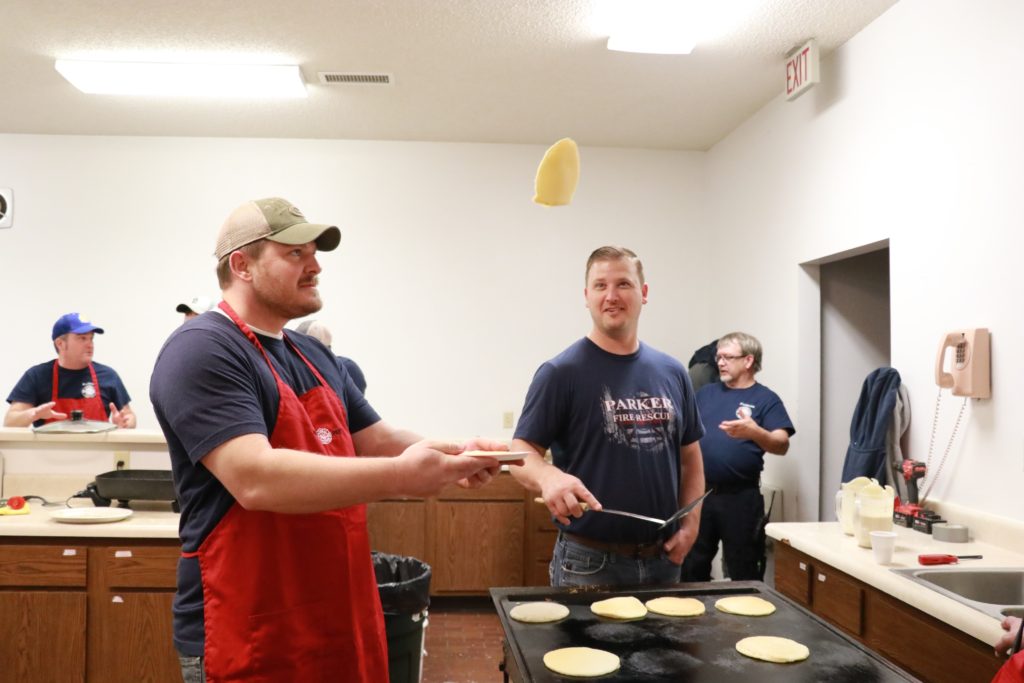 Sarah Ebeling | Managing Editor
For the second year in a row, the Parker Fire Department hosted a pancake feed over the weekend.
Fire Chief Max Masters explained that in the past, they have helped other groups with their feeds, but last year began hosting their own.
Masters said although they didn't take a headcount, they believe about 300 people took part in the meal.
"I think it's nice for people from the area to be able to gather and share a meal while supporting a great cause. It's a very cost effective fundraiser for us," he said.
The funds that come in from this fundraiser, and their largest yearly fundraiser, Bingo, helps the department purchase equipment.
Masters noted that this year, with the monies raised over the years, the department has purchased a newer vehicle to replace their current rescue unit.
"There are a couple more things we need to purchase before this vehicle is ready to be put into service," said Masters.
He noted that over the last two years, in addition to their funds and grants they have been awarded, the city has allocated funds to replace their structural PPE which was outdated and in some cases, not properly fitted newer members.
"This was a significant investment of around $50,000. With this large purchase price and the continued research involving high rates of certain cancers in firefighters, we have purchased a commercial grade washer/extractor to use to wash carcinogenic particles off our gear and reduce wear and tear," Masters explained. "This will allow us to hopefully keep this gear in great shape while at the same time protecting our team."
The washer was purchased with funds from Bingo, the pancake feed, one night of Bingo at the Turner County Fair and their state Wildland contract.
Masters noted that they have sponsors who help with the upfront costs of materials so that anything they collect can go directly towards they fire department.
"Without those businesses and individuals, we wouldn't be able to continue with many of our fundraising events," he concluded.