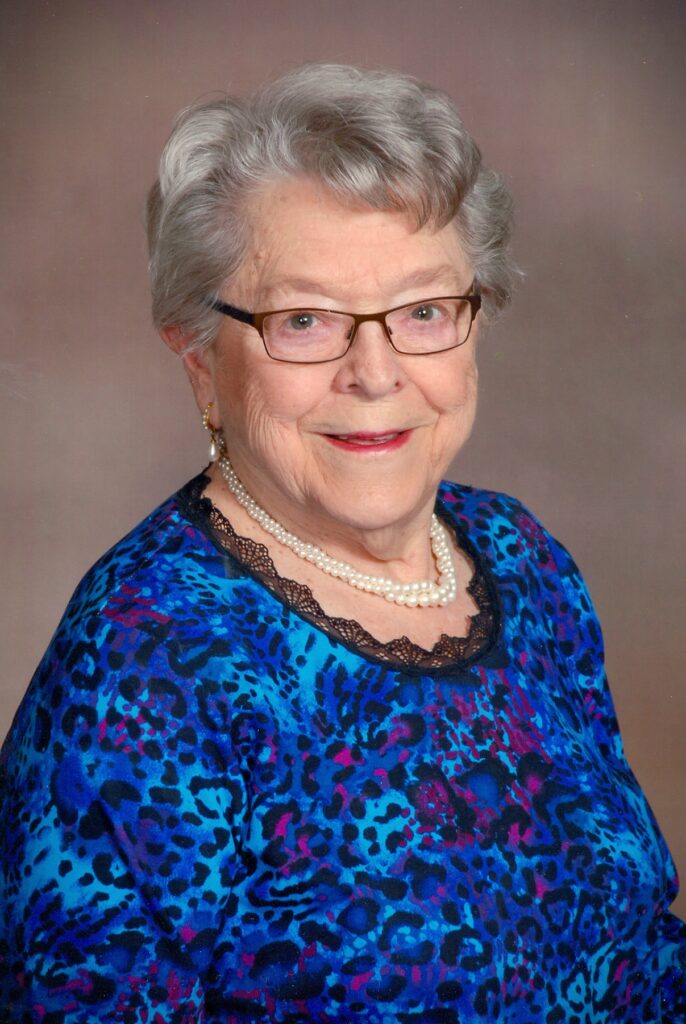 88
Thursday, Sept. 10
Marion
Eunice LaVonne Gunderson Otto Duerksen or "Euny" was born Oct. 30, 1931, on the family farm near Hurley, the eighth of nine children to Herman E. and Christine (Knutson) Gunderson. She graduated from Parker High School in 1949. Eunice obtained her teaching certificate and taught country schools in Turner and McCook Counties. She enjoyed teaching country schools very much. While teaching near Canistota, she met the love of her life, Francis Otto, whom she married on June 12, 1955.
After her three children were all in school, she became a paraprofessional and worked 25 years in Canistota Public School. Her husband, Fran, died suddenly in 1991. She always said if she were to marry again, someone would have to pop into her life. Well, someone did. After being alone for six years, Euny married Bob Duerksen on July 19, 1997. They enjoyed nine years of marriage before his death in 2006. Euny and Bob loved to travel, whether on bus trips to Iowa or DC or in Alaska or Norway. They loved being Winter Texans in the Valley.
Euny was a woman of faith. She was also a woman who loved fun, friends and family. She enjoyed the Busy Bee extension club and Ladies Aid at Calvary Reformed. She loved to be in the midst of a party. She was a great hostess. Hospitality was her gift. She loved being with the entire Gunderson family. She lived for the "Four Best Days of Summer," the Turner County Fair. Euny was a great baker and her "Euny buns" were famous far and wide.
Euny loved life. Those who mourn her loss include her children: Leanne (David) Biesheuvel, Bruce (Julie) Otto, Laurie (David) Gregory and Joey (Pat) Curtin; 12 grandchildren: Carmen (Mike) Law, Leslie (Eric) Varnon, Brad (Dana) Biesheuvel, Justin Otto, Jessica (Jeff) Benney, Haley Otto, Afton Otto, Danielle (Eric) Ligtenberg, Grant (Jana) Bleeker, Casey (Sarah) Bleeker, Jackie Hackett and David (Joy) Curtin; 21 great-grandchildren: Charles, Nathan, and Meghan Law; Noah, Cooper, Ian and Max Varnon; Bradan, Declan and Gavin Biesheuvel; Ashton Otto; Ryan Benney; Braxton Buracker, Braylon Sutter and Grace, Owen and Elise Ligtenberg, Carly, Madison, Ethan and Reagan Bleeker; siblings Kay Wieman and Harold (Shirley) Gunderson; sister-in-law Helen Gunderson; and Julie Edman, cousins and many friends. Preceding her in death were her parents; siblings Harvey, Russ, Marvin, Lee, Jerome and Lois Kraemer; husbands Francis Otto and Bob Duerksen; son Bill Otto; and great-grandson Maddox Sutter.
In lieu of flowers, memorials may be directed to the Calvary Reformed Church or the charity of the donor's choice.
Funeral services were held Sunday, Sept. 13, at Calvary Reformed Church in Monroe.
Arrangements provided by Hofmeister Jones Funeral Home.