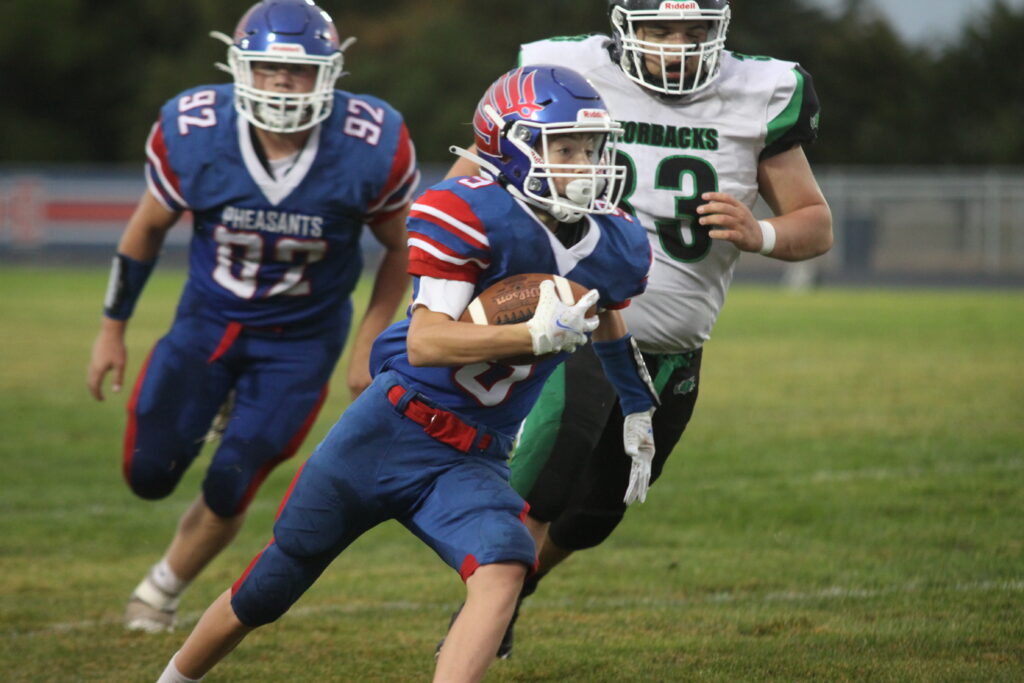 Shane Merrill | Sports Writer
The Parker football team welcomed neighboring rival Marion/Menno to town last Friday night, facing off against the Razorbacks in their Friday night homecoming game. Parker saw several rallies fall flat and fell in the contest 36-20.
Marion-Menno scored first in the game, taking an early 8-0 lead and holding it through the first quarter.
The Pheasants responded in the second quarter with a score of the their own, pulling within two, 8-6, however the Razorbacks came right back, pulling ahead 16-6 by the half.
Things really got interesting in the second half, as M/M scored again, pushing the lead to 24-6, but a late Colby Olson score in the third quarter had Parker within 10, 24-14, as time wound down on the third.
A defensive stop allowed the Pheasants to get the ball right back in the fourth quarter, with Colby Olson finding a waiting Davin Fuller in the end zone to pull within four, 24-20, with 10 minutes to go. Parker then tried an onside kick, which worked, giving Parker the ball right back and handing them some much needed momentum.
Unfortunately, the drizzly conditions forced a Parker fumble on the next play giving the visitors the ball right back, and Parker never could recover, as the Razorbacks went on to score twice more, getting a 36-20 win.
Leading Parker in the game was Lane Wieman with 98 yards rushing. Defensively, Davin Fuller had eight tackles while Charlie Patten had six and Jack Even six.
Marion/Menno outgained Parker on offense 368-152 yards.
"The guys fought until the end," said head coach Scott Hybertson. "We worked hard and got better as the game went along. Hopefully we will continue to improve as the year goes on."