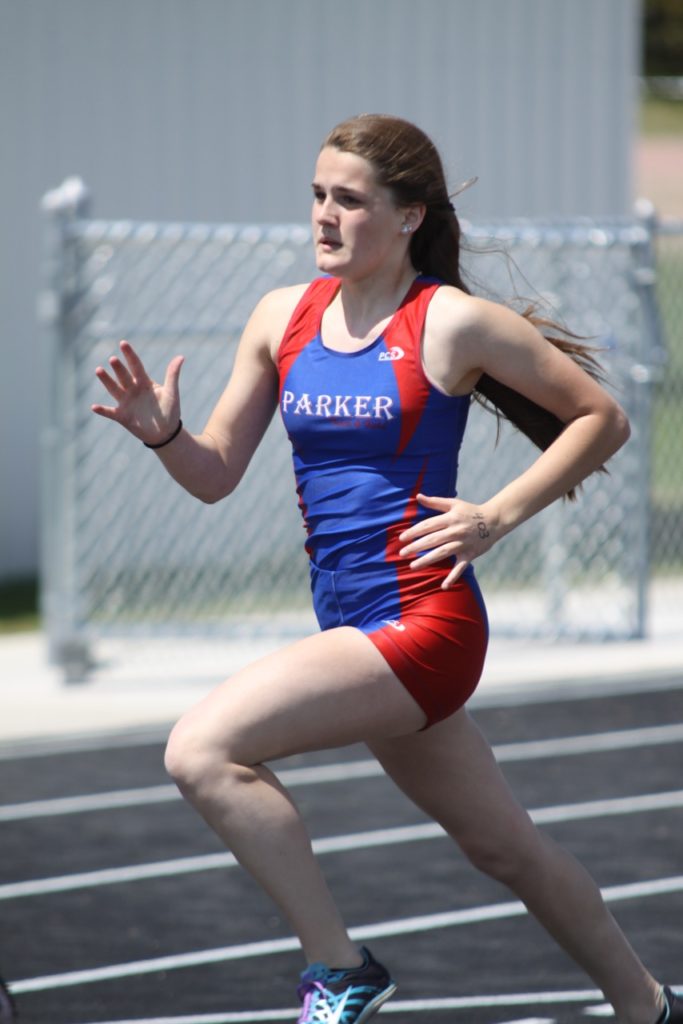 By Phil Bjorneberg | Coach
Competing in Platte on a windy day, the Parker athletes, almost universally, ended their regular season on high notes. The boys' team added one new state meet qualifier when Joe Joffer won the discus to add that event to the shot put, which he qualified by distance earlier this year. Joe ends his pre-State Meet career as the two-time defending region champion in both throwing events!
While no other boy qualified for the state meet, each and every one of them did something great at this meet:
• Senior Jacob Hoffmeister earned his first medal ever as he placed 8th in the shot put!
• Zav Centeno ran his best 800m time of the year
• Jamie Bleyenberg placed 8th in the 110m hurdles with a new personal best in the prelims
• Zanto Centeno placed 6th in the 300m hurdles and 7th in the 110m hurdles, cutting one second off his best ever time in the 110's
• Trevor Becker posted personal bests in the 100m dash, 200m dash and long jump and brought home the seventh place medal on the 100m and 8th place medal in the long jump!
• Tristan Becker also dropped his personal record in the 100m and 200m dashes, which brought a 5th place medal in the 100m!
• Davin Fuller ran a great anchor leg in the 400m relay to join the Beckers and Zanto in earning a 5th place medal
• Jacob Van Velzen earned his first medal of the year with an 8th place finish in the triple jump
What a great way to end the season for these young men. They were small in numbers this year, but large in heart. Thanks to all of them and good luck to Joe at the state meet!
The girl's team also had an amazing day, earning medals in 16 of 19 events and added three events to the state meet schedule. Cierra Mohr went crazy in the long and triple jump, two events she started learning just this year. In the triple jump, she jumped nearly a foot and a half beyond her previous best to place second, move into fourth on the top-10 list and earn her way to the state meet! Then, she added another second place in the long jump with a jump that qualified for the state meet by distance and tied her for second best all-time in PHS history…quite a day for Cierra! Joining her at the state meet is ninth grader Josie Leberman. Josie is a first year runner who has found her groove since going to state in cross-country last fall. She ran a perfect race in the 3200m run and will be aiming to break the 13 minute mark this week at Tea!
Here are the other events and results:
• 100m Dash:
o Karley Peters was the champion and broke the region meet record!
o Lexi Even was 3rd and Janae Olson ran a personal best to place 6th!
• 200m Dash:
o Lexi ran a fantastic race to place 2nd and Grace DeWald broke her personal record!
• 400m Dash:
o 8th grader Tayler Coleman earned the 5th place medal and 7th grader Shayla Voeltz finished one spot out of placing with a good run
• 800m Run:
o Ellie Travnicek placed third in the wind and Lanie Kaas showed a good kick at the end
• 1600m Run:
o Josie placed 4th behind three great runners and Lanie ran well
• 100m Hurdles:
o Raelin Jurgens placed third and 8th grader Katie Simmermon ran her personal best
• 300m hurdles:
o Raelin brought home the 4th place medal and Katie looked strong at the end
• Long Jump:
o Rayna Mohr nearly joined her sister at the state meet as she jumped 16' to just miss qualifying distance, place 3rd and move into a tie for 4th place on our top-10 list! Janae Olson had a great year of jumping and will go far the next four years
o Shot Put:
• Sarah Herlyn threw nearly two feet further than ever and earned her first medal of the year with a 5th place! Not far behind, Aubrey also tossed a personal best to earn her first medal of the year with 8th! Eliza Berens joined these two in throwing well.
o Relays:
• 400m (Rae, Lexi, Rayna and Karley)=1st place
• 800m (Lexi, Rayna, Ellie and Karley)=1st place
• 1600m (Macy Kippes, Shayla Voeltz, Tayer Coleman and Janae Olson)=4th
• 1600m Medley (Janae, Rayna, Macy and Jaiden Olson)=3rd
• 3200m (Jaiden, Josie, Macy and Ellie)=3rd
So, it was a wonderful day of competing by all these athletes and here are the competitors at the Class-A State Meet this coming weekend:
• Boys Shot Put and Discus=Joe Joffer
• Girls 100m Dash=Karley Peters and Lexi Even
• Girls 200m Dash=Karley Peters and Lexi Even
• Girls 100m Hurdles=Raelin Jurgens
• Girls 3200m Run=Josie Leberman
• Girls Long and Triple Jumps=Cierra Mohr
• Girls 400m relay=Raelin, Lexi, Rayna Mohr and Karley
• Girls 800m relay=Lexi, Rayna, Ellie and Karley
• Girls 1600m Medley Relay=Janae, Tayler, Macy and Jaiden
Good luck to this group of athletes and thanks to all for a fine year!!