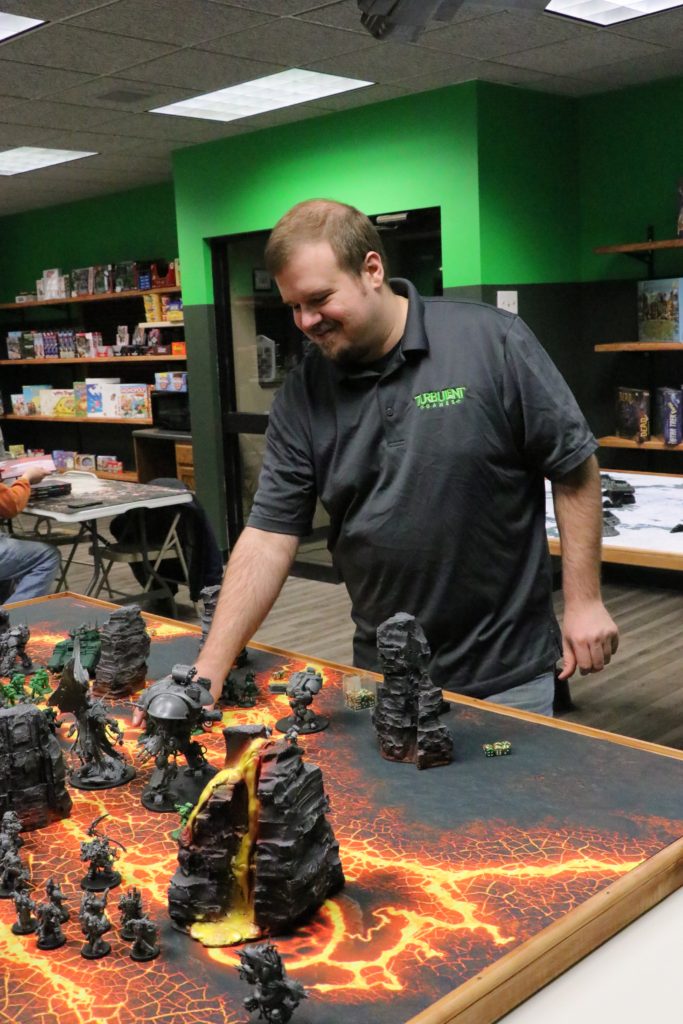 Sarah Ebeling | Managing Editor
When Turbulent Games opened a brick and mortar store in downtown Parker last February, the owners never thought they would be moving a year later. 
But, just 12 months later the gaming store expanded to their new location after purchasing the old Farmers State Bank recently.
Co-owners Keegan Batson and Russell Carlson explained that when they initially opened last February, it only took about three months before they had outgrown their location and started looking towards their next step.
After talking to Rivers Edge Bank and working with the South Dakota Governor's Office, the duo was able to secure the funding they needed and never looked back.
Batson said, "River's Edge was very helpful and we wouldn't be able to do this without them."
To many, Turbulent Games or game stores in general might not sound like the sort of store that one would be interested in. But stepping inside shows just how much gaming supplies the store has. Batson was quick to note that they currently have the largest collection of War Hammer in the state. Another unique item to the Parker store is that they are the only store that focuses on miniature games.
"They are our focus and what we know the most about," he said proudly.
Beside miniature games, the duo offers Magic the Gathering, Pokeman, Dungeons and Dragons, family board games and other games.
Batson said that so many of the games they have helps a persons' brain power —from making you think, coming up with different ways to do things, using critical thinking and thinking outside the box.
"There is a push for board games because it takes kids away from social media and off of technology and puts them in a situation where they have to use critical thinking and communication," said Batson.
Both Batson and Carlson have put countless hours into making their new location what it is today. Along, they said, with help from three buddies and family members who wanted to see them succeed. They also hired Bobby Schmuhl to do trim and restoration work.
"We wanted to support Bobby and he supports us and we were able to work together. We want to keep as much money local as possible," said Batson.
They know a lot too about the importance of keeping things local. They said they have had students and adults from Parker and surrounding towns come to Turbulent Games to see what they are about. Now in their new location, they are hopeful others will also stop in now.
"We want to invite the public to come and see what we have to offer in hopes of getting game night for adults started," said Batson.
Kids are getting into it too. Batson and Carlson have hosted a Dungeons and Dragons night at the school and now that they are in their new location, they want to host them there. When they initially started the school game night, they had 15 kids sign up and have had eight to 12 show up regularly.
"This is for everybody," said Carlson.
Although they knew it might be somewhat of a culture shock to bring these sort of games to a smaller community, the duo said they have been extremely welcomed by people who have been excited to know what Turbulent Games offers when it comes to both board and card games.
Now that their new location is complete and they are completely moved in, they say they are staying put. Unless they run out of room, again.
"That would be a good problem to have," said Carlson.
The store's hours are Wednesday through Friday from 5:30 – 9:30 p.m., Saturday 11 a.m. – 9 p.m. and Sunday 11 a.m. – 8 p.m.