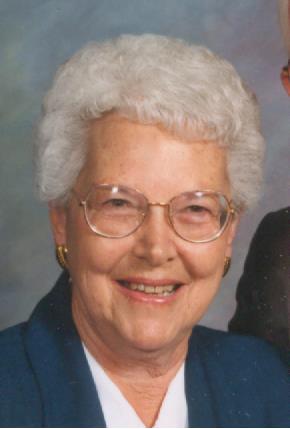 96
Saturday, Sept. 26
Sioux Falls
Verladyne Naomia Saunders was born on April 13, 1924, the daughter of William and Barbara (Boyes) Saunders at Schoolcraft, Mich. She grew up. She attended school in this area, graduating from Mattawan High School. She attended Western Michigan University and then graduated from Hope College with a degree in education. Verladyne taught kindergarten for several years.
On Aug. 16, 1950, she was united in marriage to Gerard DeLoof at the Calvary Reformed Church, Texas Corners, Mich. The couple worked side by side in ministry at churches in Casnovia, Mich., St. Petersburg, Fla., Portage, Mich., Ellsworth, Minn. and at Second Reformed, Delaware Reformed, Monroe Reformed and Chancellor Reformed in South Dakota. Husband, Gerard "Jerry" died on Sept. 19, 2017.
Verladyne was a member of the Chancellor Reformed Church. She had a well-utilized gift of hospitality. She enjoyed gardening, ceramics, cooking, baking, sewing and needlework. She had crocheted many afghans for her children and grandchildren. Verladyne was a sports enthusiast who was a devoted Detroit Tigers baseball fan and a fan of various football teams. Most of all, Verladyne was a devoted wife, mother and grandmother who deeply loved her Lord.
Besides her husband Gerard, Verladyne was preceded by her parents' death, all 11 of her siblings and two great-grandchildren.
Grateful for having shared her life are her children: Tim (Sandy) DeLoof, Sioux Falls, Marilyn (Steve) Ward, Captiva, FL, Don DeLoof, Sioux Falls and Steve (Mary) DeLoof, Brandon; 10 grandchildren; 15 great-grandchildren and one great-great-grandchild, as well as a host of other relatives and friends.
Funeral services were held Wednesday, Sept. 30, at Chancellor Reformed Church in Chancellor with interment at Lennox Cemetery.
Arrangements provided by Dindot-Klusmann Funeral Home, Lennox.