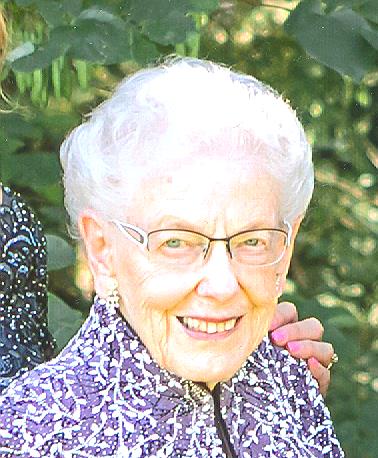 90
Friday, Jan. 24
Sioux Falls
Audrey Ruth Meier was born on a farm near Chancellor the daughter of George A. and Mitilda "Tillie" (Dirksen) Meier. She grew up here and attended school in the Chancellor School District through the 11th grade. She graduated from Lennox High School in 1947. She went on to attend SDSU in Brookings before earning an associate's degree in teaching from Sioux Falls College in 1949. She later returned to Sioux Falls College where she earned her bachelor's degree in teaching in 1972.
On Aug. 11, 1949, she married H. George Vietor at the Second Reformed Church in Lennox. The couple lived in Hurley for a short time, where Audrey taught school and then moved to their farm near Chancellor in 1964. After a break from teaching to raise their two girls, Audrey returned to teaching in Chancellor in 1964 until she retired in 1975. George and Audrey moved from the farm into Chancellor in 1970. In August of 2019, the couple moved to Sioux Falls.
Audrey was an active and faithful member of the Chancellor Reformed Church. She belonged to the Dorcas Circle and she was a charter member of the Chancellor American Legion Auxiliary. She enjoyed reading, loved to garden and was an outstanding cook. She enjoyed traveling regionally with George's U.S. Post Master responsibilities. The couple also traveled to Europe twice and to Hawaii. For 10 years, they spent winter months in California, staying with their daughter Jill. Most of all, Audrey was a devoted wife, mother, grandmother and great-grandmother who deeply loved her family.
Besides her parents, she was also preceded in death by siblings, brother, Conrad Meier and sisters, Byrdell Groen and Dolores Bellach.
Grateful for having shared her life are her husband of over 70 years, H. George, Sioux Falls; two daughters: Holly (Bill) Hofer, Sioux Falls and Jill (Mike) Foster, Edmond, Okla.; seven grandchildren: Rachel Brice, Charleston, S.C.; Jordan (Keeyane) Hofer, Harrisburg; Tommy (Kia) Hofer, Eden Prairie, Minn.; Jaime Ruth (Marlon) Lobban, Sioux Falls; Mallory (Greg) Schouten, Sioux Falls; Samantha (Bryan) Black, Keller, Texas and Jaclyn (Craig) Hill, Keller, Texas; 13 great-grandchildren: Olivia and Jack Brice; Lovena Billy; James, Nils and Tor Hofer; Josiah, Naomi and Eden Lobban; Nora and Josey Schouten; Trygve George and Runa Black, as well as other relatives and a host of friends.
Funeral services were held Tuesday, Jan. 28 at Chancellor Reformed Church with interment at Chancellor Reformed Cemetery.
Arrangements provided by Dindot-Klusmann Funeral Home, Lennox.