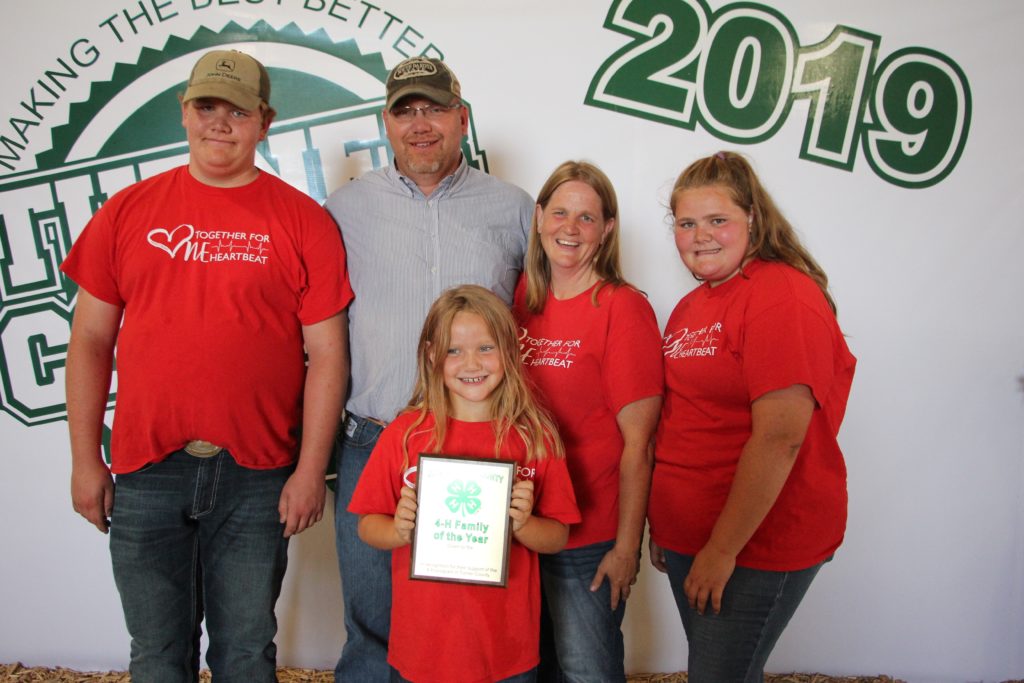 Sarah Ebeling | Editor
All across the United States people observe National 4-H Week every October. In South Dakota, according to SDSU, they honor the event in which millions of youth, parents, volunteers and alumni across the country celebrate everything 4-H.
And it is no different locally. In Turner County alone, 4-H has a massive participation rate, with 332 4-Her's being a part of the organization. Some families are just getting started, others have been a part of 4-H for years and some, some are so dedicated that they and their families have been a part of 4-H for decades and are so incredibly passionate for what it stands for.
One of those families is Dean and Kelly Dunkelberger of Chancellor. And they were honored in a big way recently.
Anyone who has been to the Turner County Fair knows that the annual event is full of laughs, smiles, surprises, fun and plenty of hard work for 4-Hers. As the Turner County Fair wound down in mid August, a few surprises were still in the works! On Thursday, Aug. 15, the Dunkelbergers were named 4-H Family of the Year.
"I've always looked at that award as going to a family with older kids who are almost out of 4-H. So we were completely surprised by the honor," said Kelly whose children Geoff, 11th grade, Vanessa, 8th grade and Elizabeth, 2nd grade, are very active in 4-H.
She noted that her kids have already been involved in 4-H for 10 years, with Geoff starting in second grade as a Clover Bud and now as a senior 4-H member. Vanessa is a junior 4-Her and Elizabeth is a Clover Bud.
Kelly explained that husband Dean was never involved in 4-H until he met Kelly. She noted it was then that he started attending 4-H events at the fair and would come to support her.
"4-H has been a part of my entire life. My dad Jerry was involved in 4-H as a kid and was then a 4-H leader with my mom when me and my siblings were that age," said Kelly.
"All six of us were in 4-H and now three of us have kids eligible to be in 4-H. My other three siblings are still part of it all with us," she continued.
Kelly noted that for her, 4-H has taught respect and responsibility and that the 4-H clover stands for head, heart, hands and health. Along with the motto, Making the Best Better, Kelly said she believes in both the motto and the clovers four "H"s.
"Everyone is good at something. 4-H helps you figure out what and where your passion is. Or, it just gives you a hobby that is fun and you can do with your friends and family," she said.
As for the award that her family received, Kelly was quick to say, "We were honored to receive this award. When it comes to 4-H, as a family, we put in the hard work, not for recognition, but because we love being a part of 4-H and the 4-H community. I truly believe 4-H is one of many organizations that gives you the life skills you need to succeed."