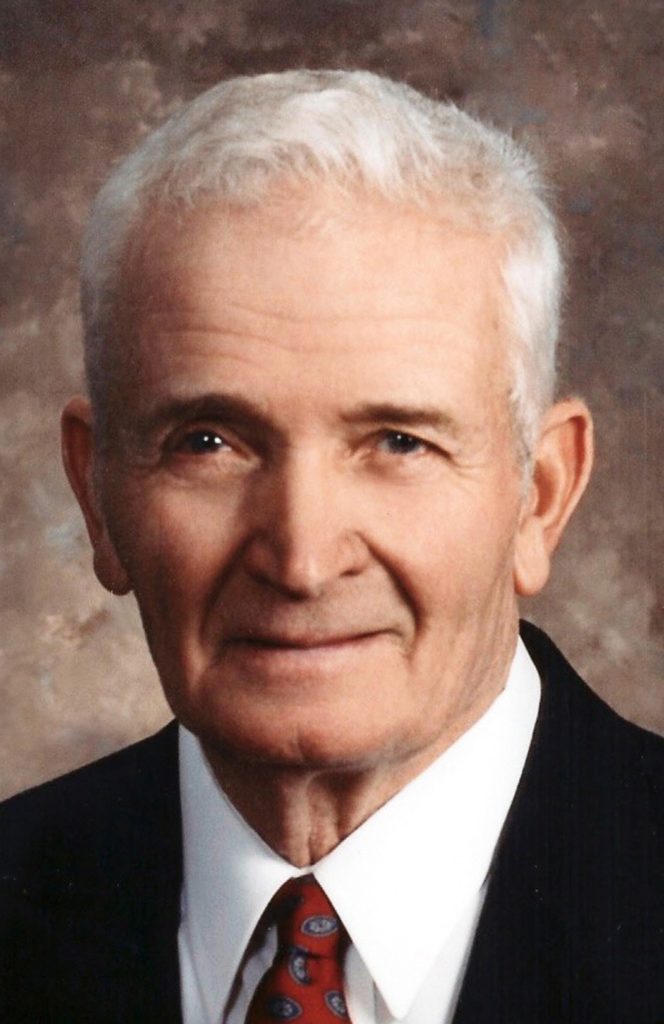 84
Friday, June 14
Marion
Harlan Dale Becker was born Oct. 12, 1934, to Paul and Alma (Deckert) Becker. Rev. G. S. Warkenten baptized Harlan July 13, 1952, at the Silver Lake Mennonite Church. He graduated from Marion High School in 1953.
On June 26, 1955, Harlan was united in marriage to JoAnn Heckel. In 1963, Harlan and JoAnn moved into a new house they built where they raised their six children.
He started in construction in 1953. He and his brother, Dwaine, started Becker Bros. Construction in 1955 and continued their partnership until 1970. They built a shop on the north side of Marion where they maintained and stored equipment. Harlan continued in construction as a sole proprietor after 1970. He worked very hard, long days during his work season and enjoyed his work. It was not uncommon for him to have an audience whether he was raising a house, digging a basement or working on a dugout. He dug his last basement under a raised house and worked on his last dugout in 2008, then selling his equipment in the fall of 2008. He maintained and operated his own equipment all his life.
Harlan got his pilot license in the 1960s. Doc Bob Schmidt, Dr. Al Tieszen and Harlan owned a plane together. Harlan's older children had some memorable rides in that plane to St. Louis, MO.; Hillsboro, Kansas; Houston, Texas; and Los Angeles, Calif. In his younger years, Harlan enjoyed boating and skiing at Swan Lake. He also loved to visit with people, and his wife remarked one time that no matter where they went he always saw someone he knew.
Harlan served his country in alternate voluntary service in a psychiatric hospital in Cherokee, Iowa from May of 1957 to May of 1959. He was a member of the LICA (Land Improvement Contractors of America) for over 25 years and served on the Board of Directors for 12 years. He was a member of the Lions Club for 20 years and served on the Marion City Council for 10 years. He was on the Board of Trustees at The First Church of God in Marion and sang in the church choir and men's chorus. Harlan and JoAnn were also youth leaders for several years.
Harlan loved his family and was very proud of them. He especially enjoyed his grandchildren and great-grandchildren. Harlan always enjoyed music and played the accordion, piano and the bass guitar. He passed this love of music to his children, and many of the family memories center around playing hymns and gospel songs together. His children had to learn to transpose music to play along with their instrument or be left out, so they, of course, learned to transpose music!
The family has many great memories of going to Branson, Mo. for 16 years. It was very important to Harlan and JoAnn that the family create lasting close relationships with each other.
Harlan's mother was very special to him and he missed her dearly when she died. Harlan's two brothers, Dwaine and Clellan, were very important to him and they devotedly visited Harlan in Memory Care and Hospice.
Left to cherish his memory are: his wife of 63 years, JoAnn; his children, Donnice (Jim) Preheim, Barron Becker, Tamara (Brian) Stern, Rachelle (Bruce) Haase, Joan Hofer, and Amy (Gary) Jackson and his 19 grandchildren: John (Anita) Preheim, Terry (Jennifer) Preheim, Laura (Jeremy) Wolbrink, Bob (Becky) Preheim, Ginger Robinson, Brandon (Jena) Becker, Jared (Faith) Becker, Brandon Michael Hartmann, Alisha Hartmann, Morgan (Nate) Auer, Nicholas (Emily) Stern, Kristin Stern, Jaime (Sean) Schwartz, Lance Haase, Austin Hofer, Alexander Hofer, Gary Jackson, Jr., Isaiah Jackson and Alexa Jackson and 10 great-grandchildren; two brothers, Dwaine (Marva) Becker and Clellan (JoAnne) Becker.
Preceding him in death were his parents, Paul and Alma Becker; an older brother, Leslie; a daughter-in-law, Janelle Becker.
Funeral services were held Wednesday, June 26 at First Church of God Church in Marion with burial at the church cemetery.
Arrangements provided by Hofmeister Jones Funeral Home.
Memorials may be directed to either: Lives Under Construction Boys Ranch, 296 Boys Ranch Road, Lampe MO 65681 or World Impact, 2001 S Vermont Ave, Los Angeles CA 90007.