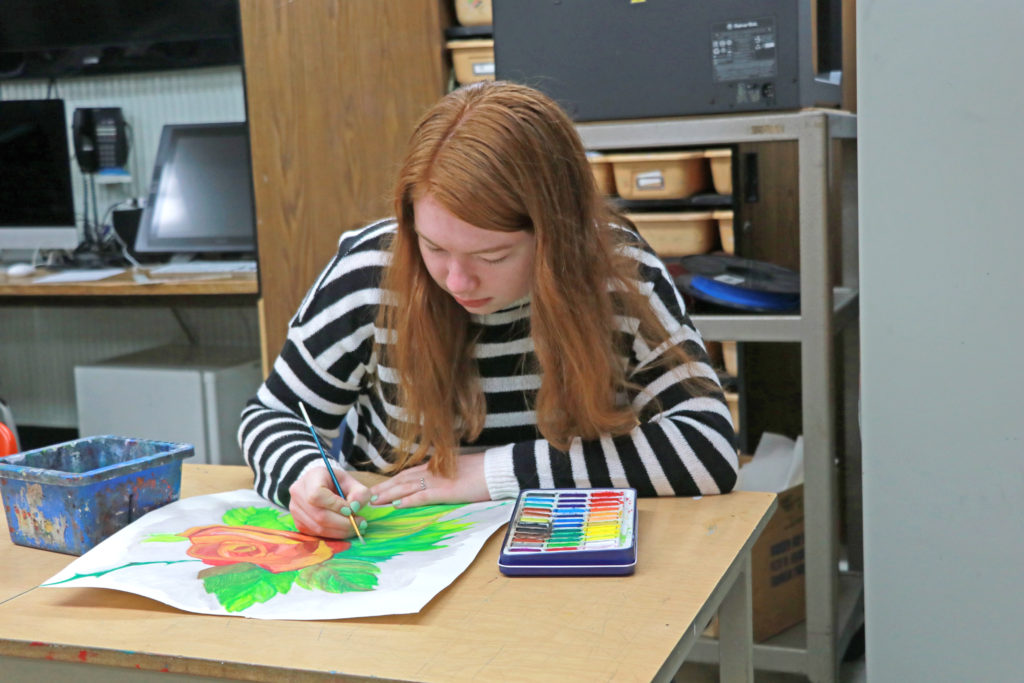 Dawn Rye | Writer
Art is not necessarily what someone see, but what the artist make others see. For one local artist, expanding her artwork starts with hosting an art gallery show. Parker senior Grace Reiffenberger said her goal for her senior project is to showcase her 30 pieces of watercolor, canvas portraits and pencil drawings to the community. She commented that she wants the community to know how important art can be when it comes to having a creative outlet.
Her event will be held Friday, Jan. 24, from 5 p.m. to 8 p.m. at the Parker High School small gym.
She explained the community would have an opportunity to purchase a piece of art from the gallery. She noted if someone has a request for her to create an art piece, she would charge the customer $5.00 an hour.
Reiffenberger explained her passion for art started while taking art classes in elementary school in Sioux Falls. She recalled her elementary art teacher, Miss Harmelink, encouraged her to try different ideas with her art techniques. From there, any idea or cool photo would give her the motivation to draw.
She explained her most important tools are her pencil set. Her pencils are how each project gets started. Reiffenberger said she also enjoys working with watercolors. She commented that watercolors are loose and allow the artwork to look more abstract.
As a challenge, Reiffenberger decided that she wanted to draw a random online photo of a woman that she had no connection to. She explained she wanted to broaden her horizons, so she chose colored pencils to use for this project. The project took Reiffenberger 18 hours to complete, she noted.
"I called this one Butterflies," commented Reiffenberger.
Another piece Reiffenberger described, an even more challenging piece, was her grandpa's portrait. She explained this piece took her a week to come up with a plan that she was happy with. After failing with a canvas and watercolors, Reiffenberger went back to her colored pencils. She said she completed the project in five hours.
"I'm a perfectionist with my art," said Reiffenberger with a smile.
She continued, "So I have to compare them, but know that it won't be perfect."
Reiffenberger will be attending USD for Art Education in the fall. She said she is excited to receive more art classes and have the opportunity to meet other art professors. After she receives her degree in Art Educations, she noted she wants to be an elementary art teacher.