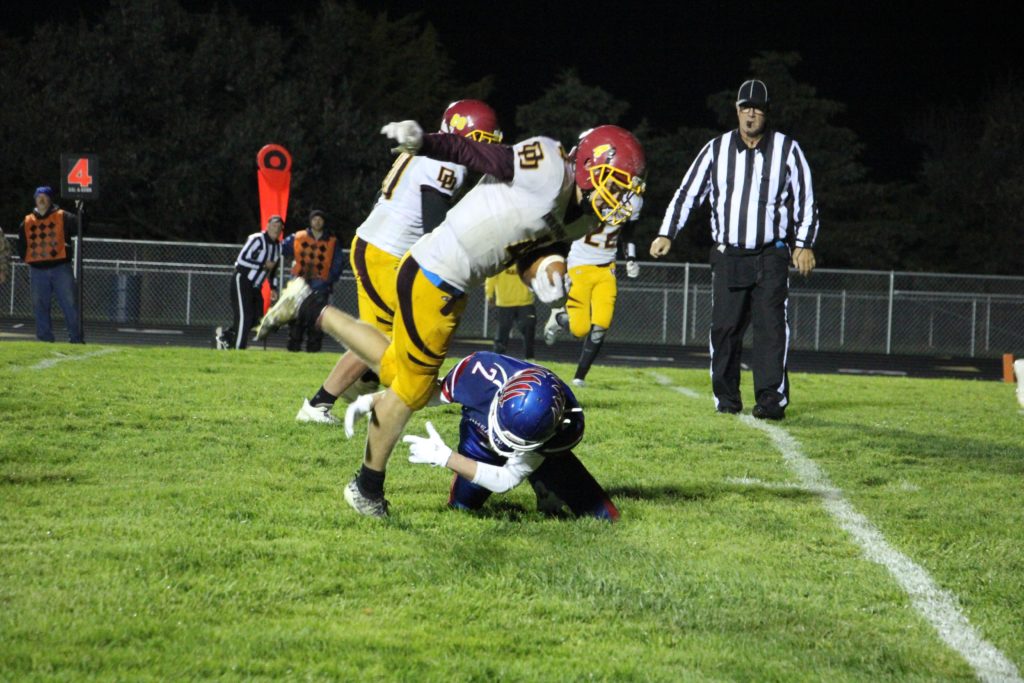 Shane Merrill | Writer
Fresh off their first loss of the season the Parker football team was ready to regroup and get to work, facing off against a winless Deubrook squad for their homecoming game. Although the soggy, cool conditions put a damper on the festivities, Parker had little trouble with the Dolphins, scoring early and often on their way to a 30-6 win.
Tanner Even got things rolling in the first quarter carrying both the touchdown and extra point to put Parker up 8-0. Things remained that way until Even broke things loose in the second with two more touchdowns, one from 10 yards out and the other from two yards out making it 22-0 at the half.
With things firmly in control Lane Wieman managed to break free and go 53 yards for a touchdown, adding a little insurance and making it 30-0 early in the third. After several subs and changes up and down the line-up the Dolphins finally got on the board in the fourth, but it was too little too late as the defense prevailed the rest of the way taking a solid 30-6 win to close out homecoming week.
Leading Parker was Even with 103 yards rushing while Wieman had 77. Colby Olson also had 24 yards receiving. Even also led the defensive effort with 12 tackles while Wieman had 10, Olson six, Jesse Walton seven and Keaton Laible five.
"Overall a good win for us against Deubrook," commented coach Scott Hybertson. "Offensively, we moved the ball and fought hard on defense. "
Parker will now turn their attention to conference foe and formally ranked Baltic as the end of the season looms.
"Coming up this week, Baltic will be a very big test for us. We need to clean up our game to beat a tough Baltic team. This game will tell us who we will play in the Cornbelt Clash the last game of the year. We look at this season one week at a time and hopefully get better from week to week."