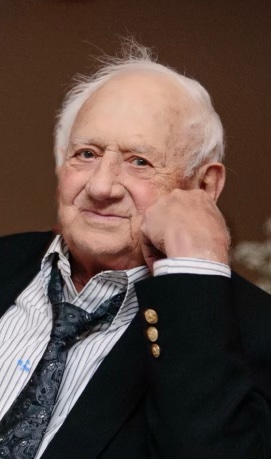 92
Saturday, March 17
Marion
Al was born July 17, 1928, to Fred and Helen Tieszen of Marion, where he grew up on a farm south of Marion and attended Prairie District #16 country school through eighth grade, followed by Marion High School, graduating in 1946. After high school, Al attended Freeman Junior College before moving to Chicago in 1948. In 1952, he graduated from the National University of Health Sciences Program, Doctor of Chiropractic Medicine and joined his uncles in the Tieszen Clinic in Marion as a chiropractor.
Two months after graduation, Al was drafted into the Marines. He was initially stationed in San Diego before spending six or seven days on a ship headed to Korea during the Korean War. He was proud to share that while many people were 'sick' during this journey, he fortunately never had any problems on 'the boat' to Korea. The armistice was signed as the entire first fleet was at sea heading to Korea. Their destination changed to Japan. His biggest regret was that the Marines didn't have a medic division, resulting in him being attached to the Navy and Al's inability to use his medical knowledge during his service.
After Korea, Al returned to Marion and was a successful chiropractor in The Tieszen Clinic. He loved helping others. As a chiropractor, Al often shared that he never considered what he did as a job. Instead, it was "pure joy" to do what he was able to do. Over time, as his practice became more successful, his clients would come from near and far. They lovingly referred to him as 'Doc Al' – a title he not only deserved but was humbly proud to be called wherever he went.
After returning from Korea, Al learned to fly a Cessna 182 he and two others owned. He enjoyed flying his father to baseball games across the country and coming home to the grass field north of town. The time with his father was special for Al because it gave back to his father.
Al had many passions during his time in Marion. He was instrumental in establishing a little league baseball program in which he helped coach. Al shared that some of his best memories were handing out baseball gloves to kids who didn't have one but more so, he was proud to demonstrate how to be a good sportsman. Al shared that after games, whether they won or not, he would ask the kids, 'did you have fun?' They would, of course, say 'Yes!' To Al, that is what mattered most, and he loved being a part of it!
Al is preceded in death by his parents Fred and Helen Tieszen, two brothers-in-law, Dwane Decker and Wayne Kingsboro, Michael Deckert and Pam Kneip (Diana's daughter).
Grateful for having shared his life are the love of his life, Diana Lee; his sisters Jackie, aka Verma Decker and Violet Kingsbury; Beth Deckert along with Hunter (Taylor), Chase and Brooke Deckert; Diana's family Greg (Sandy Robar) Kneip and Erik (Jill) Biegler; his nephews and nieces Dianna (Edvard) Gustafsson; Kenneth (Nancy) Decker; Steve (Doris LeDue) Decker; Jerry (Sherri) Decker; Bill (Patty) Decker; Ron (Joe Guerrera) Decker; and Jim (Robin) Decker; along with numerous nephews, nieces and many, many "families" of loving friends.
Al's favorite charities were the American Heart Association, the Helpline Center's Walk to Prevent Suicide 2021, the MS Society, along Feeding South Dakota.
A funeral service will be held in Tieszen Cemetery at 1 p.m. Monday, June 12.
Arrangements provided by Hofmeister-Jones Funeral Home.