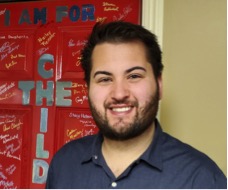 Southeast CASA (Court-Appointed Special Advocates) trains local citizens to be advocates for abused and neglected children who are involved in the foster care and family court systems in the counties of Yankton, Clay, Union, Turner and Bon Homme in southeastern South Dakota.
Justin Boulware began his duties as the CASA Case Manager for Abuse & Neglect cases in Clay, Union, and Turner counties on Monday, Nov. 11. His office will be in the Community Connections Center in Vermillion. Boulware is a native of Jefferson and graduated from USD in May 2019 with a BS in Social Work. Before joining the staff, he was a substance abuse counselor at Transitional Services of Iowa in Sioux City. During college, he spent two years working part-time at SESDAC in Vermillion as a direct support professional. In that job, Boulware helped individual clients with their activities of daily living and accompanying them to various community activities. As a part of his Social Work degree, he completed a semester internship with the Iowa Dept. of Human Services in Sioux City. He experienced working with the foster families, the adoption cases team, and the Native American liaison unit and with judges and attorneys of the clients.
Boulware enjoys singing and participated in the USD Chamber Singers and the High Howlers A Cappella group while at USD. He and his fiancé, Sara, live in North Sioux City with their dog, Pendelton.