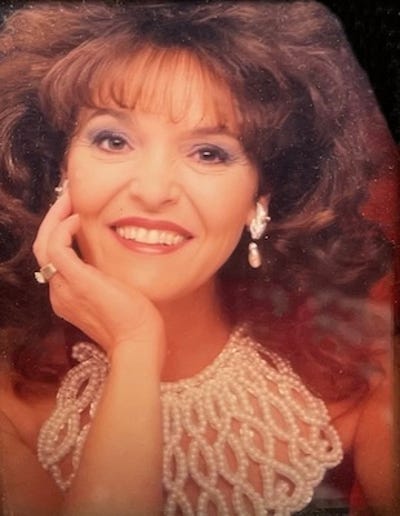 75
Tuesday, Oct. 12
Arnolds Park
Tina was born Feb. 18, 1946, in Upland, Calif. to John and Lucille (née Renek) DeGidio.
She graduated from Chaffey High School in 1964.
That same year, she married Ron Talbott, making their home in Ontario, Canada. To their union were born three sons: Ron, Rob and Ryan. Several years later, they moved to Oregon, then to Newport Beach, then Mount Baldy, Cailf.
In 1982, Tina married Walter "Buzz" Wilson. They made their home in Marion for over a dozen years.
In 1999, Tina married Larry Sattler. They made their home in Sioux Falls. They moved to Lake Okoboji to buy the well-known Artsy-Tartsy boutique in 2002 and met many new people in the zebra-shuttered house filled with knick-knacks and kitschy curiosities.
Tina was a talented beautician, graduated from Stewart's School of Cosmetology. She worked as a beautician at JC Penny's, owned Finishing Touch in Marion and a chair at Genesis by Don. She and Larry owned Parker Bakery in Parker for a year, and she cut hair out of her own studio at Lake Okoboji.
Tina was a magnificent cook and baker. She brought people together with her table and her smile. She especially enjoying holiday baking and decorating. She was a woman of faith, volunteering often at St. Joseph's. She met frequently with her book club and homemaking club, always dressed stylishly. She loved gardening and grew many beautiful flowers indoors and out.
Tina is survived by her husband Larry Sattler, sons Ron (Tracy), Rob (Jan), and Ryan (Sarah) Talbott; by stepson Shane (Tanya) Sattler; by stepdaughters Michelle Tureskis and MacKenzie (Josh) Victor; by grandchildren Chelsea Turner, Corey Talbott, Katie Tetzlaff, Riley Talbott, Wyatt Talbott, Kylee Talbott, Alyssa and Rebecca Sattler, Jacob and Julia Busch, and Aria Lawrence; by great-grandchildren Ryder and Sydney Turner, and baby-on-the-way Tetzlaff; and by her brothers Louis and John DeGidio. She is survived by many more friends who loved and will miss her dearly.
Funeral services were held on Friday, Oct. 15 at St. Joseph Catholic Church in Milford.
Turner Jenness Funeral Home were in charge of the arrangements.