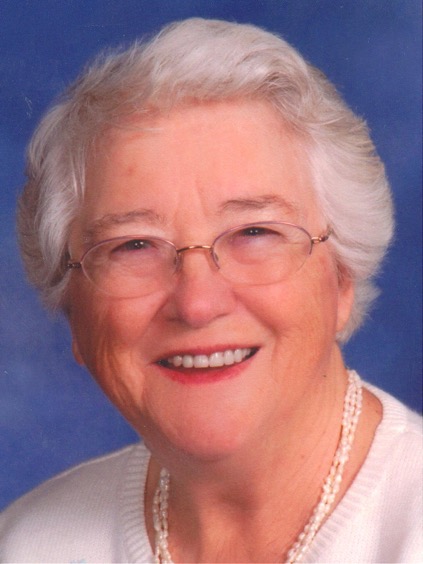 96
Thursday, Feb. 18
Chancellor
Cora Lucille Mansfield/Highstreet was born on Aug. 18, 1924 to Lloyd and Mamie (Young) Mansfield at Douglas County. She was raised on a farm northeast of Chancellor by her adoptive parents, Hilbert and Lillie (Poppens) Highstreet, and received her education at Home District #4 rural school.
On Dec. 17, 1942 she married Henry Schoffelman at the Germantown Presbyterian Manse. They made their home on a farm just west of Germantown Church for 67 years. Cora continued to live on the farm after Henry's death on Jan. 10, 2010. Cora enjoyed farm life and its many diverse activities, including weeding the bean fields, milking their Holstein cows and gardening. Cora always took pride in her garden, canning and freezing all the produce to be enjoyed by her family during the winter months. She taught her knowledge of food preservation to her children, who carried on the practice. Cora loved growing flowers and would be sure to point out their beauty when family and friends came to visit.
Cora was a life-long member of Germantown Presbyterian Church. One of her fondest memories was the Sunday school picnics which were the social highlight of the summer season.
Cora was an avid baker specializing in homemade pies and buns and dinner rolls. Her mouthwatering buns were a must-have at family holidays and special occasions. She continued baking into her 90s.
Cora and Henry enjoyed traveling after their retirement. They enjoyed an extended trip to Alaska as a celebration of their 50th wedding anniversary. They also visited the northeast, Colorado and the southwest.
Besides her parents and husband, Henry, Cora was preceded in death by their son, Vincent Neil on Sept. 12, 1986; grandson, Eric Schoffelman on Feb. 24, 1998; grandson, Michael Groeneveld on Aug. 18, 2014; two sons-in-law: Donald Groeneveld on May 27, 2011 and Ronald Fast on Sept. 15, 2011; one brother, Vernon Mansfield, killed in action during World War II in the South Pacific, Sept. 10, 1943; sisters Ruth Herr, Mildred Watkins, Florence Javers, Gladys Quigley, Evelyn Hoekman, Ethel Jean Brown and Carolyn Sue Mansfield in infancy.
Grateful for having shared her life are her eight children: Karen Groeneveld, Chancellor; Judy (Edward) Kistler, Rapid City; Gene (Helen) Schoffelman, Davis; Randy Schoffelman, Davis; Daniel (Gail) Schoffelman, Parker; Sheryl (Jon Reiners) Fast, Sioux Falls; Corale (Mike) Mattson, Sioux Falls and Lori (Greg) Ulbrich, North Royalston, Ohio; 26 grandchildren; 49 great-grandchildren and 19 great-great-grandchildren; sister-in-law, Esther Kuper, Sioux Falls, as well as other relatives and friends.
Funeral services were held on Wednesday, Feb. 24 at Germantown Presbyterian Church, rural Chancellor.
Funeral services provided by Dindot-Klusmann Funeral Home, Lennox.