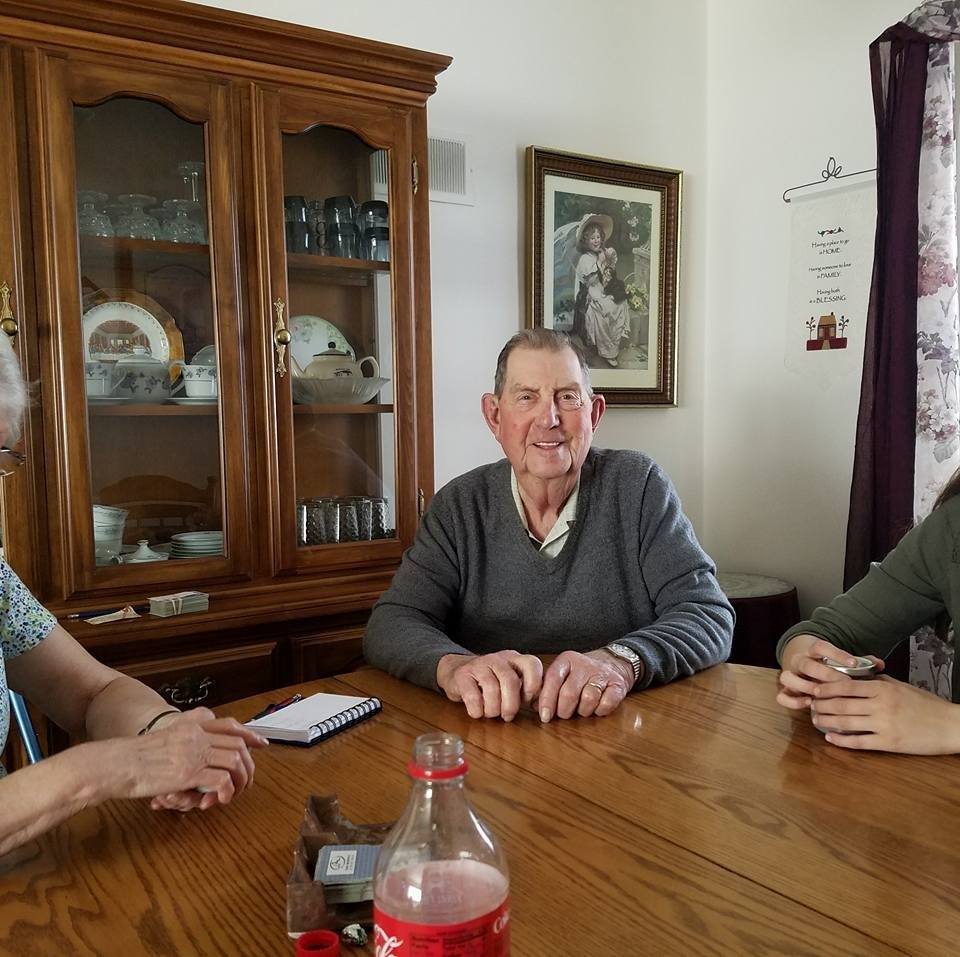 84
Wednesday, Sept. 1
Marion
Eldon H Berg was born on Aug. 17, 1937 to Henry C. and Mary Engbrecht Berg. He grew up on the family farm. He joined two older sisters Ethel (David), Martin and Ella (Eugene), Tieszen and later Lois (Larry) Kaufman joined the family. He was baptized by Rev. T. A. van der Smissen and joined the Bethesda Mennonite Church, where he remained a faithful member. He served as a Sunday School Superintendent, Adult Sunday School teacher, and the Trustee and Deacon Boards. Eldon was a child of God and his family saw God's touch in his life.
On Jan. 16, 1958, Eldon married Geraldine Dykstra at the Sandham Memorial Church (now Calvary) in Monroe. They were blessed to be married for 63 years. They moved to an acreage near Dolton and later moved back to his home place near Dolton and in 2003, they moved to Marion. They were blessed with three daughters, Linda (Duane) Deckert of Minot, N.D., Vonda (Randy) Sturzenbecher of Black Hawk and Nancy (Rodney) Becker of Sioux Falls and six grandchildren; Heather (Aaron) Christopher, Joel Deckert, Ryan Sturzenbecher, Megan Sutton and fiancé Dylan Zwiers, Christopher Becker (Mackenzie Roby), and Jenna Becker. Eldon loved his grandchildren and loved wrestling with them when they were little and playing games with them when they were older.
Eldon enjoyed driving and many of his jobs involved 'road time.' He drove a bulk milk truck route and was a heavy equipment operator for Turner Country until he retired. He also farmed, worked with construction in Sioux Falls, sheared sheep, fattened steers, painted buildings, and trimmed trees through his working years. In his retirement years, he often drove others to appointments, airports, etc. He and Geraldine also traveled as far north as Fairbanks, AK and south to the Florida Keys in one year.
Eldon was an example of servant leadership. He served on the Museum board in Freeman in the earlier years, was a board member for the Minn/Kota MCC Sale and worked with Mennonite Disaster Services (MDS) as their state coordinator for several years. He and Geraldine volunteered with MDS locally and in Texas, Kansas, Alabama, Florida, and North Dakota.
Eldon learned the skill of rope-making in the early 1980s. Over the years, he made countless jump ropes with the kids at the MCC Sales throughout the Midwest. Hundreds of his ropes have been distributed worldwide as part of Operation Christmas Child boxes.
He enjoyed visiting with people, and often the visiting took place while playing games. He was especially good at Pinochle, Cribbage and Mexican Train.
Eldon was preceded in death by his parents, parents-in-law; brothers-in-law; David Martin and Eugene Tieszen; sisters Ethel Martin and Ella Tieszen.
He is survived by his wife Geraldine, his daughters and their families, his sister Lois (Larry) Kaufman, and sister-in-law Delna (Bob) Mulhair and many nieces and nephews.
In lieu of flowers, Eldon wanted any memorials to be designated to Lives Under Construction Boys Ranch, Inc., Mennonite Disaster Service, or the charity of your choice.
Funeral services were held Friday, Sept. 10, at Bethesda Church, rural Marion.
Arrangements provided by Waltner Funeral Home.