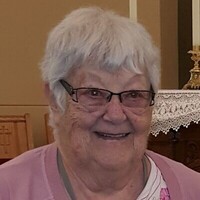 85
Wednesday, Jan. 27
Parker
Frances E. Ingalls was born on Oct. 13, 1935 in Sioux Falls to Alpha and Mercedes (Rogers) Nash. She grew up in Sioux Falls where she attended school and Washington High School.
On July 29, 1955 she was united in marriage to Darrel "Curly" Ingalls at Luverne, Minn. They moved to Parker in 1959 where she was very involved in the community. In 1978 she started with the Turner County Conservation District where she planted over one million trees and wrote a weekly newspaper column.
Being civic minded she was very involved in the VFW and Legion Auxiliary. Fran was instrumental in creating and implementing the Freedom stage at the Turner County Fair, which provided an opportunity to showcase local talent from across our county. She also loved being the MC for the Turner County Horse Show. Fran and Curly were great supporters of the Parker School district. You could find them in the gym, on the football field, at track meets, baseball games and anywhere there was an chance to support the Parker Pheasants. Fran started the PHS Drill Team in 1972. She loved volunteering and being involved with any activity that her kids enjoyed. Fran was very active member of the Parker United Methodist Church. She loved sharing her musical talents with her church and community. Most of all, Fran loved spending time with her family and friends. She never missed a "party" or an opportunity to sing Happy Birthday to her kids, grandkids and great-grandkids.
Grateful for having shared her life are three children, Betty Decker, Sioux Falls, Karen Schwier, New Hampton, Iowa and Steve (Dawn) Ingalls, Sioux Falls; seven grandchildren and 22 great-grandchildren; and a brother Richard Nash, Manhattan Beach, Calif.
She was preceded in death by her parents, husband Darrel "Curly" in 2001, brothers Robert and Eugene, a great grandson Tyler and a son-in-law, Scott.
Memorials maybe directed to the Parker Fire Department, Parker United Methodist Church or the Parker Booster Club.
Funeral services were held Wednesday, Feb. 3 at the United Methodist Church in Parker. Burial will be at the Black Hills National Cemetery, Sturgis.
Funeral arrangements provided by Hofmeister Jones Funeral Home.