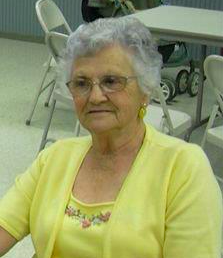 94
Thursday, July 16
Viborg
Helen was born on March 27, 1926, to Ernest and Elva Benson. She attended country school and graduated from Hurley High School in 1944. After graduation, Helen joined her parents working at the Bremerton Ship Yards in Washington for a year.
She married Leslie Westegaard on Aug. 18, 1946. While Leslie was in Korea, she taught country school. After Leslie returned, they starting farming in Turner County. Helen stayed home until Dan and Sue were in school and then went back to teaching. She taught until the country schools in Yankton County were all closed. After that, Helen and her sister, Phyllis, went back to Yankton College to finish their degrees; they graduated on the same day.
After Leslie died in 1980, Helen worked for Purina Feeds in Viborg. Later, she bought the Homestead in Yankton, a religious card and gift store she owned until she married Harold Halvorson on February 17, 1990.
Helen was active in her church, the local ladies aid and at the Synod Ladies Aid for many years. She had fond memories of the pork show in Viborg. Over the last years, Helen focused on her flowers and yard and her children, grandchildren and great-grandchildren. She has crocheted many stocking caps for the veterans in local nursing homes and others to donate to the homeless and hospitalized children. Helen also donated blankets and pillows to the Pathways Shelter for the homeless in Yankton. Her cookies, jams and jellies and special Christmas treats will be greatly missed.
Helen is survived by her daughter, Susanne and her son, Daniel; her grandchildren, Julie Westegaard and Tracey Westegaard-Gunlogson (Andy); her great-grandchildren, Austin, Brook and Max; and many nieces and nephews (too numerous to mention) as well as friends. She was preceded in death by her parents, husband Leslie Westegaard, husband Harold Halvorson and by her sisters, Marilyn and Phyllis.
Memorials will be donated to the Bang and Meldahl Cemeteries, the Viborg Public Library and Feeding South Dakota.
Funeral services will be held Friday, July 24, at Calvary Lutheran Church in Irene with interment at 1:45 p.m. at the Bang Lutheran Cemetery, rural Freeman. Due to COVID-19, the family strongly encourages the public to wear masks.
Arrangements provided by Hofmeister-Jones Funeral Home.