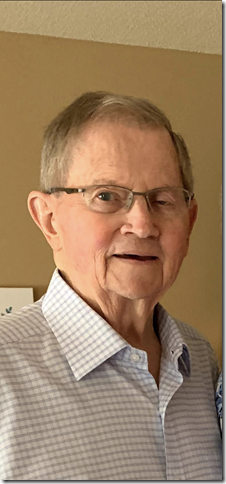 81
Sunday, Oct. 3
Sioux Falls

Jim was born on Jan. 30, 1940 in Parker, South Dakota to John and Harriet (Hovaldt) Cink. He attended school in Parker and graduated from Parker High School in 1958. He attended Dakota State University and received a teaching degree in mathematics in 1963. While in college, he met the love of his life, Kathy Bollinger.
Jim and Kathy were married on June 20, 1961 and recently celebrated their 60th wedding anniversary. Jim taught school in Byron, Minnesota for four years. In 1967, he moved his family to Beresford, South Dakota and worked as a math teacher and vice principal for 13 years. He received his Masters degree in Mathematics and Computer Science in 1971 from the University of South Dakota. In 1980, Jim moved into the computer industry and opened a computer manufacturing business, Powerhouse Computer Sales. In 1994, he sold this business and started a new career path. He received his Masters of Business Administration in 1992. He worked as a financial advisor at Piper Jaffray for eight years before transitioning to UBS as a financial advisor/branch manager for six years. Jim retired in 2010.
Jim has touched the lives of so many individuals, whether it be from his devoted service in education or with his customer loyalty in the business sector. Jim was driven to succeed. He felt education was important and everyday should be a learning experience. Jim was raised on a farm which taught him a strong work ethic. He was a dedicated son, brother, husband, father, grandfather and uncle. Jim cherished his visits with family and friends. He was an avid hunter, fisherman and was constantly working to perfect his golf swing. Jim had a strong Catholic faith, which he passed on to his three children.
He is survived by his daughters Shelly (Terry) Rund in Texas and Cindy (Scott) Johnstone in Idaho, his four granddaughters Amanda McEldowney, Rebecca (Robert) Plant, Sarah Rund, Megan (Jared) Gold and his grandson Connor Johnstone. He is also survived by three sisters, Jo Marso, Elaine Wagner, Kathryn Natwick, three brothers, Andy (Joyce) Cink, Tom (Mary) Cink, Paul (Shirley) Cink and three sisters-in-law Sandy Cink, Carol Krier, and Kay Wingert, along with many nephews, nieces, and cousins.
Jim was preceded in death by his parents, his parents-in-law Clarence and Eleanor Bollinger, his beloved wife of 60 years Kathy, his son Ron Cink, his brother Ed Cink, and brothers-in-law Tom Marso, Ken Wagner, Milo Natwick, Robert Wingert and Dennis Krier
Funeral services were held on Monday, Oct. 11 at Holy Spirit Catholic Church in Sioux Falls, followed by burial at St. Christina Catholic Cemetery in Parker.
Funeral services were provided by Heritage Funeral Home in Sioux Falls.