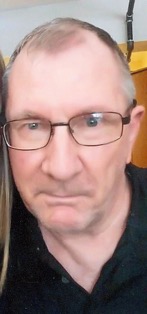 66
Friday, Feb. 26
Hurley
James John Hopf was born on Feb. 8, 1955 at Viborg to Harvey and Sophia (DeBoer) Hopf. He grew up on a farm in the Turkey Ridge area, where he attended country school at Grandview District #39. After graduating from Viborg High School in 1973, he stayed on the farm where he farmed and milked cows until, for health reasons, he had to retire. He was a member at Harmony Presbyterian.
For the past 10 years, he has been a resident of the Alcester Care and Rehabilitation Center and enjoyed going to daily activities and group outings. The family would like to thank everyone involved for their love and care Jim received while he made his home in Alcester. He enjoyed hunting and fishing, spending time with his family and volunteering at and attending the Menno Pioneer Power Show. His pride and joy were a 59' El Camino, but his true love was his three daughters and his two grandchildren, Tavyn and Kyra.
Grateful for having shared his life are his three daughters, Jennifer Hopf, Melissa Beek and Heidi Faber, all of Sioux Falls; two grandchildren, Tavyn and Kyra Beek; his two brothers, Larry (Jill) Hopf, Marion and Don (Dianne) Hopf, Yankton; an aunt, Belva Johnson, Madison; and many cousins, nieces and nephews. He was preceded in death by his parents.
Funeral services were held Thursday, March 4, at Harmony Presbyterian Church, Hurley, with burial in the Hurley Cemetery.
Arrangements provided by Hofmeister-Jones Funeral Home.