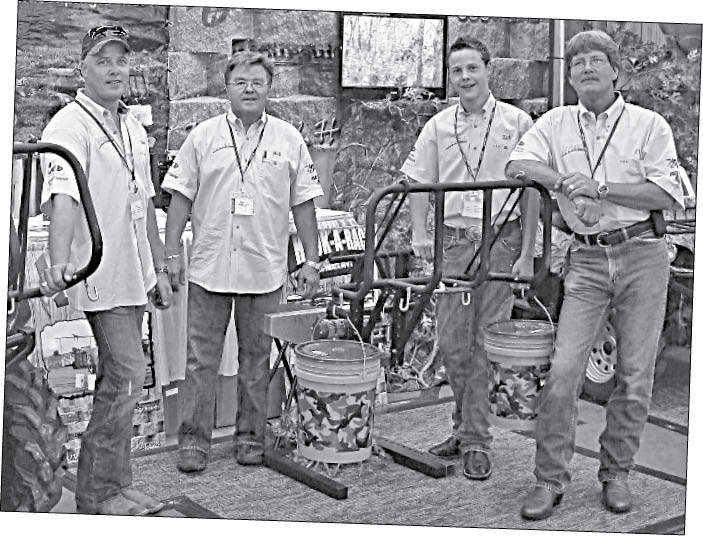 Many people dream of being an inventor. Some even go as far to try and get their invention created. But fewer yet are able to make their dream become a reality.
However, Mick Turner of Parker and son Chris are just two of the few that have not only dreamed the dream but have been very successful at it.
The Hook A Rack is the brain child of the father and son duo that was born out of necessity.
Mick explained that in October of 1996 he and Chris went deer hunting.
"I shot a really nice buck but could not lift or move him because he weighed about 300 pounds," said Mick.
He noted that he left the deer so he could get help from Chris and when they got back, the deer had been destroyed by coyotes.
"Chris said we needed to find a way to lift the deer on to our 4-wheeler," said Mick.
By January 1997, Chris had the first draft of the invention done and even welded the prototype onto Mick's 4-wheeler.
"We used it until 2003 when I purchased a new 4-wheeler. I did not want to weld it on to the new one so we redesigned the first version so it could be taken on and off," explained Mick.
He noted that they worked for several months to figure out how to attach the Hook A Rack without bolting it onto the ATV.
"We didn't want to have to have tools out in the middle of nowhere," said Mick.
After getting the rack to attach to Yamahas and having their applied for a patent in 2005, Mick and Chris went to a large manufacturer of aftermarket ATV parts in Iowa. After having the company sign a nondisclosure and noncompete agreement, they showed them their invention.
"The company said that they had seen a lot of products but had never seen one that was marketable and safe with the features that we had for attaching and detaching," said Mick.
He continued, "They asked us to go back to the drawing board and come up with a design that would fit any machine. It took us a couple years, but we were able to create one design that could be universal."
And finally, in 2007 the father/son duo went back to Iowa to Cycle Country. The company was so impressed that they asked if they could manufacture and distribute the Turner's invention.
"We had to make a few design changes that would make it financially feasible to manufacture," said Mick.
He noted that several people suggested they go to China to have their product made but Mick said he and Chris were determined to stay as local as possible.
After signing a royalty agreement with Cycle Country, the duo was excited about the companies commitment to get the Hook A Rack into the big box stores and sell them wholesale.
"But that didn't happen," said Mick about getting into big box stores.
He noted that Cycle Country had taken over the manufacturing and wholesale distribution and was paying royalties to the Turners while Mick and Chris were in charge ofall the online sales.
Unfortunately, sales through Cycle Country were miniscule and the company was having internal problems that the Turners were not aware of.
"They weren't spending the money on the marketing they told us they were doing to do," said Mick.
And so, in October 2009 Mick and Chris withdrew their contract from Cycle Country and resubmitted a new patent application with new design enhancements.
"Meanwhile, during all of this, our first patent application was denied," said Mick.
He noted that they hired another attorney and filed another patent for the enhanced Hook A Rack and also patents for new products.
"We then received registration approval for our trademark through our new attorney," said Mick.
In 2011 termination with Cycle Country was finalized, leaving the Turners able to make changes, enhancements and offer new products.
After restructuring their business, Mick said that now, Hook A Rack is sold exclusively online.
"We do not sell to dealers. We don't have wholesale or dealer pricing and that eliminates the middle man and makes our products more affordable. We do go out and do shows and demonstrate the Hook A Rack, but neither of us go out peddling it," said Mick.
Turners' invention is still manufactured in the United States and ships anywhere in the North American Continent. They are NAFTA (North American Fair Trade Agreement) certified, meaning that customers do not have to pay duties and tariffs.
Mick said they have had inquires from Italy, France, Africa, Australia, Scotland, Great Britain and Switzerland.
"But we only sell in the US and Canada. Our patent protection does not cover us internationally," he noted. "International patent protection is cost prohibitive."
"But, we've even had someone fly into Florida from another country to pick one up since they couldn't get one shipped to Germany," Mick said with a smile.
Mick noted that in all the years they have been making Hook A Racks, he has never had one return.
"I did have one complaint though. It was from someone in Nova Scotia. He was a 76-year-old moose hunter and he called to complain. He wanted to know why we hadn't invented this 40 years ago," laughed Mick.
He noted that the most rewarding part of Chris and his invention is all the e-mails and phone calls they get from people telling them how their product enabled them to continue hunting when they didn't think it was possible anymore.
Many customers note that it has saved their backs, shoulders and health because they do not have to try to lift.
Chris, who lives in Terrell, Texas has even been able to meet and become friends with Jerry Campbell of A&E's American Hoggers.
Mick explained that Chris showed the Hook A Rack to Campbell and when he saw it, Campbell asked how he could get one.
"Chris made some special modifications for Jerry on his particular Jeep for the Hook A Rack and related products," said Mick proudly.
Jerry's daughter, Krystal, who is also on the show, received a specially made hot pink Hook A Rack for her Jeep from Chris and Mick.
Besides their original invention, the Turners have also created the Hook A Lift, Off Set Receiver and the Back Stop, all of which enables Hook A Rack to be used on ATV's, UTV's, SUV's and pickup trucks.
Nancy Larsen EDFP, Enterprise Facilitator Southeast Enterprise Facilitation Project, worked with the Turners on a business plan and throughout much of the process.
"Of all the people I have worked with, Mick Turner is one of the most creative and persevering entrepreneurs, passionate about the hunting industry and the Hook-A-Rack that he and his son invented out of his own need," said Larsen.
For more information on the Hook A Rack and other products that Turners sell, check out www.hookarack.com.