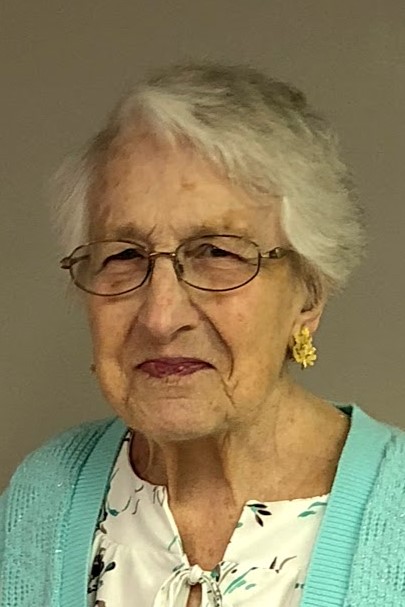 92
Sunday, April 4
Lennox
Margaret Elaine Petersen was born on Oct. 3, 1928, in Hinton, Iowa, to Chris and Florence (Hansen) Petersen. She grew up in the Hurley area and graduated valedictorian of the class of 1946 in Hurley.
Margaret worked as a bookkeeper for Farmer's Oil Coop in Viborg before marrying Herbert L. Peterson on Oct. 1, 1950. During Herb's time in the Navy, Margaret lived in San Diego, Calif., to be near him. She did housekeeping while she was there. Upon his discharge, they made their home at the farm west of Viborg.
Margaret was a wonderful wife, mother, grandmother and homemaker. She loved cooking, baking, sewing, knitting and crocheting. She was a great farm wife with bottle feeding the calves, taking care of the chickens and always fixing meals and lunches for the men working the fields or busy with the milking herd. She even spent time milking the cows after Herb passed away. Margaret was very involved in the United Methodist Church in Viborg. She taught Sunday School, was an active member and officer in the UMW and helped whenever needed with church functions and events. The VFW was also an essential part of her life. She was an active member and served in office positions in the local group.
Herb sold Vigortone Feeds, which earned numerous trips for him and Margaret. Raising registered Brown Swiss cows also took them to many conventions around the country, along with vacations were taken over the years with the whole family.
After Herb's passing, Margaret sold the milk cows and took a job as the Pioneer Memorial baker in Viborg. She was the baker for the entire facility for 13 years and is well known for her baked goods throughout the facility and community.
Margaret spent the last year and a half of her life at the Lennox Good Samaritan Nursing Home. The staff loved her and took excellent care of her throughout her time there.
Margaret is survived by her four children, Mark (Teresa) Peterson, Viborg; Laurie (Pat) Buchanan, Chancellor; Jill (Steve) Butterfield, Brandon and Tim (Vivian) Peterson, Owasso, Ok.; grandchildren, Amanda Peterson, Steven (Amy) Peterson, Christopher (Tania) Peterson, Brandi (Veit) Anders, Samantha (Ryan) Jensen, Lindsey (Joe) Breen, Jessica Buus, Chelsea (Heath) Ness, Ashley Wagner, Josh (Alexandria) Peterson, Ari Butterfield, James Butterfield; 15 great-grandchildren; sister Marilyn (Dean) Benson, Sioux Falls, sisters-in-law, Mildred Petersen, Centerville, Gladys Paulson, Viborg, brother-in-law, Palmer Peterson, Viborg; many nieces, nephews, relatives and friends.
She was preceded in death by her husband, Herbert, parents and brother, Howard.
Funeral services were held Sunday, April 11, at Hofmeister-Jones Funeral Chapel in Viborg. Arrangements provided by Hofmeister-Jones Funeral Home.