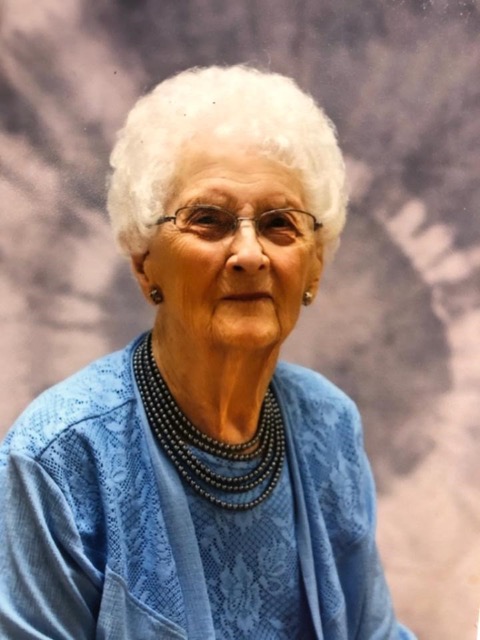 103
Saturday, Jan. 23
Viborg
Martha Elizabeth Simonsen was born on Jan. 7, 1918 to Simon and Gertrude Simonsen at Menno. She was baptized on March 29, 1918 in Immanuel Lutheran Church and confirmed on July 5, 1930 at Peace Lutheran Church in Menno. Martha attended grade school and high school in Menno and graduated in 1935. She worked at various places.
On Aug. 6, 1939 she married Alfred Bak of Irene at the Peace Lutheran Church in Menno. At the time of her marriage, she became an instant mother to Alfred's four young sons: Merton, Orgene, Alvin and LaVerne. To this union two children were born: Rita and DeWayne. They made their home in Irene.
In later years, she helped Alfred in their place of business, Tri-County Tractor & Motor Company. At the time of Alfred's death, Oct. 3, 1960, the shop in Irene was closed and Martha continued to work in the business at Yankton until May 1967.
On May 4, 1967 she married Jack Soeth at the Irene Lutheran Church. She then joined Jack as a Field Representative for the Salvation Army. They retired to their home in Irene in January 1976.
As a member of the Irene Lutheran Church, she served as Ladies Aid president, taught Sunday School and was a High League Sponsor. At Calvary Lutheran, she served as ALCW secretary, held many offices in her circle and made and donated baptismal towels since 1979. She also was memorial treasurer for 28 years. Martha was an active member in the Sunset Manor Auxiliary and served as secretary for many years.
Martha will long be remembered by her family and friends for her delicious cooking and baked goods which she so generously shared.
Martha is survived by her sons, Orgene (Sally) Bak of Alexandria, Minn.; Vern Bak (Brenda) of Pierre; daughters-in-law, Pearle Bak of Menno; Linda Bak of Mission Hill; Gerri Olson of Hinton, Iowa and Teresa DeRocher of Hinton, Iowa; 22 grandchildren, seven step-grandchildren and many great-grandchildren and step great-grandchildren; sister-in-law Helen Bak of Viborg and many nieces and nephews.
Martha was preceded in death by her husbands, Alfred Bak and Jack Soeth, her sons, Merton, Alvin and DeWayne Bak, her daughter Rita, her grandsons Alan, Ross and Tom Bak, her great-granddaughter Amanda Bak, her parents, her brothers Clarence and Elmer Simonsen, sister -in-law Lois Simonsen, and two stepdaughters Faye Glood and Amber Murphy.
A private family service will be held for Martha in the spring when her family can be together.
Funeral arrangements provided by Hansen Funeral Home.