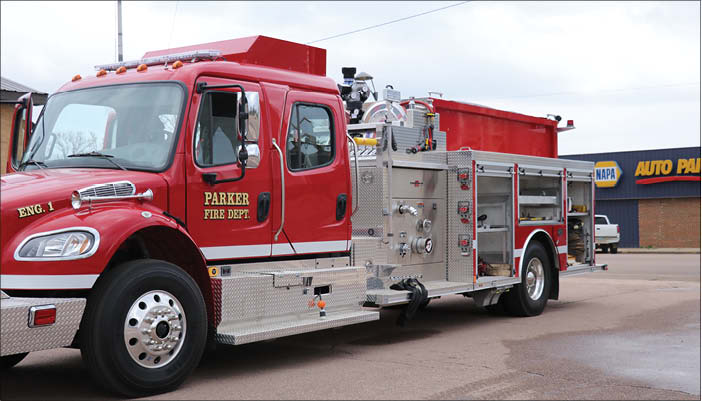 Standing tall at a fearsome height of 10.3' and a massive weight of 42,000 pounds fully loaded, Parker's new bright red truck holds 1,000 gallons of water effortless.
The truck is a combination of essential parts for a wide range of rescue tasks, with common equipment including a self-contained breathing apparatus, ventilating equipment, first aid kits and hydraulic rescue tools.
Max Masters, fire chief, stated in 1996 Parker Fire Department received Engine Two with the life expectancy of 20 years. Now the goal for the new Engine One truck is to maintain its zing for the next 30 years. The new truck allows the department the potential to do more technology wise.
He explained the truck committee decided two and half years ago to purchase the new truck. The five-member committee met to discuss what options would work best of the Parker Fire Department. They sent out bids and Rosenbauer just north of Sioux Falls won the bid. After Rosenbauer sent schematics the committee had to decide what advanced features they were looking for.
Masters said it takes Rosenbauer one year just to build the fire truck.
The fire department purchased the chassis, cab and the wheels which are the down payment. Once that payment is received the company starts building.
"We have a city budget but a lot of our money comes from Bingo and Pancake Feed. When there are 200 people there for Bingo they want to know what the money is going towards," noted Masters.
Master explained the fire department was looking for a four-door truck with the ability to haul more people. If someone were to climb in the back they would notice three jump seats that give the guys more room to attach their gear. The truck offers more safety features with buckles in front and back. A joystick is attached in the cab to help control the bumper gun attached to the front of the truck. The high-pressure line is used when the department responds to a car fire, which includes foam capability. Bolted in one of the many storage units there is a 200' extension cord with a reel. A ladder rack attached in the rear also comes down. The team has to no longer worry about trying to bring extra supplies because they are now part of the truck.
"It is super simplified. There is a pumping gage button then a green light that lights up saying it's ok to pump," said Masters
The LED six light rack helps during a nighttime fire.
"It lights it up like a baseball field. It got this big arm and it spins," stated Masters smiling.
The community will have the opportunity to view the new truck in May during the open house. The fire department has not set a date yet.