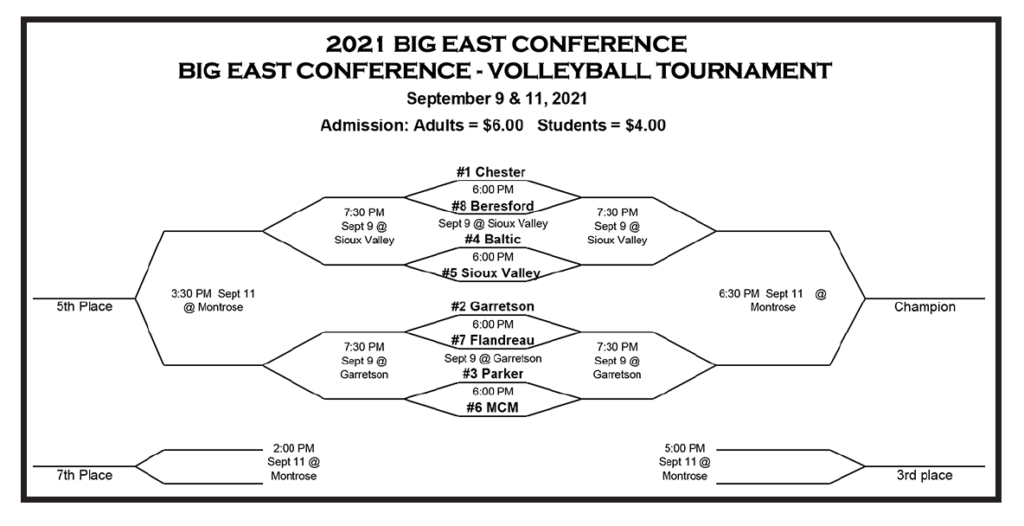 Troy Schwans | Editor
The Big East Conference volleyball tournament has returned to its traditional method of play this year after Covid-19 rearranged the tournament last year.
On day one of the tournament, which is Thursday, September 9, Sioux Valley and Garretson will host rounds one and two of the matches. On day two of the tournament, which is Saturday, September 11, McCook Central/Montrose will host the four final games of the tournament in Montrose.
Chester is the top seed and will take on the number eight seed, Beresford, followed by the number four seed, Baltic, battling the number five seed, Sioux Valley. These matches will take place in Sioux Valley (Volga, SD) with both matches beginning at 6:00 p.m. The two winners will square off at 7:30 p.m. in the same location, as will the two losers.
Meanwhile, in Garretson, at the same times, the number two seed, Garretson, will face the number seven seed, Flandreau, and the number three seed, Parker, will take on the number six seed, McCook Central/Montrose.
On Saturday, September 11, all teams will travel to Montrose to compete in the final round with the 7th place match starting at 2:00 p.m., the 5th place match starting at approximately 3:30 p.m., the 3rd place match at around 5:00 p.m. and the championship match at 6:30 p.m.