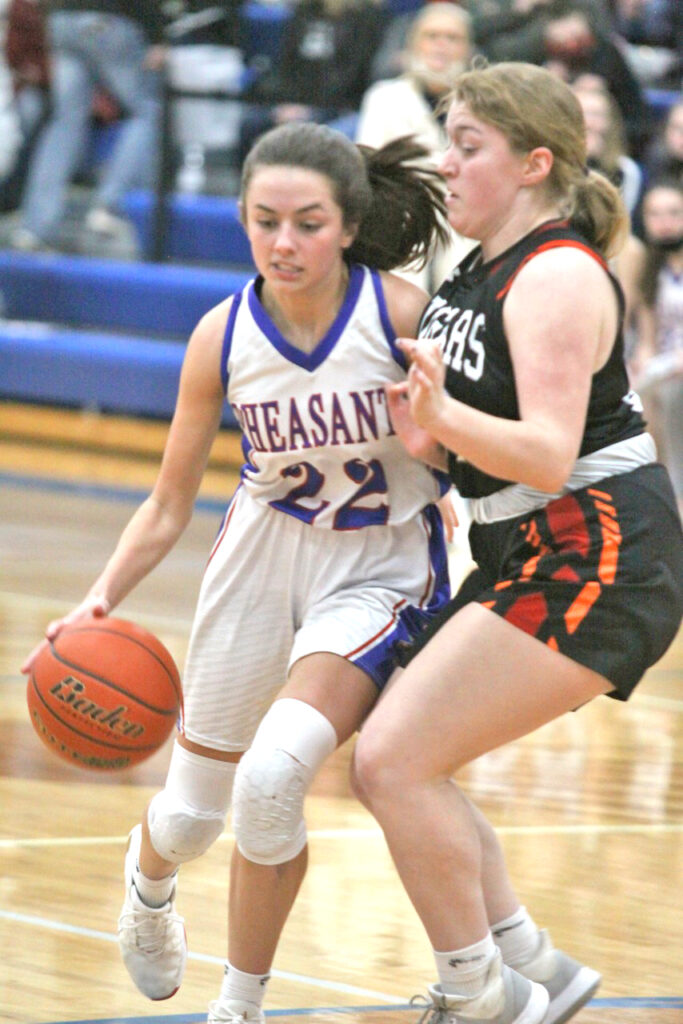 Shane Merrill | Writer
With Parker just out of their regular season, the Pheasants packed up last Tuesday night and headed for Plankinton to face off against the MVP Titans in their first round of regional play. Parker entered the tournament as the sixth seed, while the Titans were fifth. The Pheasants fought to the bitter end, but MVP took the game 54-51.
The first quarter was all Titans, as the host team worked the inside-outside game to perfection, scoring shot after shot and pulling ahead by 12 early. Parker tried to narrow the gap, as shots from Cierra Mohr and Lexi Even narrowed the gap, pulling the Pheasants within seven, and settling on 20-11 at the end of the first.
Into the second quarter both teams remained locked in a battle, with Parker pulling within six, but the Titans edging back ahead 10. Things were unchanged heading into the half with MVP still leading by nine, 31-22.
Both squads once again played to a stalemate in the third quarter with the Pheasants pulling within six early but the Titans pulling back out by nine to start the final frame.
A furious rally ensued in the fourth quarter with Mohr opening with five straight to pull the Pheasants within four with 6:59 to play. It was tit for tat from there with MVP pulling back out by eight when another run had Parker within three with 3:23 to go. The Titans once again made a bucket down the stretch, going up five, but an old fashioned three point play from Janae Olson had Parker within two with just over a minute to go, however the Pheasants could get no closer, going on to fall in the contest 54-51 and ending their season.
"What an exciting way to end the season," said head coach Kennedy Wagner. "This group of girls have improved immensely over this season. We will miss our lone senior, Cierra Mohr. Her dedication, time and leadership doesn't go unnoticed. We can't thank her enough for all of her efforts!"
Leading Parker in the game was Mohr in her final game with 18 points while Even had 13 and Olson 11. Olson also had 13 rebounds, good enough for a double-double.
"This group is a group I will always remember, they are all so extremely coachable," continued Wagner. "You can truly see they love the game, their teammates and are willing to get better every single day. I am so proud of their efforts and sticking to our game plan throughout the game vs. MVP. It truly showed how they have made progress this season and have learned how to play together. We are excited to get back in the gym and to kick things off again."