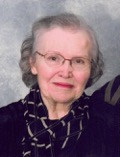 89
Friday, June 19
Freeman
Myrtis Marie Burr was born May 16, 1931, to Orla Otto and Fern E. (Ellis) Burr in Liberal, Kansas. She attended Banner County School and graduated from Sublette High School in 1949, where her father served as superintendent. Myrtis earned her undergraduate degree in education and psychology at Friends University in Wichita, Kansas. She was a member of the Singing Quakers at Friends University and performed solos at weddings, funerals, city events and special occasions. She began her teaching career as an elementary teacher and held positions in Fowler and Ulysses, Kansas. She was beloved by her students and respected by her peers. She began her graduate studies at Emporia State in Kansas and was six credits shy of obtaining her master's degree, which she planned to complete after her marriage. She committed her life to Christ at an early age. She was a woman of principle, conviction, integrity, and authenticity. She had a genuine love for people, embraced differences, and loved unconditionally. Her faith sustained her through the spills and thrills of life. She deeply loved her family, gave her life for her children, invested in continual learning, and made lasting impressions on family, friends, and community.
Myrtis was married to Glenn D. Miller on Aug. 17, 1958. They were blessed with four children; Debbie, Becky, Dan and Dee. She enjoyed gardening, reading, teaching, baking, music, sewing and being a mother. Instead of completing her master's degree, she turned her energy into caring for a special needs baby and investing in her children's' future. Myrtis was an active member of her church. She served on a variety of committees, taught Sunday school, directed children's programs, served as president of the women's group and coordinated many musicals. Myrtis was a driving force in the ARC program organization in Freeman and served beside Glenn in that organization for many years. She played an instrumental part in establishing special education services with the Freeman Public School. Myrtis suffered memory loss and spent her final 14½ years at Oakview Terrace in Freeman.
Celebrating Myrtis's life and looking forward to seeing her again in heaven are her children: Rebecca and Bruce Ebbesen of Turkey Ridge; Daniel and Rhonda Miller of Niles, Mich; and Delia and Randall Conrad of Chanhassen, Minn.; her grandchildren and great-grandchildren: Jesse and Allison Ebbesen (Blake and Nora), Laura and Jeremy Nettifee (their foster children); Kayte and Jordan Hatch (Everett), Dayleigh Miller, Ben Miller; Cole Conrad and Cody Conrad; sister-in-law Shirley Burr; niece Shana White and great-nephew Charles Ellzey.
She was preceded in death by her husband, Glenn; her daughter, Deborah; her parents, Orla and Fern Burr; her brother, Lynn; and her parents-in-law, Ben J. and Katie (Kaufman) Miller.
All undesignated memorials will be directed toward the Music and Memory program at Oakview Terrace.
A private family service was held on Thursday, June 25, at Walter's Funeral Home with burial at Missionary Church Cemetery.
Arrangements provided by Walter Funeral Home.