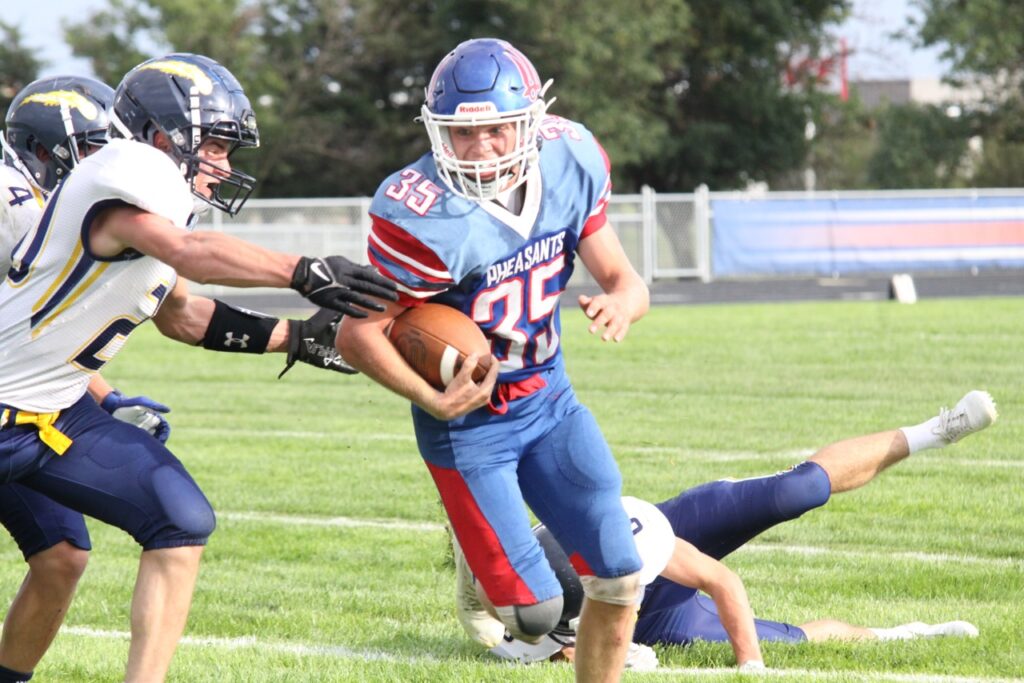 Shane Merrill | Sports Writer
On a stormy night last Saturday, the Parker football team was able to sneak in a game against Rapid City Christian in between thunderstorms. Both teams were new to the nine man ranks this year, but the Pheasants were able to take advantage of several missed pass attempts as well as penalties, mixed with a solid ground game to come away with a 26-0 victory.
The Pheasants were set to kick off to open the game, with Rapid City finding some success through the air early. The Comets marched down field, but were denied a score, with the Parker defense holding them outside the goal line. Parker then went to work, finding a good mix of ground and air offense. Parker finally scored late in the first, off a Logan Bridges pass to Charlie Patten, 34 yards downfield for a touchdown. The Comets then tried to get their offense going, but a long pass was picked off by Ray Travnicek, who ran the ball back inside the 10 yard line where Jack Even took a handoff from four yards out for the next score, pushing the lead to 12-0 as time expired on the first.
Things stalled early in the second quarter but the Pheasants offense went back to work late in the frame as another interception, this time from Jaivyn DeBoer led to a Davin Fuller touchdown from 15 yards out. With under two minutes remaining, a fumble recovery was just the ticket, as it put the Pheasants in scoring position inside the 10. Even was able to get the job done once again, punching in a shot from three yards out and pushing Parker up 26-0 as the horn sounded for halftime.
With storms brewing the break was pushed along, with both teams retaking the field. Defense ruled the third quarter as neither team could score again, and with just 23 seconds remaining the officials called the game off due to lightning, handing the Pheasants a 26-0 victory.
Leading Parker was Even with 69 yards and two touchdowns on the ground while Logan Bridges had two touchdowns and 94 yard through the air. Charlie Patten also had 45 yards receiving.
Defensively, Levi Wieman had seven tackles while Gabe Gillespie and Patten had four.
Up next the Pheasants face Bridgewater-Emery-Ethan.