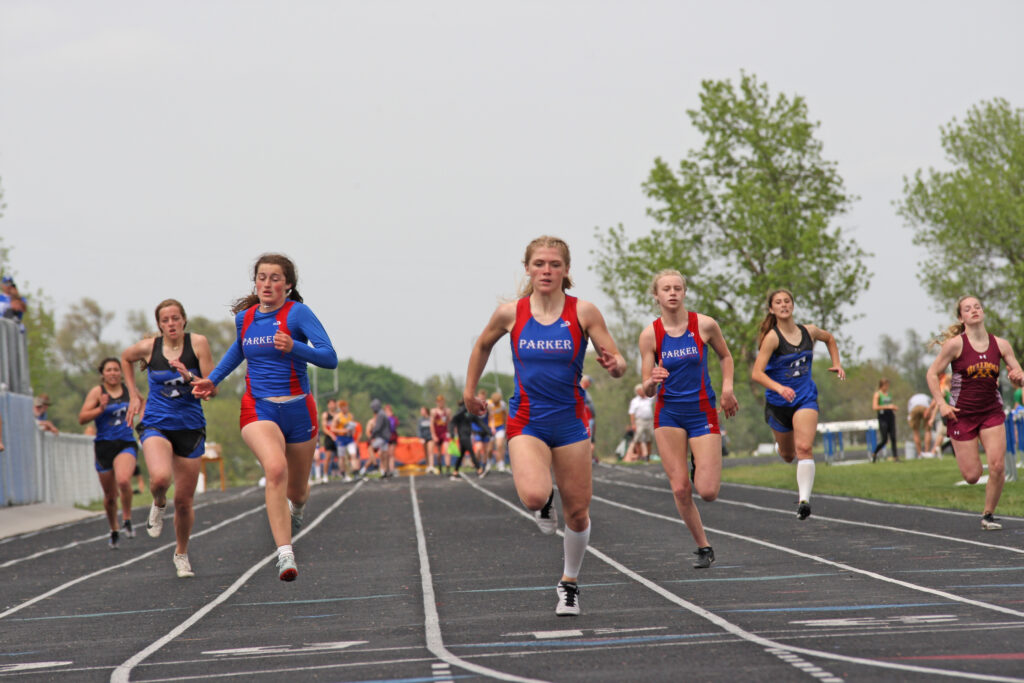 The Parker girls track team turned in another strong performance last week, rounding out their list of state qualifiers and finishing second to Madison by just one point.
Parker will take 12 girls to the state meet in 11 different events.
Cierra Mohr – Senior: Triple Jump, Long Jump
Lexi Even – Junior: 100m, 200m, 400m, 4×100, 4×200
Josie Leberman – Junior: 4×800
Macy Kippes – Junior: 4×400, 4×800, Medley
Janae Olson – Sophomore: 200m, 4×100, 4×200, 4×400, Long Jump
Anna Reiffenberger – Sophomore: 4×100, 4×200, 4×400, Medley
Tayler Coleman – Sophomore: 4×400, 4×800, Medley
Parker Lessman – Freshman: Discus
Shayla Voeltz – Freshman: 100m, 200m, 4×100, 4×200, Long Jump
Jenna VanVelzen – 8th Grade: 4×100, Medley
Braelyn Berens – 7th Grade: 100m, 4×100, Medley
Shea Lang – 7th Grade: 4×800
On the boys side two participants qualified for state, senior Cole Jurgens in the 200m and Jaivyn DeBoer in the Long jump.
"The Region 5A track meet was an eventful one in which we had a few athletes qualify for state and better their personal records, especially in the field events and the sprints. Jaivyn DeBoer had a huge PR in the long jump that qualified him for state. Freshman Parker Lessman increased her PR in the discus and climbed the top 24 leaderboard. In the sprints, our Pheasant girls dominated-helped slightly by a beneficial wind. Seventh grader, Braelyn Berens added her name to the top 24 list as well which is quite impressive. That wind would prove to be challenging for the relays and longer distance races throughout the day, but our athletes still put up strong performances," said coach Cullen Mack.
The state track meet is this weekend Friday and Saturday, May 28-29 in Spearfish.