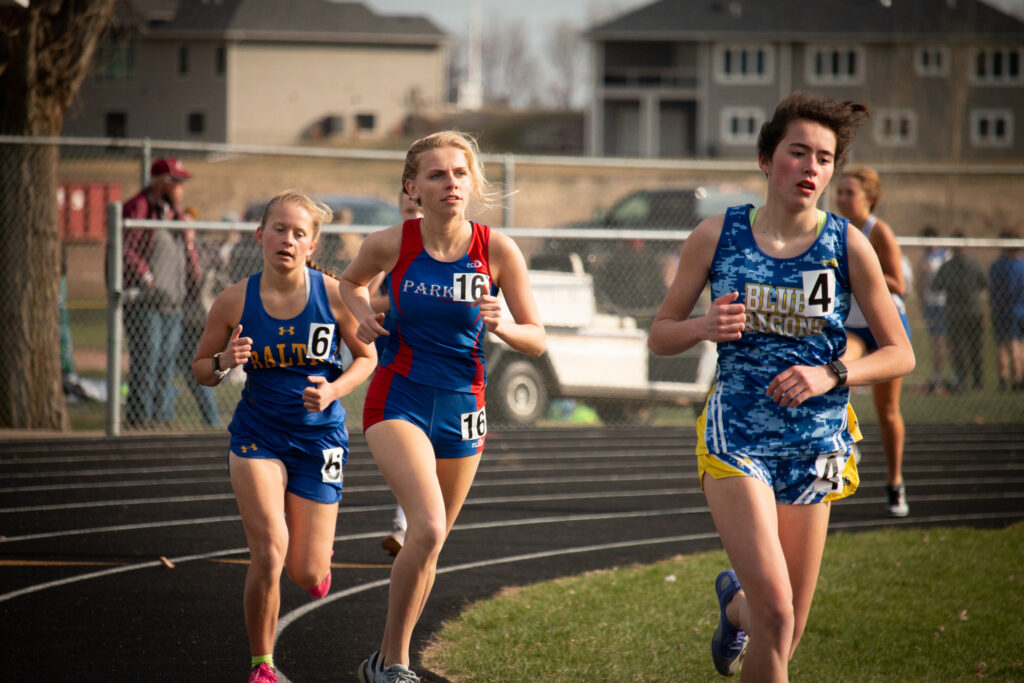 Shane Merrill | Sports
The Parker track teams traveled to Hartford last Tuesday to take part in the West Central Early Bird track meet, the first meet ran in nearly two years for the Pheasants. Familiar face Lexi Even stole the show for the Pheasants, taking first in the 100 and 200 and pacing Parker to second place finishes in the 4×100 and the 4×200. In the 4×100 Jenna VanVelzen, Braelyn Berens and Shayla Voeltz ran with Even finishing in 53.76, just behind West Central (53.18). Janae Olson, VanVelzen and Grace DeWald also ran in the 4×200 finishing in 1:56.40, just behind West Central (1:50.97) but squeaking past Madison (1:56.80)
Parker was also second in the 4×800 with Tayler Coleman, Josie Leberman, Macy Kippes and Parker Lessman led the way, finishing in 11:18.68.
Shelby Lang ran the hurdles for the Pheasants, finishing third in both the 110 and 300.
Aubrey Kilbourn was also seventh in the shot put while Parker Lessman was ninth in the disucs. Cierra Mohr was also sixth in the high jump and second in the long jump and won the triple jump, while Janae Olson stole the show with a 16-03 long jump, good enough for first.
Parker finished with 126 team points, just missing first as Madison edged out the Pheasants by five points, winning with 131.
On the boys side Jaivyn Deboer was fourth in the 100 while Jake Stone was third and Bogdan Marushkevic was sixth in the 200. Joe Mahan was also sixth in the 400.
Lincoln Kippes finished in sixth in the 800 while Zanto Centeno won the 110 hurdles while Ashton Young was fourth. Jack Even and Charlie Patten finished fourth and fifth respectively in the 300 hurdles.
The Pheasants finished third in both the 4×100 and 4×200 and Cole Jurgens placed eighth in the long jump. The boys finished in fifth with 53 points.
"We have some strong runners that are very motivated to grow and continue to push their personal records. Despite some rough conditions in the wind, cold, and rain our athletes performed well and proved to be focused on competing. We have a lot of work to do in terms of the details, but that's somewhat to be expected with the missed season last year. The future is bright for Pheasant Track & Field," said coach Cullen Mack.