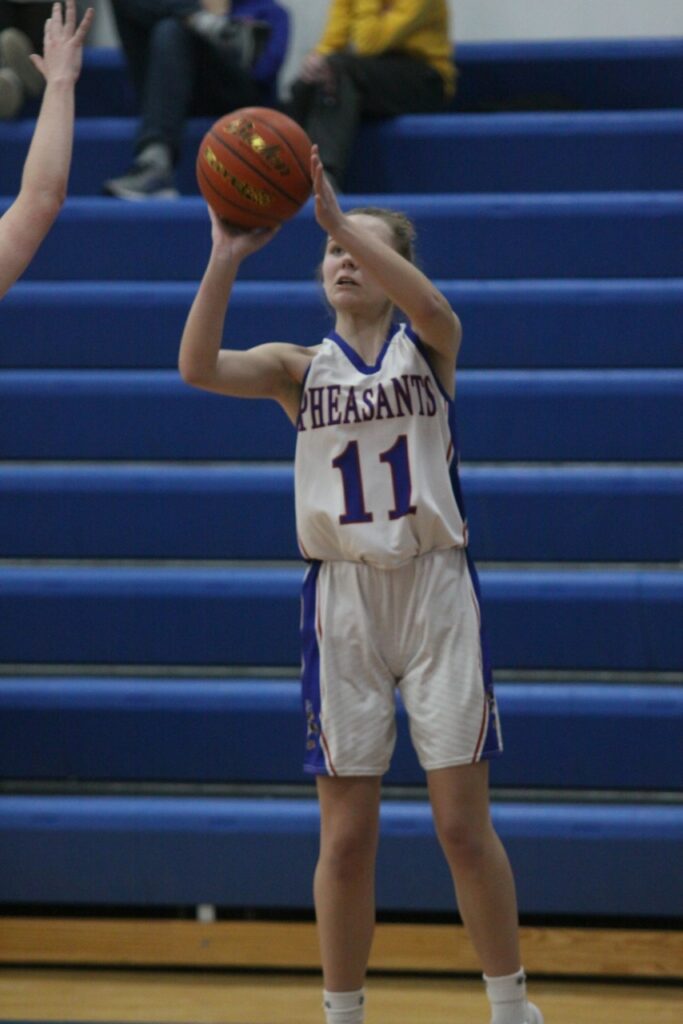 Shane Merrill | Writer
The Parker girls basketball team put it all together last Monday afternoon, picking up a big win at the annual Parkston Classic. It was a Pheasant versus Pheasant matchup, as Parker faced Redfield, and Parker did not disappoint, taking the victory 61-56.
Lexi Even got the scoring started for Parker, nabbing a steal and going to coast to coast for a layup and foul, getting the three point lead and pushing the hometown Pheasants ahead. Redfield then rallied ahead by one, but back to back three pointers from Hope Larson and as well as inside shots from Janae Olson kept the Pheasants out front, leading 15-11 after one.
Redfield made a run early in the second quarter, pulling ahead by three before Terryn Fuller drained shot from long range knotting the game at 18. Parker never trailed again as Even, Olson and Larson pushed the lead to nine late the quarter and were up 31-23 at the half.
Redfield had another run up their sleeve to start the third frame, outscoring Parker 8-2 and pulling within two. Once again the hometown Pheasants went to work hitting from both inside and out and pushing the lead to 11 off back-to-back Fuller three pointers. The lead dwindled to just three however, 44-41 after three.
Both teams traded blows in the final quarter with Parker growing their lead to seven, but Redfield coming all the way back within two with under a minute to play. The Pheasants did not fold, as Olson and Even iced the game with free throws in the final thirty seconds, giving the Pheasants a 61-56 victory.
Parker put four scorers in double figures on the night with Even leading the way with 20 while Fuller had 14, Olson 13 and Larson 12. Parker committed just 12 turnovers on the night while forcing Redfield into 29.
"I am really proud of our efforts on Monday," said coach Kennedy Wagner. "We got after it defensively and forced turnovers. We knew going into the game that we needed to bring our full efforts towards rebounding. Offensively, Alexis Even did a great job of controlling the tempo of the game for us. She knew when we wanted to run in transition and when to slow things up. Janae Olson and Aspen Rand did an awesome job inside defending Addison Rozell and constantly working to make her make tough shots. Terryn Fuller, Hope Larson and Anna Reiffenberger made some big shots for us during the game. We got better as a team because of the girls' efforts and smart basketball play towards the end of the game."
Up next Parker faced Beresford.