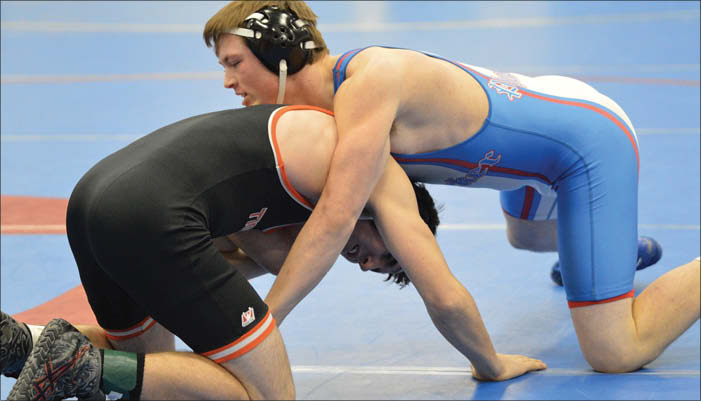 The Parker Pheasant wrestling team took home fourth place as a team at the Holland Invite in Howard. The team accumulated 94 team points and had five place winners.
Issac McDugle, the Pheasants 113-pound wrestler, took home fourth place on Saturday. McDugle won by fall over a region opponent in the quarterfinals after trailing by more than 10 points. McDugle lost to Braxton Trowbridge of Canton in the semifinals by fall. Issac McDugle received a forfeit in the wrestlebacks, but eventually fell to Logan Serck of Beresford-Alcester/Hudson.
Travis Leber started his day with a big win against Brody Weavill of Elk Point-Jefferson. Leber fell to Kolton Kribell of Beresford- Alcester/Hudson in the semifinals. Leber then pinned an opponent from Stanley County and won by decision over an opponent from Howard. Leber finished in third place and now has a season record of 34-18.
Grant Plucker wrestled his way into the finals of the Holland Invite. Plucker pinned Gage Carter of Faulkton in the quarterfinal round. Plucker then won by decision over Dalton Bodewitz of Marion-Freeman. In the finals Plucker faced Lucas Smith of Potter County and lost by technical fall.
Tanner Even didn't wrestle until the semifinals. Even won by forfeit twice before wrestling Gannon Martinmaas of Faulkton, and Even lost by decision 11-6. Even wrestled Austin Hofer of Marion-Freeman, and won by fall in the first period. In the third place match Tanner Even wrestled Kaden Laubach of Canton. Even pinned Laubach in the second period to take home third place. Even now has a record of 40-16.
Jayden Even started his day with a forfeit to advance to the semifinals. Even faced Thomas Baker of MVPCS, and lost by fall in the first period. Jayden Even won by fall to advance to the third place match. In the third place match, Jayden Even won by medical forfeit.
The Parker Pheasants travel to Beresford on Saturday for the Region 2 B wrestling tournament. The Pheasant wrestlers must place in the top four to advance to the State Tournament in Sioux Falls.