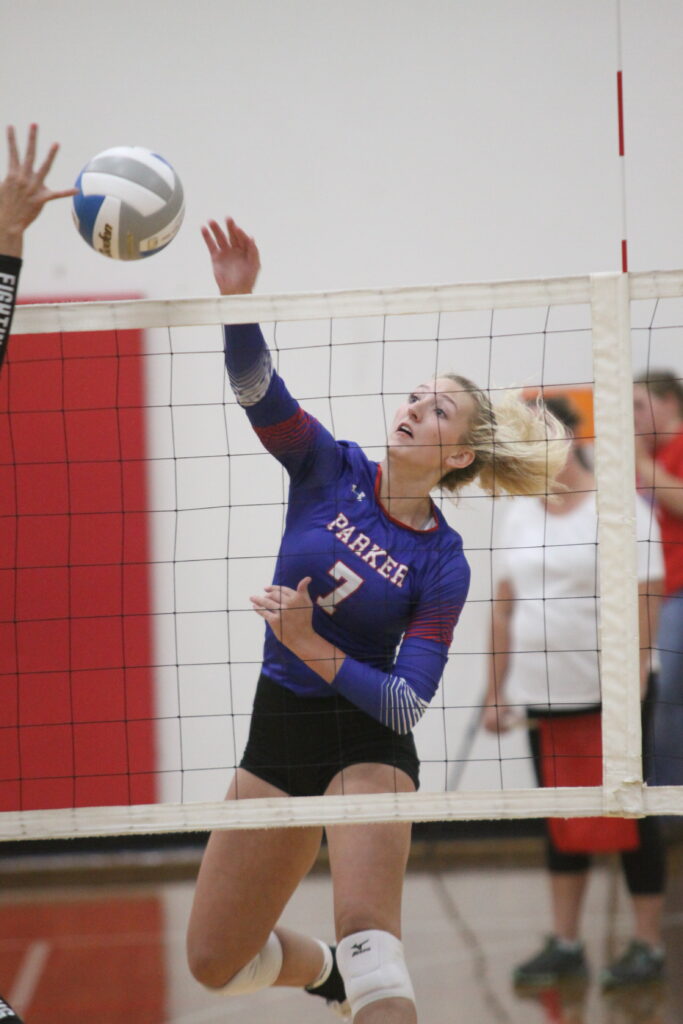 Shane Merrill | Sports Writer
Parker opened their Big East Conference schedule last Tuesday, facing off against traditionally tough Sioux Valley. Parker made quick work of the visitors in the first set, but stumbled in the next two, ultimately getting the win and improving to 3-0 on the season.
Parker was able to go ahead early against the Cossacks in the first set, taking a 10 point lead and never looking back, winning 25-14 and leading the match 1-0.
The second started out strong for Parker who built a lead, but somehow the Cossacks found a way, pushing Parker as far as they could go, with the Pheasants taking the final two points and winning 27-25 and leading 2-0 in the match.
The third was again close, with SV leading for the majority of the frame. Parker tried to get something going late, but the Cossacks snuck through with a 25-23 victory, setting up a fourth set.
The Pheasants finally settled in during the fourth, slamming shot after shot the floor, and taking the victory 25-17 and the match 3-1.
Brooke Berens led the Parker attack with 13 kills and six blocks, while Shelby Lang had 11 kills. Morgen Carlson also chipped in with eight kills while Cierra Mohr dished out a whopping 42 assists. Breana Jensen led the defensive effort with 30 digs.
Up next Parker traveled to Montrose to face the MCM Fighting Cougars.
Parker edges MCM
The Parker volleyball team improved to 4-0 on the early season last Thursday night, topping longtime BEC rival McCook Central/Montrose 3-1 in Montrose.
Both teams played neck and neck in the first set, working to a 20-20 tie, before several Pheasant errors had MCM up 24-21. The Fighting Cougars won the first set 25-21.
Parker came right back in the second, seemingly unfazed, rattling off several straight points behind big kills and blocks from Shelby Lang and Brooke Berens. Parker led by as many as 10 before taking the set 25-17.
The third set was almost identical to the second, with Parker again cleaning up their service errors from the first set and jumping ahead early and holding on for a 25-18 victory, leading the match 2-1.
Both teams traded blows in the fourth set, but in the end Parker was able to hold on for the victory, taking the win 25-20 and the match 3-1.
Leading Parker was Berens with 10 kills and three aces while Briana Jensen led the defense with 27 digs. Ryleigh Andersen also had 11 digs and three aces while Cierra Mohr dished out 27 assists.
Next up the Pheasants play in the BEC tournament this Thursday.