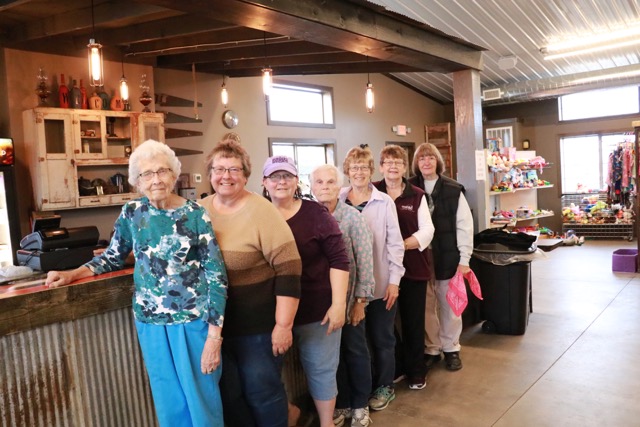 Dawn Rye | Writer
It is important to keep in mind that no act of kindness, no matter how small, will ever be forgotten by those it is most important to. Whether it is done with random acts of kindness or expressing acts of compassion the impact is priceless.
Three local sisters have joined together in faith, hope and love to honor their father's memory, after losing him to a blood disease almost 10 years ago. Their commitment to "paying it forward" to families in need has allowed one Chancellor organization to do just that. Compassion in Action has raised and donated over $250,000.00 since beginning in 2010. The family was also honored with the Guardian Award from Avera for being the charity of the year in 2017.
Owner Shelia Phillips said in 2010, her family decided to pay it forward in the community. She explained the idea behind Compassion in Action was to raise funds to support patients and families battling blood disorders. She noted her dad, Rodney Lamfers, was diagnosed with AML (Acute Myeloid Leukemia) and MDS (myelodysplastic syndromes). She explained he relapsed in January 2011 and died in July.
Phillips explained after speaking with Avera Hospital, who loved the idea, they told the family the Avera Foundation would handle the tax end of the business.
She said the name Compassion in Action comes from NIV Ephesians 4.32 in the Bible. "Be kind and compassionate to one another, forgiving one other just as in Christ God forgave you."
Phillips explained Compassion in Action started in the Lennox Reformed Church and expanded lastly landing at her mother's acreage outside of Chancellor. She noted after a few days of hot temperatures of over 100 degrees the business moved to the Lennox Legion Hall for a short period before uprooting and moving to Goeman's Land Auction. Phillips said after a discussion with her two sisters, it was time for a permanent location. The trio built the County View Event Center south of Chancellor. Their main purpose was to hold the rummage and flash sales throughout the year and the events would pay for the building.
She explained Compassion in Action raises money in different ways. All the inventory is donated items from people after rummage sales or estate sales.
Phillips said they don't accept furniture, electronics and large appliances. They accept donations throughout the year. She noted if someone would like to donate gently used items their donations are tax-deductible.
Phillips said volunteers help sort and place all donated items out during their four or five regular scheduled rummages and their flash sales. Nothing is priced, however, their business strategy fill a regular grocery bag provided by Compassion in Action for $4.00 or .50 cents an item during regular sales and $2.00 a bag or .25 cents an item during flash sales. She explained this is their attempt to pay it forward and move inventory. All the clothing and linens go to Justice for All in Rock Valley, Iowa and blankets go to the Humane Society. Phillips said with the unfortunate recent tornado in Sioux Falls, the Avera Heart Hospital lost all their kid's books. Any leftover kids' books after the Tuesday, Oct. 15 flash sale will be donated to Avera Heart Hospital for kids. All of the funds go to Avera and in turn help families that are eligible to receive a financial donation after being diagnosed with leukemia or need a bone marrow transplant.
"It is an extremely rewarding experience and we thank the people that donate to us," Phillips said with a smile.
She noted a lot of the credit goes to the volunteers. Phillips noted they call it fun, she calls it hard work. She said Compassion for Action encourages people to reach out and inform them of any organization they believe could benefit from their leftover inventory.
Compassion in Action will host its final flash sale of the year on Tuesday, Oct. 15 from 8 a.m. to 8 p.m. at 46108 278th Street, Chancellor. For more information contact Sheila Phillips at 605.212-1142.