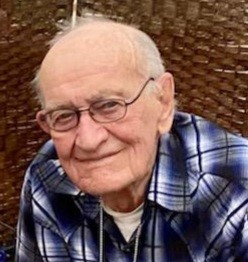 98
Saturday, June 12
Parker
Peter Willis Gortmaker was born on Dec. 22, 1922, on a farm north of Parker to Wirt and Susie (Friese) Gortmaker. He attended country schools and graduated from Humboldt High School in 1940.
During WW II, he served in the US Navy and was recalled into duty during the Korean War. On Jan. 25, 1951, he was united in marriage to Ruth Jones at Parker. After his discharge from the Navy, he farmed for a time before starting his employment with the US Postal Service in Parker. For 40 years, he served as a rural mail carrier, retiring in 1990. They moved into Parker in 1961, where they lived in the same home until recently, becoming residents at Dow Rummel. Over the years, Pete also worked doing carpentry for Snick and Stan, helped do plumbing with Phil Graber, and mowed the Rosehill Cemetery for many years.
Pete was a member of the First English Lutheran Church, a life member of the VFW and DAV, member of the Turner County Rural Mail Carriers Association and the National Rural Mail Carriers Association. He was on the very first Honor Flight.
Grateful for having shared his life are his wife Ruth; four children, Gwen (Ed) Highfill, Richmond, Texas, Teri (Peter Nied) LaVelle, Stuart, Florida, Donald Gortmaker, St. Paul, Minn. and Karen (Marwin) Hofer, Aberdeen; five grandchildren, Sarah, Ciara, Amanda, Brooklyn and Mitchell; and four great-grandchildren, Finley, Caidan, Eden and L J. He was preceded in death by his brothers and sisters, Evert, Luke, Eddie, Helen, George, Leonard, Gracie and Bill.
Funeral services were held Wednesday, June 16, at the First English Lutheran Church in Parker with burial with military rites at Rosehill Cemetery, Parker.
Arrangements provided by Hofmeister Jones Funeral Home, Parker.