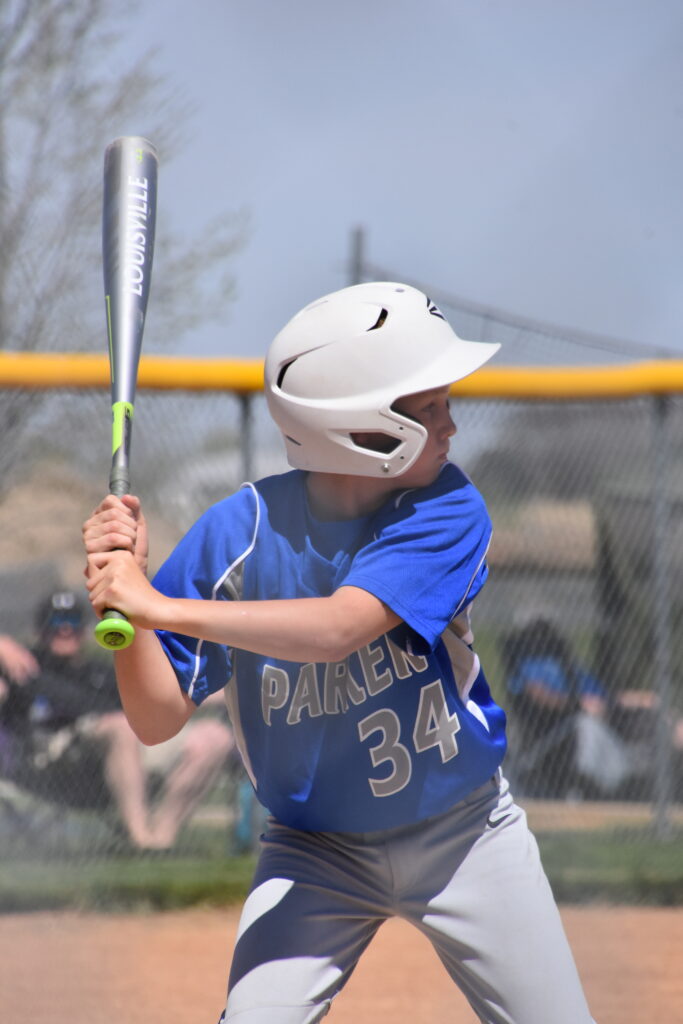 Last Sunday, May 9, the Parker 11/12 baseball team traveled to Crooks for the annual Tri-Valley tournament. Parker was locked in pool B, taking on the likes of Canton, Tri-Valley White and SWMN for a chance to go the championship against the winner of pool A. Parker battled throughout the day, but several errors to a salty SWMN team was enough to send them home with a 2-1 record, coming in second in their pool.
In their opening game of the tournament, the Pheasants faced off against a familiar opponent in Canton. The C-Hawks and Parker play in the same league for the regular season, but this time Parker got the edge, 6-3.
Canton struck first in the bottom of the first, tacking on one run. The Pheasants bats then came to life, rifling off three runs from Colin Robertson, Caleb Wieman and Colton Davis, pushing the lead to 3-1. Stout defense allowed Parker back up to bat, with Dylan Dykstra getting on base and Marquice Bortnem hitting him home, pushing the lead to 4-1.
Brady Beyer added another run in the fourth, before the C-Hawks added two scores, pulling within 5-3.
Davis scored once more in the top of the final frame while Parker pitcher Luke Travnicek settled in, striking out all three batters, giving Parker a 6-3 victory, improving their record to 2-2 on the season.
In their second game of the day, Parker faced off against a very stout Southwest Minnesota team. The 'Blaze' were extremely tough at the plate, hammering several shots to the Pheasants outfield. Parker jumped ahead early, 1-0 off a Colin Robertson hit, but back came the Blaze who pulled ahead 3-1 after the first. Parker defense stayed tough through three innings, still 3-1, but SWMN controlled everything from there, running off several runs and going on to take the win 9-1.
The loss, however disappointing was not the final game of the day for Parker who had to regroup and face the hosts Tri-Valley White.
Parker quickly gained ground with two outs. Tri-Valley then belted a solo home run, going up 1-0 before Robertson recorded the final out with a strikeout.
Leadoff Levi Rand singled on his first pitch, stealing around with Beyer hitting him in. Benson Jones also singled with Robertson sending a double deep into the outfield, giving Parker a 3-1 lead after one. Travnicek was back to pitch, with back to back 1-2-3 innings, but the Pheasants were in the same boat until the fourth inning, as Eli Anderson led off, scoring on a Rand single. Jones also singled, scoring Rand as did Robertson, scoring Jones. Three outs followed with Parker up 6-1.
Tri-Valley had one last chance, and rattled off two scores, but pitcher Brock Fredrickson sat down three of the last four batters, giving Parker another 6-3 win, and second place in their pool.
"All in all a really solid day," said coach Shane Merrill. "Canton is a team we knew well from years past so I was happy how we stayed aggressive on the bases the whole game. In our second game we were hanging tight until back to back errors threw us totally out of whack, and it kind of snowballed from there. Give them credit, they made no errors and were excellent on the bases, a very good team who will be traveling to the east coast this summer to play."
He continued "The final game we played a Tri-Valley team we had never seen, but again we were aggressive on the bases and attacked well in the box, which is just what we ask. Its been a great couple weeks to see an array of teams, once league starts in the next couple weeks we hope to continue to improve!"
The final win set the 11/12 Pheasants record to 3-3 in tournaments this summer. Parker will now break for league play with two teams, but will resume tournaments the first weekend in June.